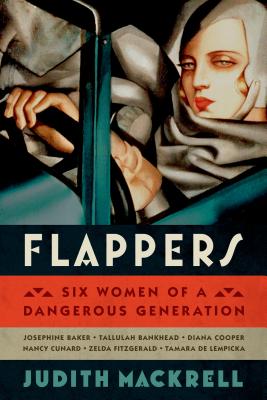 Flappers
Six Women of a Dangerous Generation
Hardcover

* Individual store prices may vary.
Other Editions of This Title:
Paperback (1/13/2015)
Description
By the 1920s, women were on the verge of something huge. Jazz, racy fashions, eyebrowraising new attitudes about art and sex—all of this pointed to a sleek, modern world, one that could shake off the grimness of the Great War and stride into the future in one deft, stylized gesture. The women who defined this the Jazz Age—Josephine Baker, Tallulah Bankhead, Diana Cooper, Nancy Cunard, Zelda Fitzgerald, and Tamara de Lempicka—would presage the sexual revolution by nearly half a century and would shape the role of women for generations to come.
In Flappers, the acclaimed biographer Judith Mackrell renders these women with all the color that marked their lives and their era. Both sensuous and sympathetic, her admiring biography lays bare the private lives of her heroines, filling in the bold contours. These women came from vastly different backgrounds, but all ended up passing through Paris, the mecca of the avant-garde. Before she was the toast of Parisian society, Josephine Baker was a poor black girl from the slums of Saint Louis. Tamara de Lempicka fled the Russian Revolution only to struggle to scrape together a life for herself and her family. A committed painter, her portraits were indicative of the age's art deco sensibility and sexual daring. The Brits in the group—Nancy Cunard and Diana Cooper— came from pinkie-raising aristocratic families but soon descended into the salacious delights of the vanguard. Tallulah Bankhead and Zelda Fitzgerald were two Alabama girls driven across the Atlantic by a thirst for adventure and artistic validation.
But beneath the flamboyance and excess of the Roaring Twenties lay age-old prejudices about gender, race, and sexuality. These flappers weren't just dancing and carousing; they were fighting for recognition and dignity in a male-dominated world. They were more than mere lovers or muses to the modernist masters—in their pursuit of fame and intense experience, we see a generation of women taking bold steps toward something burgeoning, undefined, maybe dangerous: a New Woman.
Praise For Flappers: Six Women of a Dangerous Generation…
"Mackrell, a dance critic, loves a romp, and tales of her high-flying subjects lose none of their adrenaline in the retelling. Her writing is bright and nimble, but she's also astute enough to delve beyond the flash and dazzle, the public illusions cast to hide private insecurity, pain and frustration…" —Jessica Kerwin Jenkins, The New York Times Book Review
"Judith Mackrell's Flappers is a juicy, energetic exploration of six dazzling iconoclasts who all flared to fame in the Roaring '20s. . . Flappers reminds us of the enormous, lasting cultural impact of gutsy, vibrant women who managed to shine in unexpected ways. In jumping between six dishy, hyper-charged, often frenetic life stories in one lively volume, Mackrell not only captures 'the restlessness of a generation' -- she does so in a fast-paced, no-holds-barred form particularly well suited to the restlessness of this generation." —Heller McAlpin, Los Angeles Times
"The book is beautifully structured. . . [a] reader-friendly history, adorned with fascinating details. . . Ms. Mackrell doesn't force theories. She lays out the lives with a deft strategy of parallels and overlaps so that connections and comparisons float up." —Laura Jacobs, Wall Street Journal
"Sprawling and addictive. . ." —Anne Helen Petersen, Slate
"This spellbinding group biography tells the stories -- sometimes independent, often intertwined -- of six women of the 1920s who epitomized the word flapper, in all its complicated meanings. . . Mackrell's book bubbles with the giddy energy of the era, filled with parties, affairs, cocktails, and cocaine -- and captures its inevitable dissolution as well." —Kate Tuttle, The Boston Globe
"Captivating . . . . Much has been written about these avatars and their era that ended with The Crash and prefigured the Sixties, but Mackrell, a winning stylist, presents them afresh. She makes us want to know more. Any author who does that has served her subjects and the reader well." —Jane Sumner, The Dallas Morning News
"Mackrell portrays, with vivid facts, sexual candor, and incisive analysis, six intrepid, stylish, headline-grabbing women artists who exemplify the flapper revolution. . . Avidly researched and deeply inquisitive, Mackrell's prodigious group portrait is spectacularly dramatic and thought-provoking." —Donna Seaman, Booklist (starred review)
"Fascinating and compulsively readable. . . Mackrell's fabulous Flappers lovingly captures the manic glitzy dream girls of the 1920s, paving the way for their feminist granddaughters." —Catherine Hollis, BookPage
"Sober and sure-footed." —The Times Literary Supplement
"Flappers eruditely illuminates the daring lives of a group of 1920s Jazz Age trailblazers." —Elle
"In a cool, glittery style that mirrors the roaring decade she delves into, British dance critic Mackrell (Bloomsbury Ballerina) breathes new life into the stories of a few of the most culturally important women of the 1920s. . .Through these marvelous portrayals, Mackrell reminds us why these women continue to fascinate and why their lives had such impact." —Publishers Weekly (starred review)
"With guts and swagger, the six nervy and glamorous women of Flappers took risks, defied convention, and defined the Jazz Age. Judith Mackrell's rollicking, poignant, and trenchant history of their yearning for equality, their romantic and erotic adventures, and their struggle to 'live as I like always' is sprinkled with stardust and feels thoroughly modern. Flappers is a gripping look at the complicated challenges facing women in the Downton Abbey era." —Kate Manning, author of My Notorious Life
"What an extraordinary, high-level hen party this book is! Lively and elegant. The old feminist maxim was that the personal was political, but in these women's lives the reverse is equally true: the political--the twists and turns of the twentieth century, its changing attitudes and movements--is personal." —Amanda Vaill, author of Everybody Was So Young: Gerald and Sara Murphy; A Lost Generation Love Story
"Flappers is all good, dirty fun . . . Mackrell is an engaging storyteller with a deceptively light touch." —Cressida Connolly, The Daily Telegraph
"It's in the bringing together of these highly diverse women under the 'flapper' umbrella that Mackrell's real genius lies, showing us the relationship between an age and the very different individuals who shone during it." —Lesley McDowell, The Independent on Sunday
"Judith Mackrell can tell a story--and she has some very provocative stories to tell. The myths that for the past century have surrounded the six legendary women at the center of Flappers are nothing at all compared to the reality revealed in this fascinating book." —Daniel Okrent, author of Last Call: The Rise and Fall of Prohibition
Sarah Crichton Books, 9780374156084, 512pp.
Publication Date: January 14, 2014
About the Author
Judith Mackrell is a celebrated dance critic, writing first for The Independent and now for The Guardian. Her biography of the Russian ballerina Lydia Lopokova, Bloomsbury Ballerina, was short-listed for the Costa Biography Award. She has also appeared on television and radio, and is the coauthor of The Oxford Dictionary of Dance. She lives in London with her family.
or
Not Currently Available for Direct Purchase