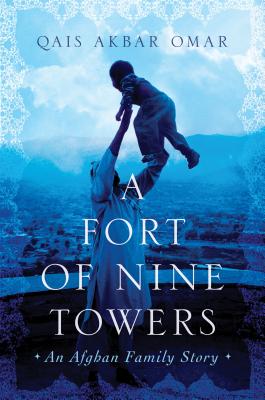 A Fort of Nine Towers
An Afghan Family Story
Hardcover

* Individual store prices may vary.
Other Editions of This Title:
Paperback (4/8/2014)
Description
One of the rare memoirs of Afghanistan to have been written by an Afghan, "A Fort of Nine Towers "reveals the richness and suffering of life in a country whose history has become deeply entwined with our own.
For the young Qais Akbar Omar, Kabul was a city of gardens where he flew kites from his grandfather's roof with his cousin Wakeel while their parents, uncles, and aunts drank tea around a cloth spread in the grass. It was a time of telling stories, reciting poetry, selling carpets, and arranging marriages.Then civil war exploded. Their neighborhood found itself on the front line of a conflict that grew more savage by the day.
With rockets falling around them, Omar's family fled, leaving behind everything they owned to take shelter in an old fort-only a few miles distant and yet a world away from the gunfire. As the violence escalated, Omar's father decided he must take his children out of the country to safety. On their perilous journey, they camped in caves behind the colossal Buddha statues in Bamyan, and took refuge with nomad cousins, herding their camels and sheep. While his father desperately sought smugglers to take them over the border, Omar grew up on the road, and met a deaf-mute carpet weaver who would show him his life's purpose.
Later, as the Mujahedin war devolved into Taliban madness, Omar learned about quiet resistance. He survived a brutal and arbitrary imprisonment, and, at eighteen, opened a secret carpet factory to provide work for neighborhood girls, who were forbidden to go to school or even to leave their homes. As they tied knots at their looms, Omar's parents taught them literature and science.
In this stunning coming-of-age memoir, Omar recounts terrifyingly narrow escapes and absurdist adventures, as well as moments of intense joy and beauty. In?ected with folktales, steeped in poetry, "A Fort of" "Nine Towers "is a life-affirming triumph.
A "Washington Post "Notable Nonfiction Book of 2013
A "Kirkus Reviews "Best Nonfiction Book of 2013.
Praise For A Fort of Nine Towers: An Afghan Family Story…
"Mind-boggling . . . a riveting story of war as seen through a child's eyes and summoned from an adult's memory."
—The New York Times Book Review

"If you read only one book this summer, make it this one. It's an astonishing tale of religious barbarians and human hope, of what happened to Kabul before and after the Taliban came to power."
—Jeanette Winterson, O Magazine

"Beautifully written, with the pacing and suspense of a novel ... his richly detailed account of growing up in Afghanistan under the warlords and then the Taliban is deeply fulfilling, remarkable not least because he lived to tell the tale."
—The Washington Post

"A poetic, funny and terrifying memoir."
—The Economist

"Lucid, moving . . . a classic autobiography of universal resonance."
—Newsday

"A Fort of Nine Towers captures a time and a place unknown to most Americans . . . graphic, certainly, but it's also sweet and funny and inspiring."
—The Boston Globe

"As lyrical as it is haunting, this mesmerizing, not-to-be-missed debut memoir is also a loving evocation of a misunderstood land and people . . . A gorgeously rich tapestry of an amazing life and culture."
—Kirkus, starred review

"Omar's prose is deliciously forthright, extravagant, and somewhere mischievous, and very Afghan in its sense of long-suffering endurance and also reconciliation." 
—Publishers Weekly

"An extraordinary memoir that portrays [Omar's] coming of age during a time of madness. This story of his middle-class family's struggle to survive during a decade of civil war and Taliban rule is even more haunting than The Kite Runner, because it's not fiction."
—The Philadelphia Inquirer

"Qais's narrative cuts through hardened pro- or anti-war biases to record both the pain and pride that remain the hallmark of so many Afghans."
—The Daily Beast

"A beautifully written memoir about growing up in Afghanistan during the time of the civil wars, and the Taliban—one of the few books written about Afghanistan by an Afghan."
—The Denver Post

"Remarkable . . . a universal story of survival and the power of family."
—The Toronto Star

"Omar's beautifully written book is an affecting account of survival in the midst of brutality and fear, and a testament to the importance of family and friendships in a place where neighbours turned on neighbours."
—Sunday Times (UK)

"Qais Akbar Omar's memoir sets out . . . to show us the ordinary Afghanistan as well as the horror . . . Yet for all the horrors he has seen and the loved ones he has lost, there is no desire for vengeance in this account, only a profound stoicism."
—The Times (UK)

"Foreigners rarely penetrate the rich cultural depths of Afghanistan. Here at last is a powerful, haunting memoir that does justice to its tough, tenacious and astonishingly good-humoured people. The best thing about it . . . is that it is a book about Afghanistan written by an Afghan."
—Evening Standard (UK)

"Qais Akbar Omar, a young carpet merchant in Kabul, has written an autobiography that is among the best to emerge from Afghanistan . . . One of this memoir's virtues is that it captures the chaos and depredations of the era."
—Globe and Mail (UK)

"The story of Qais's family and their remarkable survival . . . As he shares this long journey, through terror, loss, heartbreak, and sudden moments of joy, Qais's spirit still shines."
—Queensland Times (Australia)

"As Omar recounts in his new memoir, A Fort of Nine Towers, life in Afghanistan is full of rich culture, family tradition and storytelling . . . [it] is Omar's attempt to heal the rift in understanding between our two cultures."
—Bookish

"[A Fort of Nine Towers] is important. It is vital. It is so simple, so honest, and so very, very real."
—LitStack

"Omar is a weaver not only of tales but also of fine rugs, and like all good tales it mixes enchantment with terror."
—Arts Journal

"This is an insider's intimate view of a battered but beautiful country and of families that have the same cares and values as our own."
—Guelph Mercury (Canada)

"If you have an ungrateful teenager on your hands, get them a copy of A Fort of Nine Towers. I guarantee that their view of life will change for the better after reading this book."
—Afghan Culture Unveiled (blog)

"From squatting inside a cave in the head of a Bamyan Buddha to escaping torture at the teeth of a dog and his master, Qais Akbar Omar's tale of one family's journey during the Afghan civil war is inscriptional: its images carve themselves into the reader's mind. Unlike most accounts of life in exile, A Fort of Nine Towers never leaves Afghanistan, as a boy and his family remain trapped within the nation's borders by familial ties and by war. This book is essential reading for anyone eager to learn what more than three decades of war have cost the Afghan people."
—Eliza Griswold, author of the New York Times bestseller The Tenth Parallel: Dispatches from the Fault Line Between Christianity and Islam

"At a time when Afghanistan threatens to recede into a bloody and debased footnote, Qais Akbar Omar reminds us of the honor and courage of his people. A remarkable feat of memory and imagination."
—Joydeep Roy-Bhattacharya, author of The Watch and The Storyteller of Marrakesh

"In this stark, unflinching memoir, Qais Akbar Omar illuminates the beauty and tragedy of a country pushed to the brink by war. A Fort of Nine Towers gives voice to the unbreakable spirit of the Afghan people."
—G. Willow Wilson, author of Alif the Unseen

"I know of no other book in which the complex realities of life—and death—in contemporary Afghanistan are so starkly and intimately portrayed. This brave memoir, rich in tough humor and insight, recounts an insider's view into both the suffering and the integrity of an uncompromisingly proud and courageous people. Above all, it is a powerful reminder of the extraordinary tenacity of a culture that foreigners have repeatedly and fatally misjudged."
—Jason Elliot, author of An Unexpected Light: Travels in Afghanistan

"This is a book for those who love Afghanistan, for those who want to understand it, or simply for those who value deeply the best in the human spirit. It is a tale that deserves to rank with The Kite Runner."
—Ronald E. Neumann, former U.S. ambassador to Afghanistan and president of the American Academy of Diplomacy

"A Fort of Nine Towers [is] a powerful coming-of-age tale set in Afghanistan . . . [B]eautifully written, with the pacing and suspense of a novel, his memoir contains moments when the grief becomes almost too difficult to bear. Nonetheless, his richly detailed account of growing up in Afghanistan . . . is deeply fulfilling, remarkable not least because he lived to tell the tale. The product of an immensely talented writer, A Fort of Nine Towers puts a human face on the violent history of Afghanistan."
—Rachel Newcomb, author of Women of Fes: Ambiguities of Life in Urban Morocco and The Gift

"The first true life memoir of growing up in Kabul, this is both a magical and a chilling book which conveys the strength of family in truly terrible times. Definitely on my recommend list for 2013."
—Christina Lamb
Farrar Straus Giroux, 9780374157647, 396pp.
Publication Date: April 16, 2013
About the Author
Qais Akbar Omar (whose first name is pronounced "Kice") manages his family's carpet business in Kabul and writes books. In 2007, he was a visiting scholar at the University of Colorado. He has studied business at Brandeis University and is currently pursuing an MFA in creative writing at Boston University. Omar has lectured on Afghan carpets in Afghanistan, Europe, and the United States. He is the coauthor, with Stephen Landrigan, of "Shakespeare" "in Kabul."
or
Not Currently Available for Direct Purchase