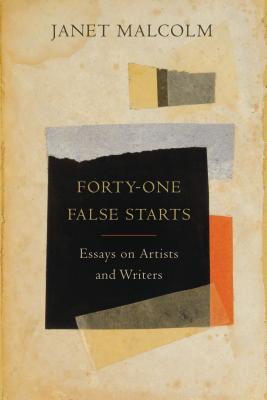 Forty-one False Starts (Hardcover)
Essays on Artists and Writers
Farrar, Straus and Giroux, 9780374157692, 320pp.
Publication Date: May 7, 2013
Other Editions of This Title:
Paperback (5/13/2014)
* Individual store prices may vary.
Description
A National Book Critics Circle Finalist for Criticism
A deeply Malcolmian volume on painters, photographers, writers, and critics.
Janet Malcolm's In the Freud Archives and The Journalist and the Murderer, as well as her books about Sylvia Plath and Gertrude Stein, are canonical in the realm of nonfiction—as is the title essay of this collection, with its forty-one "false starts," or serial attempts to capture the essence of the painter David Salle, which becomes a dazzling portrait of an artist. Malcolm is "among the most intellectually provocative of authors," writes David Lehman in The Boston Globe, "able to turn epiphanies of perception into explosions of insight."
Here, in Forty-one False Starts, Malcolm brings together essays published over the course of several decades (largely in The New Yorker and The New York Review of Books) that reflect her preoccupation with artists and their work. Her subjects are painters, photographers, writers, and critics. She explores Bloomsbury's obsessive desire to create things visual and literary; the "passionate collaborations" behind Edward Weston's nudes; and the character of the German art photographer Thomas Struth, who is "haunted by the Nazi past," yet whose photographs have "a lightness of spirit." In "The Woman Who Hated Women," Malcolm delves beneath the "onyx surface" of Edith Wharton's fiction, while in "Advanced Placement" she relishes the black comedy of the Gossip Girl novels of Cecily von Zeigesar. In "Salinger's Cigarettes," Malcolm writes that "the pettiness, vulgarity, banality, and vanity that few of us are free of, and thus can tolerate in others, are like ragweed for Salinger's helplessly uncontaminated heroes and heroines." "Over and over," as Ian Frazier writes in his introduction, "she has demonstrated that nonfiction—a book of reporting, an article in a magazine, something we see every day—can rise to the highest level of literature."
One of Publishers Weekly's Best Nonfiction Books of 2013
About the Author
Janet Malcolm is the author of many books, including In the Freud Archives, The Journalist and the Murderer, Two Lives: Alice and Gertrude, which won the 2008 PEN/Jacqueline Bograd Weld Award for Biography, and Forty-One False Starts, which was a New York Times Book Review Notable Book and a finalist for the 2013 National Book Critics Circle Award for Criticism. She is a frequent contributor to The New Yorker and The New York Review of Books.

Ian Frazier is the author of Travels in Siberia, Great Plains, On the Rez, Lamentations of the Father and Coyote V. Acme, among other works, all published by Farrar, Straus and Giroux. He graduated from Harvard University. A frequent contributor to The New Yorker, he lives in Montclair, New Jersey.
Praise For Forty-one False Starts: Essays on Artists and Writers…
"No living writer has narrated the drama of turning the messy and meaningless world into words as brilliantly, precisely, and analytically as Janet Malcolm . . . Her influence is so vast that much of the writing world has begun to think in the charged, analytic terms of a Janet Malcolm passage." —Katie Roiphe, The Paris Review
"[A] master of the profile...alluring, pointed, singularly perceptive tellings." —The New Yorker
"Forty-One False Starts [is] a powerfully distinctive and very entertaining literary experience. . . what the reader remembers is Janet Malcolm: her cool intelligence, her psychoanalytic knack for noticing and her talent for withdrawing in order to let her subjects hang themselves with their own words. . .These short pieces [are] unmistakably the work of a master." —Zoe Heller, The New York Review of Books
"Forty-One False Starts is a remarkable and, in its strange way, gripping piece of work. It achieves the rare feat of communication something valuable about the largely ineffable 'creative process.'" —Zoe Heller, The New York Review of Books
"[An] invigorating new collection . . . keenly intelligent journalism that feels, always, as if it had been written by a human being, one with a beating heart, a moral compass, a wide-ranging curiosity, and a point of view." —Laura Collins-Hughes, The Boston Globe
"Even if you've been reading Janet Malcolm for years, the critical appreciations collected in Forty-One False Starts may surprise you. The title essay is (or pretends to be) a series of scrapped beginnings to her profile of the painter David Salle, a giant of the art world in vulnerable mid-career. If you want to write magazine prose, this alone should make you buy the book. Ranging from Bloomsbury to Edward Weston to J.D. Salinger, the entire book is full of stylistic daring, fine distinctions, and bold judgments set down at the speed of thought." —Lorin Stein, The Paris Review online
"[Malcolm's] portraits of the storytellers . . . are glorious. Without any diminishment of her critical eye, she seems like she's having more fun—when she describes Gene Stratton-Porter writing deranged children's books, or Julia Margaret Cameron admiring England's finest beards, or Blair Waldorf sulking over caviar at the Plaza." —Molly Fischer, The New York Observer
"Janet Malcolm offers a penetrating new collection of essays . . . She's so penetrating, in fact—and her writing so seductive and entertaining—that I always begin reading her books in a kind of critical defensive crouch. . . She might be the most gifted scene-setter in American journalism. . . She's so deft an observer—so rich are her descriptions and insights—that you might find yourself rushing through a piece and only remarking afterward how fine her sentences are." —Michael Robbins, The Chicago Tribune
"Malcolm has solidified her reputation as a guide who can expertly help readers through, as her New Yorker colleague Ian Frazier writes in the introduction to Forty-One False Starts, 'a good big mess.' One is the sheer pleasure of her rich descriptive power, her sentences turned like spindles on a lathe. There is the historical interest: reminders of who was once fashionable, should one care. There is the cruelly perfect aim of her insults. But there is, above all, the unequaled glimpse into the mind of Malcolm the critic, which is as close as we're likely to get to the mind of Malcolm, one of our smartest, best writers, someone whose personal inscrutability and elusiveness I regret all the time." —Mark Oppenheimer, The Nation
"Malcolm's severity, her terrifying neutrality—like a teacher who is capable of handling even her most despised pupils no differently than the ones she secretly adores—is part of what makes her a brilliant writer. It is also why her writing does not occasion adolescent reverence and why her image is not printed in fashion magazines. You discover Didion in high school and you read her on the beach. Malcolm you discover in college—or after—and read before you do your own work....[She] is a priestly figure; an aura of quiet surrounds her work. She is always in control....Reading even the most cerebral of her sentences, you feel smart by association rather than dumb by comparison." —Alice Gregory, Slate
"Bringing together a quarter-century's worth of subtle, sharply observed essays on artists and writers, this collection chronicles not just life events and artistic influences, but also the amorphous subjectivity of biography itself . . . These unstinting essays investigate how a consensus forms relating to a body of work or an artistic movement, how attitudes toward art change over time, and how artistic legacies are managed—or mismanaged—by children and heirs." —Publishers Weekly (starred review and pick of the week)
or
Not Currently Available for Direct Purchase