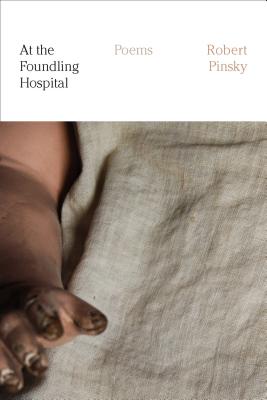 At the Foundling Hospital
Poems
Hardcover

* Individual store prices may vary.
Other Editions of This Title:
Paperback (10/3/2017)
Description
"Since the death of Robert Lowell in 1977, no single figure has dominated American poetry the way that Lowell, or before him Eliot, once did . . . But among the many writers who have come of age in our fin de siècle, none have succeeded more completely as poet, critic, and translator than Robert Pinsky." —James Longenbach, The Nation

With all the generosity and mastery we have come to expect from out three-time Poet Laureate, Robert Pinsky has written a bold, lyrical meditation on identity and culture as hybrid and fluid, violent as well as creative: the enigmatic, maybe universal, condition of the foundling. At the Foundling Hospital considers the foundling soul: its need to be adopted, and its need to be adaptive. These poems reimagine identity on the scale of one life or of human history: from "the emanation of a dead star still alive" to the "pinhole iris of your mortal eye."

What is a particular person? How unique? What is anyone born as? Born with? Born into? The poems of Robert Pinsky's At the Foundling Hospital engage personality and culture as improvised from loss: a creative effort so pervasive it can be invisible.
Praise For At the Foundling Hospital: Poems…
"Resonant . . . Stunning . . . These poems, with their careful word choices and refined music, demand multiple readings and reveal more each time. The collection, like two dying friends in one piece, leave 'A shape distinct and present in the mind.'" —Elizabeth Lund, The Washington Post

"[Pinsky's] poems are methodical, carefully built, heady . . . gently sarcastic, and very good . . . But, Pinsky also suggests with no small amount of irony and wit in this prescient book, we've left bread crumbs in the language to help us find our way back to sanity, if only we'll follow them." —Craig Morgan Teicher, Los Angeles Times

"Pinsky's erudite, jaunty, and finely distilled lyrics keenly consider genesis, ancestors know and concealed, enslaved and displaced, and our myriad attempts to define the cosmos and ourselves. Pinsky offers cunningly piquant catalog poems: biblical, skeptical, whimsical litanies of our endeavors and failures, from language itself to myth, religion, dance, jazz, and comic strips to war and environmental decimation as we spin round in perpetual desire and denial." —Donna Seaman, Booklist

"In his latest offering, Pinsky, a three-term U.S. Poet Laureate, visits a foundling hospital to discover the past. Pinsky, who started as a jazz musician, excels at figures of sound--rhythm, rhyme, alliteration, and assonance." —Library Journal

"In this ode to "Mind, mind, mind pulled/ Taut in its bony shell/ Dreaming up Heaven and Hell," Pinsky celebrates the individual imagination while complicating the idea of single point of origin or influence . . . Relatively spare poems offer sweeping meditations on history." —Publisher's Weekly
Farrar, Straus and Giroux, 9780374158118, 80pp.
Publication Date: October 4, 2016
About the Author
A former Poet Laureate of the United States, Robert Pinsky was born and raised in Long Branch, New Jersey. In addition to his books of poetry and The Inferno of Dante, he has written prose works, including The Life of David and The Sounds of Poetry.
or
Not Currently Available for Direct Purchase