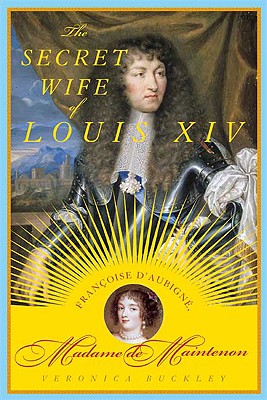 The Secret Wife of Louis XIV (Hardcover)
Françoise d'Aubigné, Madame de Maintenon
Farrar, Straus and Giroux, 9780374158309, 528pp.
Publication Date: September 1, 2009
Other Editions of This Title:
Paperback (8/31/2010)
* Individual store prices may vary.
Description
Françoise d'Aubigné, marquise de Maintenon and secret wife of the Sun King, Louis XIV, was born in a bleak French prison in 1635, her father a condemned traitor and murderer, her mother the warden's seduced daughter. A timely pardon and a hopeful Caribbean colonial venture failed to mend the family's fortunes, and Françoise was reduced to begging in the streets. Yet, armed with beauty, intellect, and shrewd judgment, she was to make her way to the center of power at Versailles, the most opulent and ambitious court in all Europe.
At fifteen, she was married off to the forty-two-year-old satirical poet Paul Scarron, a former roué now grievously deformed by rheumatism—"a sort of human Z," as he described himself. Despite his ailments, Scarron presided over the liveliest and most scandalous literary salon in Paris, and Françoise quickly became its most prized ornament.
After Scarron's death, she enjoyed a merry widowhood in the fashionable Marais district, in the company of the courtesan Ninon de Lenclos and the King's splendid mistress, Athénaïs de Montespan, who made the young widow governess to her brood of illegitimate children. The appointment transformed Françoise's life, but was fatal to the temperamental Athénaïs herself, with the King soon turning his attentions to the graceful governess. Françoise was raised to the nobility as Madame de Maintenon—and, unofficially, "Madame de Maintenant," the lady of the moment.
The acclaimed biographer Veronica Buckley traces the extraordinary story of Françoise's progress from pauper child to
salonnière
to the compromised position of Louis's secret wife and uncrowned Queen. An absolute ruler, Louis turned away his many other mistresses to live with Françoise only, trusting her as his closest confidante and remaining in love with her for forty years.
Sparkling with the irresistible wit of contemporary chroniclers such as Madame de Sévigné, this exactingly researched biography is a pinnacle of the form. In vibrant colors,
The Secret Wife of Louis XIV
paints a portrait of Europe in an age of violent change, and the Sun King's France in the process of becoming its modern self.
About the Author
Veronica Buckley was born and educated in New Zealand, and later studied at the Universities of London and Oxford. Christina, Queen of Sweden, was the subject of her much-praised first biography. She lived in Paris while researching "The Secret Wife of Louis XIV," and now lives in Vienna.
Praise For The Secret Wife of Louis XIV: Françoise d'Aubigné, Madame de Maintenon…
Praise for The Secret Wife of Louis XIV

"Lively . . . Buckley has written an admirably balanced life with a wealth of biographical detail and great sympathy for her subject . . . An extraordinary adventure." —The Economist

"Veronica Buckley writes extremely well, and her narrative never fails to grip. She succeeds in her main aim—to show how an intelligent woman in a deeply traditional age used her personal gifts to rise from near the bottom to the summit of the social and political ladder . . . [The Secret Wife of Louis XIV] is convincing and ultimately moving, a perceptive appreciation of a remarkable woman." —Munro Price, The Sunday Telegraph

Praise for Christina, Queen of Sweden

"A stunning debut and an absorbing page-turner. Veronica Buckley writes with immense style, vitality, and great humanity. The fascinating tale she weaves is as compelling as the most riveting of novels." —Alison Weir, author of The Six Wives of Henry VII

"An impressive first biography, Christina, Queen of Sweden: The Restless Life of a European Eccentric not only justifies its subtitle in fascinating biographical detail but also provides an interesting commentary on gender and rule." —Antonia Fraser, author of Love and Louis XIV

"Vividly persuasive . . . [Shifts] capably between the hilarious and the deeply touching . . . [Christina] rises from the pages of this richly evocative book . . . as a complex, thoroughly believable human being." —Bruce Bawer, The New York Times Book Review

"Buckley's witty and highly coloured prose is eminently suited to such a bizarre and self-dramatised life . . . Her book is much less a debut than the highly polished work of a writer who has been thinking about and loving her subject for years, and her enjoyment in the writing of Queen Christina's life is wonderfully translated into our pleasure in reading it." —The Sunday Times (London)
or
Not Currently Available for Direct Purchase