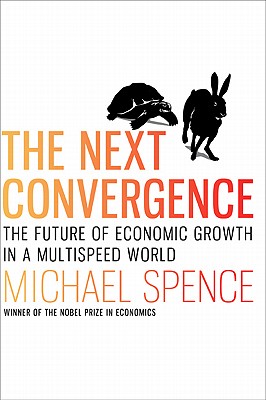 The Next Convergence (Hardcover)
The Future of Economic Growth in a Multispeed World
Farrar Straus Giroux, 9780374159757, 320pp.
Publication Date: May 10, 2011
* Individual store prices may vary.
Description
A "Washington Post" Notable Nonfiction Book for 2011
With the British Industrial Revolution, part of the world's population started to experience extraordinary economic growth leading to enormous gaps in wealth and living standards between the industrialized West and the rest of the world. This pattern of divergence reversed after World War II, and now we are midway through a century of high and accelerating growth in the developing world and a new convergence with the advanced countries a trend that is set to reshape the world.
Michael Spence, winner of the Nobel Prize in Economic Sciences, explains what happened to cause this dramatic shift in the prospects of the five billion people who live in developing countries. The growth rates are extraordinary, and continuing them presents unprecedented challenges in governance, international coordination, and ecological sustainability. The implications for those living in the advanced countries are great but little understood.
Spence clearly and boldly describes what's at stake for all of us as he looks ahead to how the global economy will develop over the next fifty years. "The Next Convergence" is certain to spark a heated debate how best to move forward in the post-crisis period and reset the balance between national and international economic interests, and short-term fixes and long-term sustainability.
About the Author
Michael Spence is a Professor of Economics at the Stern School of Business at New York University, a senior fellow at the Hoover Institution, and was the chairman of the independent Commission on Growth and Development. Winner of the Nobel 2001 Prize in Economic Sciences, he lives in California and Italy.
Praise For The Next Convergence: The Future of Economic Growth in a Multispeed World…
"The global economy is too complicated for slogans. Which is one reason why Michael Spence's new book is so refreshing. Spence, who shared the Nobel Prize in economics with Joseph Stiglitz in 2001, has systematically investigated the origins of hypergrowth, the process through which national economies rise from poverty to relative prosperity. In The Next Convergence, he presents a nuanced, highly readable argument on the symbiotic, fraught relationship between today's booming developing markets and the seemingly stagnant developed ones."—Daniel Gross, The Washington Post "Cogent, comprehensive, and compelling, his book sorts out the issues, forces and trends driving 'the Inclusiveness Revolution,' the challenges facing China and India, and the impact on incomes, natural resources, and the environment."—Glenn C. Altschuler, The Huffington Post "Michael Spence has written an intelligent, rational and humane book about the great economic event of our era: convergence, or the rapid rise of once poor countries. Anyone seeking a common-sense guide to the transformation under way need look no further . . . Readers will learn a great deal."—Martin Wolf, The Financial Times "[A] sharp new book . . . It's rare to hear an economist raise even theoretical doubt over such a deeply ingrained assumption in Western economies."—Reuters "Michael Spence has long been pointing out the frictions that interfere with efficient markets . . . [He]has much to offer from a rich career in research, academia and global policymaking."— The Economist
"Contrary to his book's title, Nobel Prize–winning economist Spence does less prognosticating than one might expect. Indeed, early on he shares a chart showing just how inaccurately economists predicted growth during the 1990s. Instead, he offers a comprehensive summary of the forces at play in today's global economy: removal of trade barriers, the lightning-fast transfer of knowledge from developed to emerging economies, global demand, resources, the role of national and international governments, and the management (or not) of currency rates, among others. Spence's style is pretty flat (Where's John Kenneth Galbraith when we need him?), and he seems to underestimate the looming role of climate change in any economic scenario. Yet his status report could give attentive readers a more empowered role in their own economic future."—Alan Moores, Booklist
"In recent years, developing countries have become an increasingly important driver of growth in the world economy, bringing about the prospect of a new and multi-polar landscape of the global economy in which the traditional gap in living standards between developing and advanced countries may possibly disappear. Michael Spence has written a succinct and clear analysis of the forces behind this fascinating process that is immensely readable, yet does justice to the complexity of the issues involved. Among the many books written on the new world economy this is one of the most profound. A must-read for everyone interested in the mega-trends shaping the future of the world economy."—Justin Yifu Lin, World Bank Senior Vice President and Chief Economist  "Rarely does one find a book that is so powerful in its analysis, timely in its topic, relevant in its thinking, and clear in its exposition. Combining his Nobel Prize winning theoretical brilliance and unmatched operational experience, Professor Spence explains clearly complex multi-speed dynamics that are rapidly impacting our world and influencing the current and future well being of billions. This is by far the best book I have seen on today's historical growth transformations."—Mohamed A. El-Erian, CEO and co-CIO of PIMCO, and author of
When Markets Collide
"The emergence of China is just part of an amazing catching up process going in the world. We all feel this profound change, but few of us have the ability to step back, put it in perspective, analyze the past and guess where the future is taking us. Mike Spence has it, and he delivers. This is serious thinking, on essential issues. I learned a lot from the book, both in the small and in the large; I am sure other readers will as well." —Olivier Blanchard, IMF Chief Economist and Class of 1942 Professor Economics, MIT
"Among economists, common sense is not that common. Fortunately, Michael Spence has long bucked the trend. In this book he dispenses wisdom on economic growth – and much else – in accessible, bite-sized chunks. The world's policy makers better listen." — Dani Rodrik, Rafiq Hariri Professor of International Political Economy at the John F. Kennedy School of Government, Harvard University
"I always knew that Mike Spence was a terrific economist. After reading this book I realize that he also has the rare ability to see the world economy—all of it, rich and poor—with clarity, reason and empathy. If you are looking for a lucid, readable, consistent, unprejudiced picture of what has been happening and what might happen next in the world economy, this is an excellent place to find it." —Robert Solow, winner of the 1987 Nobel Memorial Prize in Economic Sciences