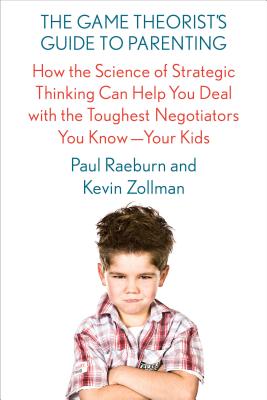 The Game Theorist's Guide to Parenting (Hardcover)
How the Science of Strategic Thinking Can Help You Deal with the Toughest Negotiators You Know--Your Kids
Scientific American, 9780374160012, 240pp.
Publication Date: April 5, 2016
* Individual store prices may vary.
Description
"I absolutely loved this book, both as a parent and as a nerd." --Jessica Lahey, author of The Gift of Failure
As every parent knows, kids are surprisingly clever negotiators. But how can we avoid those all-too-familiar wails of "That's not fair " and "You can't make me "? In The Game Theorist's Guide to Parenting, the award-winning journalist and father of five Paul Raeburn and the game theorist Kevin Zollman pair up to highlight tactics from the worlds of economics and business that can help parents break the endless cycle of quarrels and ineffective solutions. Raeburn and Zollman show that some of the same strategies successfully applied to big business deals and politics--such as the Prisoner's Dilemma and the Ultimatum Game--can be used to solve such titanic, age-old parenting problems as dividing up toys, keeping the peace on long car rides, and sticking to homework routines.
Raeburn and Zollman open each chapter with a common parenting dilemma. Then they show how carefully concocted schemes involving bargains and fair incentives can save the day. Through smart case studies of game theory in action, Raeburn and Zollman reveal how parents and children devise strategies, where those strategies go wrong, and what we can do to help raise happy and savvy kids while keeping the rest of the family happy too.
Delightfully witty, refreshingly irreverent, and just a bit Machiavellian, The Game Theorist's Guide to Parenting looks past the fads to offer advice you can put into action today.
About the Author
Paul Raeburn is the award-winning author of several books, including Do Fathers Matter?, a National Parenting Publications Gold Medal winner and a Mom's Choice Award winner, and Acquainted with the Night, a memoir of raising children with mental illness. His articles have appeared in Discover, The Huffington Post, The New York Times Magazine, Scientific American, and Psychology Today, among many others. He lives in New York City. Kevin Zollman is a game theorist and an associate professor of philosophy at Carnegie Mellon University. His work has been covered in The Wall Street Journal, The New Yorker, Scientific American, and elsewhere.