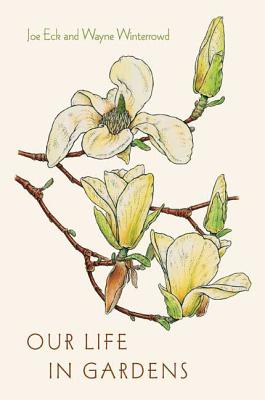 Our Life in Gardens (Hardcover)
Farrar Straus Giroux, 9780374160319, 322pp.
Publication Date: February 3, 2009
* Individual store prices may vary.
Description
This is the third book we have written together, though separately we have written others . . . But to say written separately' makes no sense, for when two lives have been bent for so many years on one central enterprise in this case, gardening there really is no such thing as separately."
With these words, the renowned garden designers Joe Eck and Wayne Winterrowd begin their entertaining, fascinating, and unexpectedly moving book about the life and garden they share. The book contains much sound information about the cultivation of plants and their value in the landscape, and invaluable advice about Eck and Winterrowd's area of expertise: garden design. There are chapters about the various parts of their garden, and sections about particular plants roses and lilacs, snowdrops and cyclamen and vegetables. The authors also discuss the development of their garden over time, and the dark issue that weighs more and more on their minds: its eventual decline and demise. "Our Life in Gardens "is a deeply satisfying perspective on gardening, and on life.
About the Author
Joe Eck and Wayne Winterrowd are the co-authors of The Year at North Hill: Four Seasons in a Vermont Garden and Living Seasonally: The Kitchen and the Table at North Hill. They are co-founders of the garden design firm North Hill, and live in Vermont.
Praise For Our Life in Gardens…
"Joe Eck and Wayne Winterrowd have collaborated on another fine book. Our Life inGardens is a charming, helpful, and confident text, a guiding hand that turns into a reassuring hug." —Ken Druse, author of The Passion for Gardening
"For more than thirty years, Joe Eck and Wayne Winterrowd have been gardening with extraordinary, indeed legendary, results. Part memoir, part omnium-gatherum of horticultural wisdom and practical advice, Our Life in Gardens is at once literate, learned, sensible, and, often, sheer luscious poetry. There are delights to be sampled on every page. From a cultivated life, they have brought forth, once again, a cultivated book." —Philip Gambone, author of Beijing
"What a treat it is to settle down with Joe Eck and Wayne Winterrowd's Our Life in Gardens. Part memoir, part stories of plants and design, this volume radiates charm and humor while offering precious tidbits of wisdom. A delicious read." —Page Dickey, author of Duck Hill Journal: A Year in a Country Garden
"This is a wonderful book. If you are already a gardener, this will spur you on to new heights. If you are thinking about being a gardener, it will offer you a new world." —Roxana Robinson, author of Cost
or
Not Currently Available for Direct Purchase