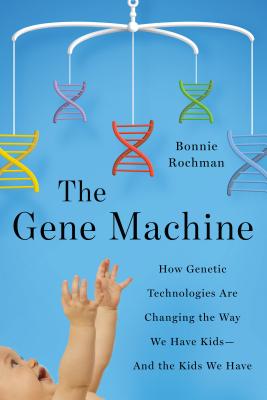 The Gene Machine
How Genetic Technologies Are Changing the Way We Have Kids--and the Kids We Have
Hardcover

* Individual store prices may vary.
Other Editions of This Title:
Paperback (2/13/2018)
Description
A sharp-eyed exploration of the promise and peril of having children in an age of genetic tests and interventions

Is screening for disease in an embryo a humane form of family planning or a slippery slope toward eugenics? Should doctors tell you that your infant daughter is genetically predisposed to breast cancer? If tests revealed that your toddler has a genetic mutation whose significance isn't clear, would you want to know?

In The Gene Machine, the award-winning journalist Bonnie Rochman deftly explores these hot-button questions, guiding us through the new frontier of gene technology and how it is transforming medicine, bioethics, health care, and the factors that shape a family. Rochman tells the stories of scientists working to unlock the secrets of the human genome; genetic counselors and spiritual advisers guiding mothers and fathers through life-changing choices; and, of course, parents (including Rochman herself) grappling with revelations that are sometimes joyous, sometimes heartbreaking, but always profound. She navigates the dizzying and constantly expanding array of prenatal and postnatal tests, from carrier screening to genome sequencing, while considering how access to more tests is altering perceptions of disability and changing the conversation about what sort of life is worth living and who draws the line. Along the way, she highlights the most urgent ethical quandary: Is this technology a triumph of modern medicine or a Pandora's box of possibilities?

Propelled by human narratives and meticulously reported, The Gene Machine is both a scientific road map and a meditation on our power to shape the future. It is a book that gets to the very core of what it means to be human.
Praise For The Gene Machine: How Genetic Technologies Are Changing the Way We Have Kids--and the Kids We Have…
A Publishers Weekly Pick for Book of the Week

One of 15 Books That Will Nurture Your Nerdier Side in 2017, New York magazine

"Thoughtful [and] engaging . . . Rochman explores the impact and uncertainty that information relating to an individual's genetic material may have on his or her life and family . . . Despite the various pitfalls, Ms. Rochman concludes that 'knowing your genes' is more beneficial than not." —Adrian Woolfson, The Wall Street Journal

"The Gene Machine shows how genetic testing is changing the lives of prospective parents and explores the dilemmas many people now face . . . Rochman navigates these difficult waters with skill and compassion, drawing on conversations with families and physicians and setting out the ethical challenges and the range of solutions adopted by different people, without being preachy or moralistic." —Matthew Cobb, The New York Review of Books

"An exciting, informative, and lucidly written book about genes and the future." —Siddhartha Mukherjee, Pulitzer Prize-winning, bestselling author of The Gene and The Emperor of All Maladies

"Knowledge is power, and it's especially empowering when you're pregnant. But with genetic technology, mining an overwhelming amount of information from the moment of conception (and before!) on, how do parents sort through what they need to know, what might be nice to know, and what they might be better off not knowing about the baby they've created or will create? What screens and tests should they opt for—and what is this about sequencing? The Gene Machine provides parents with a clear-eyed explanation of the promise and pitfalls of ever-evolving genetic technologies so that they can make clear-eyed decisions about the unprecedented choices they'll be facing on their baby-making journey." —Heidi Murkoff, bestselling author of the What to Expect When You're Expecting series

"[Rochman] delves into discussions well along among geneticists, physicians and other scientists about the benefits, pitfalls and dangers of these genetic advances. For the nonscientist who wants to catch up and join in, the book is an excellent starting point . . . The Gene Machine is well researched and written as a helpful guide on the choices potential parents may be called upon to make. It can also help guide society out of the ethical thickets planted by this advancing science." —John B. Saul, The Seattle Times

"As a health journalist and a mother, [Rochman is] a thoughtful guide. She doesn't offer easy answers, but she gives voice to scientists, doctors, ethicists, and parents grappling with these questions so that we can better understand them." —Alice Callahan, The Washington Post

"Bonnie Rochman beautifully weaves real-life scenarios and expert interviews with scientific data and historical context." —Olivia Campbell, Vice

"Careful, judicious weighing of the pros and cons of genetic tech." —Navneet Alang, The Globe and Mail

"The Gene Machine expertly unravels this brave new world of family engineering, from both scientific and human perspectives." —Jon Foro, Omnivoracious

"Calm, thorough, and nonsensationalist . . . Rochman's thoughtful take highlights important issues for parenting in an increasingly high-information world." —Publishers Weekly (starred review)

"Knowledge can be power, but as Rochman rightly points out, sometimes the ability to know doesn't mean one should know. Solid research into dilemmas regarding screening and how it is used for fetuses and newborns." —Kirkus Reviews

"Rochman provides important, reader-friendly information about a complex and timely topic." —Donna Chavez, Booklist

"The author delves into an intriguing and intimate topic with sensitivity and compassion . . . For anyone who has or will have children as well as those with an interest in genetics and popular science." —Tina Chan, Library Journal

"Rochman's research is clear, and it's impressive how carefully she's included all viewpoints on each issue, revealing the complexity within each question and each answer." —Leah Rachel von Essen, While Reading and Walking

"A mind-bending exploration of what makes us human, The Gene Machine will make you reconsider the meaning and mechanisms of parenthood." —Kelley Benham French, coauthor of Juniper: The Girl Who Was Born Too Soon

"Strikes a great balance between describing the science and technology behind genetic advances, and translating those into real patient stories and experiences. It's a fascinating read." —Mary E. Norton, M.D., professor of obstetrics, gynecology, and reproductive sciences at the University of California, San Francisco

"Bonnie Rochman's The Gene Machine is as profoundly important and timely as it is readable and relatable. Through deeply human stories, Rochman unpacks the complicated science of genetics and how it has changed the ways we build and understand our families in the modern world. In short, this is genetics with a human face." —Emily Rapp Black, New York Times bestselling author of The Still Point of the Turning World

"Bonnie Rochman has taken a subject that every parent worries about but few understand, and made it accessible, urgent, and humane. The Gene Machine is like a guidebook to the future. It will be invaluable for many families." —Bruce Feiler, New York Times bestselling author of The Secrets of Happy Families

"Bonnie Rochman dives into the turbulent waters of genetic testing and emerges with The Gene Machine, a smart and compassionate account of this ever-advancing science. Her curiosity and compelling narrative will challenge you to consider all the 'what-ifs' of the future of gene sequencing. Go on this journey with her. Take the plunge. You'll come away enthralled and informed." —Randi Hutter Epstein, M.D., M.P.H., author of Get Me Out: A History of Childbirth from the Garden of Eden to the Sperm Bank

"How much do you really want to know about the future health of your children or yourself? In The Gene Machine, Bonnie Rochman provides us with a beautifully written, thoughtful examination of this complex issue. It is a must-read for anyone grappling with the brave new world of genetic possibilities." —Richard L. Berkowitz, M.D., professor of obstetrics and gynecology at Columbia University

"The Gene Machine is a great read. Bonnie Rochman negotiates the pros and cons of genetic technologies and humanizes scientific endeavors by venturing into the hearts and homes of families facing tough choices caused by the hardship of inherited disease." —Dr. James Grifo, director of the New York University Langone Fertility Center

"Real issues confronted by real people, with real implications for their decisions: Bonnie Rochman tells their stories and clearly and compellingly examines the issues they confront." —Jeffrey Kahn, Ph.D., M.P.H., Andreas C. Dracopoulos Director of the Johns Hopkins Berman Institute of Bioethics

"A vivid introduction to the new world of pre- and postnatal genetic testing: a guidebook for the person who wants a deeper understanding of all the amazing things this technology can do, and why you still might want to think twice." —Laura Hercher, director of student research at the Joan H. Marks Graduate Program in Human Genetics, Sarah Lawrence College

Scientific American / Farrar, Straus and Giroux, 9780374160784, 288pp.
Publication Date: February 28, 2017
About the Author
Bonnie Rochman is an award-winning journalist and author of The Gene Machine. A former health and parenting columnist for Time.com and staff writer for Time magazine, she has written for The New York Times Magazine, The Wall Street Journal, MIT Technology Review, Scientific American, and O, The Oprah Magazine. She lives in Seattle with her husband and three children.
or
Not Currently Available for Direct Purchase