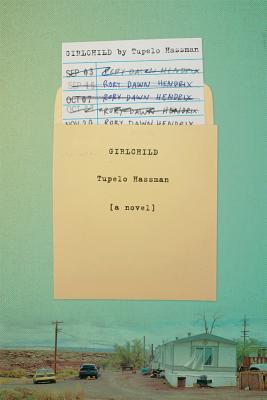 Girlchild
Hardcover

* Individual store prices may vary.
Other Editions of This Title:
Digital Audiobook (5/27/2012)
Paperback (2/5/2013)
MP3 CD (5/28/2012)
Compact Disc (5/28/2012)
MP3 CD (5/28/2012)
Compact Disc (5/28/2012)
Compact Disc (5/28/2012)
Description
Rory Hendrix is the least likely of Girl Scouts. She hasn't got a troop or even a badge to call her own. But she's checked the "Handbook "out from the elementary school library so many times that her name fills all the lines on the card, and she pores over its surreal advice (Uniforms, disposing of outgrown; The Right Use of Your Body; Finding Your Way When Lost) for tips to get off the Calle: that is, the Calle de las Flores, the Reno trailer park where she lives with her mother, Jo, the sweet-faced, hard-luck bartender at the Truck Stop.
Rory's been told that she is one of the "third-generation bastards surely on the road to whoredom." But she's determined to prove the county and her own family wrong. Brash, sassy, vulnerable, wise, and terrified, she struggles with her mother's habit of trusting the wrong men, and the mixed blessing of being too smart for her own good. From diary entries, social workers' reports, half-recalled memories, arrest records, family lore, Supreme Court opinions, and her grandmother's letters, Rory crafts a devastating collage that shows us her world even as she searches for the way out of it.
Tupelo Hassman's "Girlchild "is a heart-stopping and original debut.
Praise For Girlchild…
"Beautiful . . . Ms. Hassman is such a poised storyteller that her prose practically struts. Her words are as elegant as they are fierce. A voice as fresh as hers is so rare that at times I caught myself cheering . . . I don't know about you, but I'd go anywhere with this writer." —Susannah Meadows, The New York Times

"Girlchild . . . unfolds a compelling, layered narrative told by a protagonist with a voice so fresh, original, and funny you'll be in awe. This novel rocks . . . In Girlchild Tupelo Hassman has created a character you'll never forget. Rory Dawn Hendrix of the Calle has as precocious and endearing a voice as Holden Caulfield of Central Park. When you finish this novel, your sorrow at turning the last page will be eased by your excitement at what this sassy, talented author will do next." —Mameve Medwed, The Boston Globe

"The real pleasure of the book comes from following the wisecracking, tough and sensitive Rory as she struggles to survive and escape the sort of life no girl should have to lead." —Michelle Quint, San Francisco Chronicle

"It's Rory's voice, as well as the offbeat ways in which she presents her coming-of-age story that make Girlchild so memorable . . . Rory is like a miniature Margaret Mead, observing and chronicling the life of the trailer park with an insider's knowledge and an anthropologist's detachment . . . It's a testament to Hassman's assurance as a writer that, even though we readers have the option of leaving, we hunker down in that trailer park with Rory for the long dry season of her youth." —Maureen Corrigan, Fresh Air

"In Girlchild, Hassman's spunky, shy and almost accidentally intelligent heroine, Rory Dawn Hendrix, is living in a trailer park outside Reno, 'south of nowhere.' Her mother, Jo, is a truck-stop bartender prone to trusting the wrong men . . . The book's portraiture is vivid and hauntingly unfamiliar; Hassman's personal history matters less than the artistic care she takes here—and she takes a great deal of care." —Sam Allard, The Cleveland Plain Dealer

"Tupelo Hassman's lyrical and fiercely accomplished first novel brings us three generations of Hendrix women washed up in 'the Calle' . . . In Hassman's skilled hands, what could have been an unrelenting chronicle of desolation becomes a lovely tribute to the soaring, defiant spirit of a survivor." —Helen Rogan, People

"Rory Hendrix will soon be a character readers around the country will know. She's the young heroine of Tupelo Hassman's debut Girlchild, a novel that drops us into her home in a Reno trailer park and invites us to be the only other member of her Girl Scout troop. With humor, warmth, and unflinching prose, Girlchild is a youth survival story of the very first rate." —Publishers Weekly, pick of the week

"This is a gorgeous first novel, as humorous as it is heartbreaking. Some will see similarities between Hassman and National Book Award recipient Jaimy Gordon (Lord of Misrule), and fans of coming-of-age novels will fall in love with Rory's story." —Mara Dabrishus, Library Journal (starred review)

"Hassman's debut gives voice—and soul—to a world so often reduced to cliché." —Kirkus Reviews

"This debut possesses powerful writing and unflinching clarity." —Publishers Weekly (starred review)

"In this inventive, exciting debut, Hassman writes a 1980s Reno trailer park into a neon, breathing world . . . Hassman's creatively-titled, short, free-form chapters are helium-filled imagination fodder, and Hassman takes what could be trite or unbelievable in less-talented hands and makes it entirely the opposite." —Annie Bostrom, Booklist

"This first novel is not like anything you or I have ever read. Something between a shocking exposé, a defiant treatise, a prose poem, and an exuberant Girl Scout manual, it is always formally inventive and bursting with energy. Yes, this is an insider's report confirming the worst you ever allowed yourself to think about lowdown trailer parks. And yet somehow Tupelo Hassman's book is also a testament to joy and beauty, and to the saving power of language wherever it gets a foothold. She has irrepressible high spirits, which flow forth in this case as brilliance and lyricism. Tupelo Hassman loves life in spite of everything, and you can't help loving this novel and her." —Jaimy Gordon, author of the National Book Award winner Lord of Misrule

"Life is a crazy risk hardly worth attempting for a girl puzzling out her direction without a map in the poorest part of Reno. Justice there seems about as troubling as what it's supposed to remedy. The voice in Tupelo Hassman's Girlchild is funny and pained, confused and outrageous—a triumph and a philosophical treatise on survival." —Bonnie Jo Campbell, author of the National Book Award finalist American Salvage

"Tupelo Hassman's ruthless dissection of the laws, traditions, and values of a trailer park will leave you horrified and laughing uproariously. Girlchild is at once a ragtag anthem to the generations of single mothers raising their children on their own, a brilliant critique of the inadequacies of social services, and a colorful depiction of the extraordinary hurdles that children who break the cycle of poverty have to face. But mostly it is a description of the seismic transformations that happen within each of us as we fly the coop. Hassman's wildly inventive prose explodes off the page." —Heather O'Neill, author of Lullabies for Little Criminals

"This amazing debut spills over with love, but is still absolutely unflinching and real. That is no easy combo to pull off, and Tupelo Hassman does it repeatedly with precision and grace. Rory D. is ebulliently alive on the page; she's really that kind of fresh new voice people talk about, leaving us with a completely memorable character." —Aimee Bender, author of The Particular Sadness of Lemon Cake

"From the first page of Tupelo Hassman's brilliant debut, I fell in love with its unforgettable narrator. I couldn't stop reading until the heartbreaking but hopeful end, rooting for Rory Dawn Hendrix to make her own destiny." —Amy Greene, author of Bloodroot

"I'm smitten by Tupelo Hassman's debut. The beauty of this story is how it plays: great turns in language, humor that points to sadness, and a structure that is messy and tidy all at the same time. Girlchild is overwhelming in an engaging and beautiful way." —Salvador Plascencia, author of The People of Paper
Farrar, Straus and Giroux, 9780374162573, 288pp.
Publication Date: February 14, 2012
About the Author
Tupelo Hassman graduated from Columbia's MFA program. Her writing has been published in the "Portland Review Literary Journal," "Paper Street Press," "Tantalum," "We Still Like," and "Zyzzyva," and by 100 Word Story, Five Chapters.com, and Invisible City Audio Tours.
or
Not Currently Available for Direct Purchase