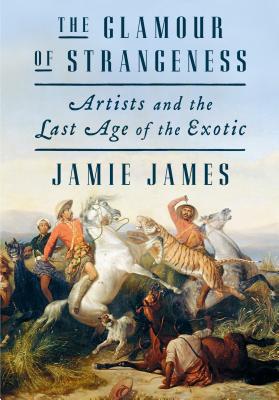 The Glamour of Strangeness
Artists and the Last Age of the Exotic
Hardcover

* Individual store prices may vary.
Description
According to Paul Bowles, a tourist travels quickly home, while a traveler moves slowly from one destination to the next. In The Glamour of Strangeness, Jamie James describes "a third species, those who roam the world in search of the home they never had in the place that made them." From the early days of steamship travel, artists stifled by the culture of their homelands fled to islands, jungles, and deserts in search of new creative and emotional frontiers. Their flight inspired a unique body of work that doesn't fit squarely within the Western canon, yet may be some of the most original statements we have about the range and depth of the artistic imagination.

Focusing on six principal subjects, Jamie James locates "a lost national school" of artists who left their homes for the unknown. There is Walter Spies, the devastatingly handsome German painter who remade his life in Bali; Raden Saleh, the Javanese painter who found fame in Europe; Isabelle Eberhardt, a Russian-Swiss writer who roamed the Sahara dressed as an Arab man; the American experimental filmmaker Maya Deren, who went to Haiti and became a committed follower of voodoo. From France, Paul Gauguin set sail for Tahiti; Victor Segalen, a naval doctor, poet, and novelist, immersed himself in classical Chinese civilization in imperial Peking.

In The Glamour of Strangeness, James evokes these extraordinary lives in portraits that bring the transcultural artist into sharp relief. Drawing on his own career as a travel writer and years of archival research uncovering previously unpublished letters and journals, James creates a penetrating investigation of the powerful connection between art and the exotic.
Praise For The Glamour of Strangeness: Artists and the Last Age of the Exotic…
"Esoterically learned and always entertaining . . . [Jamie James] may be a blue-chip professional writer (and one with a subtle sense of language and a very good idea of where his reader is), but there's no question that his new book is the work of an amateur in the strictest, most laudable sense: the one who acts, in this case writes, out of love . . . Quite a few readers will, I'm sure, pick up James's book to nourish dreams of escaping the malfunctioning contraption of the homeland." —Joseph O'Neill, The New York Times Book Review

"[An] entertaining, erudite study of a rarefied group of people whose experience of other cultures transcended mere travel." —Tash Aw, Financial Times

"[A] richly detailed, absorbing cultural history . . . Abundant primary sources inform James' sharply drawn, sympathetic portraits." —Kirkus (starred review)


"James is merrily entertaining in his exceptional erudition and nimble eloquence, and fluently and movingly insightful in his psychological, sexual, social, and aesthetic interpretations as he tells these astonishing, often tragic tales of intrepid self-creation and ardently chosen homelands."—Booklist (starred review)


"A riveting account of some mightily 'other' lives—people of learning longing to be elsewhere, body or soul, and picturesquely succeeding: just as Jamie James does in his calling as their chronicler and kindred spirit." —Gini Alhadeff, author of Diary of a Djinn
Farrar, Straus and Giroux, 9780374163358, 384pp.
Publication Date: August 9, 2016
About the Author
Jamie James is the author of The Snake Charmer, Rimbaud in Java, and other books. He has contributed toThe New York Times, The Wall Street Journal, Vanity Fair, and The Atlantic, among other publications. He regularly reviewed art exhibitions and contributed features to The New Yorker and served as the American arts correspondent for The Times (London). He has lived in Indonesia since 1999, and is a recipient of a Guggenheim Foundation Grant.
or
Not Currently Available for Direct Purchase