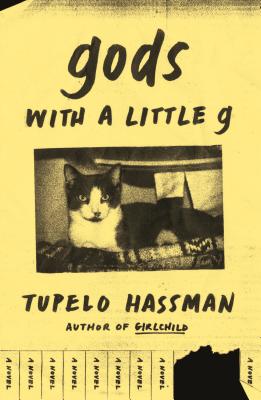 gods with a little g
A Novel
Hardcover

* Individual store prices may vary.
Other Editions of This Title:
Digital Audiobook (8/12/2019)
Paperback (11/17/2020)
Description
"Triumphant . . . as heartwarming as it is beautifully written." —Michael Schaub, NPR

From the acclaimed author of Girlchild, this gritty, irreverent novel sees a young misfit grow into hope

Unsinkable and wrecked by grief, motherless and aimless and looking for connection, Helen Dedleder is a girl with a gift she doesn't want to use and a pack of friends who are all just helping each other get by.

So cut off from the rest of the world that even the internet is blocked (never mind traffic in and out), Rosary, California, is run by evangelicals but was named by Catholics. It's a town on very formal relations with its neighbors, one that boasts an oil refinery as well as a fairly sizable population of teenagers.

For Helen and her gang of misfits, the tire yard, sex, and beer help pass the days until they turn eighteen and leave town. Her best friends, Win and Rainbolene, late arrivals to Rosary, are particularly keen to depart—Rain because she'll finally be able to get the hormones she needs to fully become herself. Watching over them is Aunt Bev, an outcast like the kids, who runs the barely tolerated Psychic Encounter Shoppe and tries to keep Helen connected to her own psychic talents—a gift passed down from her mother. Tensions are building, though, in every way. Threats against the Psychic Encounter Shoppe become serious actions. One of the kids gets in trouble, and then another. And Helen can see some things before they happen, but somehow can't see the most important things happening right in front of her.

Tupelo Hassman's gods with a little g bursts and splinters with flawed, lovable characters whose haphazard investigations into each others's hearts will reshape your understanding of trust, how to build a family, and how to make a future you can see.
Praise For gods with a little g: A Novel…
A Best Book of August at Chicago Review of Books

"Sweet and triumphant . . . [Tupelo Hassman] proves masterful at recounting Helen and her friends' most painful moments [and] also brings a disarming sense of humor to the novel . . . Hassman is a vastly talented writer, and she brings to the novel a fascinating structure — gods with a little g is told in a series of short vignettes; the result is a staccato kind of narrative that brilliantly evokes the feeling of being a teenager, constantly addled, at loose ends, desperate to make a connection. And for all its dark moments, it's a novel that's as heartwarming as it is beautifully written."
—Michael Schaub, NPR

"gods with a little g proves that nothing lets in the sun like being surrounded with love . . . This is well-charted territory, but it sings due to Hassman's joy of text, unusual thinking and clever turns of phrase that allow even half-page "chapters" to vibrate with truth . . . As Helen discovers her own free will, her adolescent journey offers hope to readers of any age."
—Bethanne Patrick, The Washington Post

"In super short, first-person chapters, Helen lets us into her world — brimming with more transgression and wild thoughts than her father would like. Sweet and sour, magical yet grounded in reality: gods with a little g is one special coming-of-age tale. Take note, HBO: This would be perfect prestige TV fodder."
—Elena Nicolau, Refinery29

"Each moment or scene could almost be stand-alone or prose poems . . . Hassman is great at twisting the context, building up an idea and then adding something else to the table that completely changes everything that has just been read."
—Becca Calloway, The Wrangler

"Irreverent, wise, heartbreaking, and heart-mending, this is about nothing less than the everyday challenges of love, belief, and existence. In Hassman's dazzlingly original style, sweet-sour, wicked-tender Helen's entrancing narration casts a remarkable spell. Girlchild won an Alex Award, and this novel is no less likely to inspire and reward literary-minded teens, especially aspiring writers."
—Booklist, starred review

"[A] melancholy, triumphant, slightly magical coming-of-age tale . . . Weird and uncomfortable and glorious—just like adolescence."
—Kirkus, starred review

"Charming and funny . . . This coming-of-age tale honestly and strikingly encapsulates the teenage experience."
—Publishers Weekly

"It's hilarious, downright sad, and poignant. It tells so many stories, but all of them are really just one story: how love can carry us through anything; how love doesn't always take the form we think it will."
—Ericka McIntyre, Writer's Digest

"Tupelo Hassman's writing makes me blather and drool. Hilarious and wise, smart and angry, tart and devastating, gods with a little g is a dark charm, full of dangerous magic. No other writer can limn the boundaries of female becoming like Hassman. Like a prism, this book possesses all the colors."
—Heidi Julavits, author of The Folded Clock: A Diary

"I couldn't put gods with a little g down. Tupelo Hassman again delivers with Helen Dedleder, an unsentimental, pragmatic, and often comical heroine. A brilliant coming-of-age story."
—Willy Vlautin, author of Lean on Pete

"Tupelo Hassman has written a sacrament for girls growing up as we did, a liturgy for their irreverent, hilarious, resilient souls, a stylistically sly and beautiful book, a wild ride of a novel set in a California everyone should know."
—Susan Straight, author of Between Heaven and Here and Highwire Moon

"This book is a revelation. And it's so very intoxicating to read. It got me drunker on its language's wild, thorny beauty and the paper flowers of its love than even the Dickheads could get by chugging beers hanging upside-down, or needling prophecies into one another's skins. I'm more than a little in love with gods with a little g, and with Helen: Dickhead Queen, Rosary Breakout Allstar, daughter, heroine, best friend. I wish she were my best friend. Hassman is a genius, and here she has written yet another book of my dreams: wildly inventive, brackishly funny, and, at times, devastating. But always absolutely true, and huge-hearted in its telling. Once I began reading it, I truly couldn't stop. It's guileless and gorgeous. It's one of the loveliest things I've ever read. And it only changed the way I think about life, fiction, and what's possible. Only all that."
—Alena Graedon, author of The Word Exchange

"gods with a little g is sharp, witty, endlessly surprising, darkly comic, and bighearted to boot. The characters Tupelo Hassman has created will burrow under your skin like the illegal tattoo our narrator Helen gets in the tire yard: they will stay with you for a long time after. Just marvelous."
—Annie Hartnett, author of Rabbit Cake

"Flannery O'Connor once said that sooner or later she'd have to write about the religious consciousness without a religion. With this novel, Tupelo Hassman picks up and runs where O'Connor left off, and I am grateful to her for writing fiction that is mystical and reckless and hopefully irreverent, and that has at least (at least!) five lines of poetry on every page. This is very much the Real Thing."
—Carlene Bauer, author of Not That Kind of Girl and Frances and Bernard

"Open your hearts, because you are likely going to fall in love with Helen Dedleder within a few pages of gods with a little g. I know I did. She is brilliant, incisive, tender, and irreverent, just like the prose used to describe her."
—Zulema Renee Summerfield, author of Every Other Weekend

"This is a story to read when you are starving to connect, a book to fall into with your whole heart, to cry and laugh, and say "hell yeah." I can't wait for readers to meet Helen, a cool kid who pushes right through the page in every form her words take, from letters to God to posters on light poles, irresistibly funny, entirely lovable. When a young person's faith is shattered by grief, mending the soul is delicate work. Tupelo Hassman has mastered this fragile form, and the sharp fragments of Helen's story come together like shards, re-forming her into a glittering new shape in a story that is authentic in every way. This novel will steal your heart. If you think you're too cynical to cry over a girl's first love, here is the story to blow up your apathy."
—Lydia Netzer, author of How to Tell Toledo from the Night Sky

"Tupelo Hassman's sharp and loving teen girls' navigation of Traumas, with big and little T's, is well-stocked with tools of mysticism, sparkling humor, and unflinching sexuality. In gods with a little g, she unfolds what YA can be, offering a roadmap of survival with hope and the heart intact."
—Laura Albert, author of Sarah and The Heart is Deceitful Above All Things
Farrar, Straus and Giroux, 9780374164461, 368pp.
Publication Date: August 13, 2019
About the Author
Tupelo Hassman's debut novel, Girlchild, was the recipient of the American Library Association's Alex Award. Her work has appeared in The Boston Globe, Harper's Bazaar, Imaginary Oklahoma, The Independent, Portland Review, and ZYZZYVA, among other publications. She is the recipient of the Nevada Writers Hall of Fame Silver Pen Award and the Sherwood Anderson Foundation Fiction Award, and is the first American to have won London's Literary Death Match. She earned her MFA at Columbia University.
or
Not Currently Available for Direct Purchase