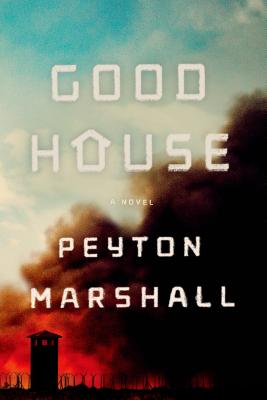 Goodhouse
A Novel
Hardcover

* Individual store prices may vary.
Other Editions of This Title:
Digital Audiobook (9/29/2014)
Compact Disc (10/6/2015)
Paperback (10/6/2015)
Compact Disc (9/30/2014)
MP3 CD (9/30/2014)
Compact Disc (9/30/2014)
Description
A bighearted dystopian novel about the corrosive effects of fear and the redemptive power of love.

With soaring literary prose and the tense pacing of a thriller, the first-time novelist Peyton Marshall imagines a grim and startling future. At the end of the twenty-first century—in a transformed America—the sons of convicted felons are tested for a set of genetic markers. Boys who test positive become compulsory wards of the state—removed from their homes and raised on "Goodhouse" campuses, where they learn to reform their darkest thoughts and impulses. Goodhouse is a savage place—part prison, part boarding school—and now a radical religious group, the Holy Redeemer's Church of Purity, is intent on destroying each campus and purifying every child with fire.
We see all this through the eyes of James, a transfer student who watched as the radicals set fire to his old Goodhouse and killed nearly everyone he'd ever known. In addition to adjusting to a new campus with new rules, James now has to contend with Bethany, a brilliant, medically fragile girl who wants to save him, and with her father, the school's sinister director of medical studies. Soon, however, James realizes that the biggest threat might already be there, inside the fortified walls of Goodhouse itself.
Partly based on the true story of the nineteenth-century Preston School of Industry, Goodhouse explores questions of identity and free will—and what it means to test the limits of human endurance.
Praise For Goodhouse: A Novel…
"Political and thought-provoking, Goodhouse is above all else an adventure, a page-turning account of one boy's journey through a vivid and dangerous world. A remarkable start from a remarkable writer." —Karen Joy Fowler, author of We Are All Completely Beside Ourselves
"A smart, literate thriller set in a foreseeable future where genetic profiling is meant to prevent crime but becomes--instead--a terrifying tool for oppression, discrimination, and violence. It's a ripping good read." —Katherine Dunn, author of Geek Love
"Peyton Marshall is a writer of intelligence and keen observation with a great future ahead, and Goodhouse is a startling debut." —A. L . Kennedy, author of The Blue Book
"Like the best science fiction, Goodhouse transcends genre, posing uncomfortable questions that feel depressingly urgent. This is a powerful, lyrical meditation on chance, freedom, and what it means to be alive. Peyton Marshall can do it all." —Daniel Alarcón, author of At Night We Walk in Circles
"Peyton Marshall's Goodhouse is a marvel--a glorious combination of page-turning literary thriller and challenging examination of freedom, destiny, and the thorny ideals of faith and science." —Eleanor Brown, author of The Weird Sisters
"Peyton Marshall's haunting dystopian novel stays in your system long after the initial sting of her storytelling has passed. Written in spare, perfectly calibrated prose, Marshall captures the heartlessness of a world intent on bettering society at any cost." —Rachel Urquhart, author of The Visionist
"Goodhouse is a gripping excursion to a vividly imagined and profoundly disturbing future. Peyton Marshall has written an unforgettable first novel, a work of striking originality, empathy, and skill." —Jennifer Haigh, author of Faith
"Peyton Marshall's deeply affecting first novel stirs the reader like few contemporary books do. With sprawling imagination and keen intelligence, Marshall renders a world that begs questions of the past and raises fears for the future. This is one of the most intellectually thrilling and beautifully unsettling novels I've read in years." —Bret Anthony Johnston, author of Remember Me Like This
"Peyton Marshall's debut is a page-turner of the highest order, the kind of book you don't want to finish but cannot stop reading. A novel with dozens of touchstones that cut a wide swath, from Never Let Me Go to Cloud Atlas to One Flew Over the Cuckoo's Nest, Goodhouse is something all its own, a psychologically devastating tale told with a fine literary eye." —James Scott, author of The Kept
"A turbulent coming-of-age story with an empathetic hero, Goodhouse takes the reader into frighteningly vivid captivity in this sinister educational system. Despite his many humiliations, James persists in his search for the truth, finding his path through extreme acts of love, courage, and brutality. With a scrupulously clean and unsensational style, Peyton Marshall captures the imagination in this moving and psychologically intelligent action-adventure." —Laline Paull, author of The Bees
"A smart, thrilling Orwellian nightmare. Goodhouse is a great read." —Benjamin Percy, author of Red Moon, The Wilding, and Refresh, Refresh
"Peyton Marshall's future America is rendered in exquisite and chilling detail, and James's quest to understand the kind of person he is, the kind of person he will become, is rich with uncommon moral complexity. Goodhouse is a debut of extraordinary power and vision, and Peyton Marshall is a new voice for the ages." —Laura van den Berg, author of The Isle of Youth
"Goodhouse grabbed me by the throat and lifted me off the ground and held me suspended there until its final sentence. Then the book began its real work on me: haunting my waking thoughts, invading my dreams. I'm half convinced that while I was caught in the thrall of James Goodhouse's story, Peyton Marshall's prose was performing secret surgery on some other, deeper sector of my brain. This is an astonishing novel." —Antoine Wilson, author of Panorama City and The Interloper
"Peyton Marshall, in her clear-eyed debut, imagines a dark but plausible future--a future in which society's 'good' intentions have serious consequences. Goodhouse is a bold bullet of a book." —Robin Romm, author of The Mercy Papers
"With this gripping debut, Peyton Marshall gives us a page-turner of the highest order, one driven by characters so charged and compelling that their urgency becomes our own. Goodhouse is as thrilling as it is thought-provoking, as tough as it is tender, and it will roar upon you with all the consuming power and furious beauty of a conflagration." —Josh Weil, author of The Great Glass Sea
"Three unmistakable signs of extraordinary literary ambition and ability in a novelist: (1) writing a first novel that is far from the author's own experience; (2) imagining a nonexistent world that feels this vivid, dramatic, and real; and (3) creating a main character so intensely sympathetic that the reader cheers for him from the first page to the last. Peyton Marshall has hit a grand slam homer her very first time at the plate. Goodhouse is thrilling and wonderful and dark." —Mark Childress, author of Georgia Bottoms and Crazy in Alabama
Farrar, Straus and Giroux, 9780374165628, 336pp.
Publication Date: September 30, 2014
About the Author
Peyton Marshall is a graduate of the Iowa Writers' Workshop. Her work has appeared in The New York Times, Tin House, A Public Space, Blackbird, Etiqueta Negra, FiveChapters, and Best New American Voices 2004. She lives in Portland, Oregon. Goodhouse is her first novel.
or
Not Currently Available for Direct Purchase