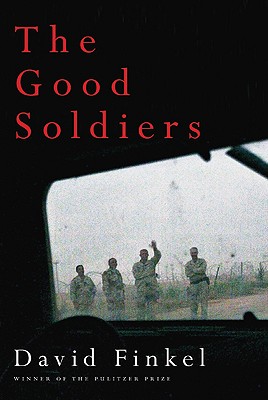 The Good Soldiers
Hardcover

* Individual store prices may vary.
Other Editions of This Title:
Paperback (8/3/2010)
Prebound (8/3/2010)
Pre-Recorded Audio Player (8/1/2013)
MP3 CD (12/1/2016)
Compact Disc (3/1/2010)
MP3 CD (3/1/2010)
Compact Disc (3/26/2010)
Paperback (3/1/2011)
MP3 CD (3/26/2010)
Compact Disc (10/1/2013)
MP3 CD (11/1/2011)
Compact Disc (11/1/2011)
Description
It was the last-chance moment of the war. In January 2007, President George W. Bush announced a new strategy for Iraq. He called it the surge. "Many listening tonight will ask why this effort will succeed when previous operations to secure Baghdad did not. Well, here are the differences," he told a skeptical nation. Among those listening were the young, optimistic army infantry soldiers of the 2-16, the battalion nicknamed the Rangers. About to head to a vicious area of Baghdad, they decided the difference would be them.

Fifteen months later, the soldiers returned home forever changed. Pulitzer Prize-winning Washington Post reporter David Finkel was with them in Bagdad, and almost every grueling step of the way.

What was the true story of the surge? And was it really a success? Those are the questions he grapples with in his remarkable report from the front lines. Combining the action of Mark Bowden's Black Hawk Down with the literary brio of Tim O'Brien's The Things They Carried, The Good Soldiers is an unforgettable work of reportage. And in telling the story of these good soldiers, the heroes and the ruined, David Finkel has also produced an eternal tale—not just of the Iraq War, but of all wars, for all time.
Praise For The Good Soldiers…
From Publishers Weekly:
Starred Review. A success story in the headlines, the surge in Iraq was an ordeal of hard fighting and anguished trauma for the American soldiers on the ground, according to this riveting war report. Washington Post correspondent Finkel chronicles the 15-month deployment of the 2-16 Infantry Battalion in Baghdad during 2007 and 2008, when the chaos in Iraq subsided to a manageable uproar. For the 2-16, waning violence still meant wild firefights, nerve-wracking patrols through hostile neighborhoods where every trash pile could hide an IED, and dozens of comrades killed and maimed. At the fraught center of the story is Col. Ralph Kauzlarich, whose dogged can-do optimism—his motto is "It's all good"—pits itself against declining morale and whispers of mutiny. While vivid and moving, Finkel's grunt's-eye view is limited; the soldiers' perspective is one of constant improvisatory reaction to attacks and crises, and we get little sense of exactly how and why the new American counterinsurgency methods calmed the Iraqi maelstrom. Still, Finkel's keen firsthand reportage, its grit and impact only heightened by the literary polish of his prose, gives us one of the best accounts yet of the American experience in Iraq. Photos. (Sept.)
From Kirkus:
Starred Review. Did the much-vaunted surge of American troops in Iraq work? Yes, said George W. Bush. A soldierly response differed: "I've had enough of this bullshit."
So details Pulitzer Prize–winning Washington Post writer Finkel in this excellent study of soldiers under fire. In January 2007, Bush ordered a surge that involved flooding the Baghdad and other key locations with soldiers to quell anti-American partisan activity. In the field were troops who had seen time in Iraq before, had gone home and been sent back. Some were from a battalion stationed at Fort Riley, Kan., and they had the good fortune to be commanded by a smart West Pointer who had earned his Ranger parachute and had served in the first Gulf War and Afghanistan. His troops affectionately dubbed Lt. Col. Ralph Kauzlarich, "the Lost Kauz." The sobriquet proved fitting, as Finkel chronicles, and though Kauzlarich did his best to prevent harm from befalling his charges, he could not stop the IEDs, suicide attacks and stray shots that inevitably followed their movements. The author writes with the you-are-there immediacy of Richard Tregaskis's Guadalcanal Diary (1943), taking the reader into the field, where, against a $100 explosive device, a "$150,000 Humvee might as well have been constructed of lace." Finkel also depicts the gruesome aftermath of such explosions: "All four limbs burned away, bony stumps visible. Superior portion of cranium burned away," reads a battalion doctor's death report. "No further exam possible due to degree of charring." Aspects of the surge, the author writes, were merely rhetorical. Others were unquestionably successful, particularly the reduction in the number of attacks on Americans—successes to be chalked up to the bravery of the men and women under fire, and in no way, Finkel says, to anything happening in Washington. Says Kauz of one action that serves as an epigram to the entire enterprise, "It's fucked up. But you did the right thing."
A superb account of the burdens soldiers bear.
Review:
"Let me be direct. The Good Soldiers by David Finkel is the most honest, most painful, and most brilliantly rendered account of modern war I've ever read. I got no exercise at all the day I gulped down its 284 riveting pages." —Daniel Okrent, Fortune
"[A] new classic . . . the reader cannot get enough . . . As a compelling read, The Good Soldiers is all good." —J. Ford Huffman, Military Times
"David Finkel has written the most unforgettable book of the Iraq War, a masterpiece that will far outlast the fighting." —David Maraniss, author of They Marched into Sunlight
"From a Pulitzer Prize-winning writer at the height of his powers comes an incandescent and profoundly moving book: powerful, intense, enraging. This may be the best book on war since the Iliad." —Geraldine Brooks, author of People of the Book and March
"This is the best account I have read of the life of one unit in the Iraq War. It is closely observed, carefully recorded, and beautifully written. David Finkel doesn't just take you into the lives of our soldiers, he takes you deep into their nightmares." —Thomas E. Ricks, author of Fiasco and The Gamble
"Brilliant, heartbreaking, deeply true. The Good Soldiers offers the most intimate view of life and death in a twenty-first-century combat unit I have ever read. Unsparing, unflinching, and, at times, unbearable." —Rick Atkinson, author of An Army at Dawn and The Day of Battle
"This is the finest book yet written on the platoon-level combat of the Iraq war . . . Unforgettable—raw, moving, and rendered with literary control . . . No one who reads this book will soon forget its imagery, words, or characters." —Steve Coll, author of
Ghost Wars
Sarah Crichton Books, 9780374165734, 304pp.
Publication Date: September 15, 2009
About the Author
David Finkel is a staff writer for "The Washington""Post," and is also the leader of the "Post"'s national reporting team. He won the Pulitzer Prize for explanatory reporting in 2006 for a series of stories about U.S.-funded democracy efforts in Yemen. Finkel lives in Silver Spring, Maryland, with his wife and two daughters. Email him at davidfinkel@thegoodsoldiers.com.
or
Not Currently Available for Direct Purchase