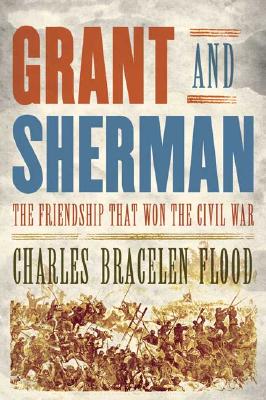 Grant and Sherman
The Friendship That Won the Civil War
Hardcover

* Individual store prices may vary.
Other Editions of This Title:
Digital Audiobook (1/15/2007)
Paperback (10/24/2006)
CD-Audio, Abridged (9/27/2005)
Description
"We were as brothers," William Tecumseh Sherman said, describing his relationship to Ulysses S. Grant. They were incontestably two of the most important figures in the Civil War, but until now there has been no book about their victorious partnership and the deep friendship that made it possible.

They were prewar failures--Grant, forced to resign from the Regular Army because of his drinking, and Sherman, who held four different jobs, including a beloved position at a military academy in the South, during the four years before the Confederates fired on Fort Sumter. But heeding the call to save the Union each struggled past political hurdles to join the war effort. And taking each other's measure at the Battle of Shiloh, ten months into the war, they began their unique collaboration. Often together under fire on the war's great battlefields, they smoked cigars as they gave orders and learned from their mistakes as well as from their shrewd decisions. They shared the demands of family life and the heartache of loss, including the tragic death of Shermans's favorite son. They supported each other in the face of mudslinging criticism by the press and politicians. Their growing mutual admiration and trust, which President Lincoln increasingly relied upon, would set the stage for the crucial final year of the war. While Grant battled with Lee in the campaigns that ended at Appomattox Court House, Sherman first marched through Georgia to Atlanta, and then continued with his epic March to the Sea. Not only did Grant and Sherman come to think alike, but, even though their headquarters at that time were hundreds of miles apart, they were in virtually daily communication strategizing the final moves of the war and planning how to win the peace that would follow.

Moving and elegantly written, Grant and Sherman is an historical page turner: a gripping portrait of two men, whose friendship, forged on the battlefield, would win the Civil War.
Praise For Grant and Sherman: The Friendship That Won the Civil War…
"Ulysses S. Grant and William T. Sherman forged a superb partnership during the Civil War, a team of opposites drawn together, striving to end a horrendous conflict without excessive suffering and bloodshed. Ironically, they succeeded by rendering war too terrible for the South to continue. Charles Bracelen Flood skillfully explores the dynamics of an unlikely partnership formed on horrifying battlefields. Both Grant and Sherman have attracted more than their share of biographers, but never before an author been audacious enough to tackle both at once. Their subtle and complex relationship deserves attention from a sophisticated and experienced writer; Flood is up to the task." --John Y. Simon, editor of The Papers of Ulysses S. Grant

"Grant and Sherman: The Friendship That Won the Civil War is a profound study of the relationship of the generals who endured and determined the tide of victory in our nation's most divisive and bloody war.
Charles Bracelen Flood's masterpiece ranges from vivid battlefield reports to intimate sketches of Grant's and Sherman's marriages to subtle cameo sketches of the officers and politicians who harassed or supported them. He animates, too, a haunting portrait of their Commander-in-Chief, Abraham Lincoln, muse and martyr to the cause of Union.
Fusing his talents as a resourceful scholar and distinguished novelist with a touch of the poet, Charles Bracelen Flood has achieved a moving and inspired classic of American history." --Sidney Offit, president of The Author's Guild Foundation
"This book describes with force, clarity, and admirable terseness the forging in the field of the historic leadership team that was essential to Union victory. Civil War scholars and general readers alike will profit from its insights." --Charles P. Roland
"Charles Bracelen Flood studies the friendship between Grant and Sherman and rightly concludes that it had a major impact on the results of the Civil War. Thoroughly researched and written with verve, this book is easy reading and provides rewarding insight into a friendship which influenced the lives of two significant individuals and the war in which they played such crucial roles." --John Marszalek, Professor Emeritus of History, Mississippi State University, and author of
Commander of All Lincoln's Armies, A Life of General Henry W. Halleck
"For those who think there is nothing new to be said about the Civil War,
Grant and Sherman
will be a pleasant surprise. The book is a unique blend of emotional power and historical insight. A must read." --Thomas Fleming, author of
Liberty! The American Revolution
Praise for Lee: The Last Years:
"An American classic." --
Atlanta Journal Constitution
"Wonderful, tragic, and powerful . . . story for which we have been waiting over a century."
--Theodore H. White
"Unforgettable portrait of a hero." --
Philadelphia Inquirer
"It is a rare blend of history and emotion, a book that speaks to both the mind and the heart. It should be read north and south, east and west, throughout America." --Thomas Fleming
Farrar, Straus and Giroux, 9780374166007, 480pp.
Publication Date: September 15, 2005
or
Not Currently Available for Direct Purchase