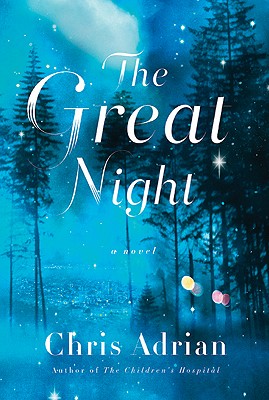 The Great Night
Hardcover

* Individual store prices may vary.
Other Editions of This Title:
Paperback (5/8/2012)
Description
Acclaimed as a "gifted, courageous writer"(The New York Times), Chris Adrian brings all his extraordinary talents to bear in The Great Night—a brilliant and mesmerizing retelling of Shakespeare's "A Midsummer Night's Dream."
On Midsummer Eve 2008, three people, each on the run from a failed relationship, become trapped in San Francisco's Buena Vista Park, the secret home of Titania, Oberon, and their court. On this night, something awful is happening in the faerie kingdom: in a fit of sadness over the end of her marriage, which broke up in the wake of the death of her adopted son, Titania has set loose an ancient menace, and the chaos that ensues will threaten the lives of immortals and mortals alike.
Selected by The New Yorker as one the best young writers in America, Adrian has created a singularly playful, heartbreaking, and humorous novel—a story that charts the borders between reality and dreams, love and magic, and mortality and immortality.
Praise For The Great Night…
"Adrian is such a forceful, potent writer that this non-realistic world commands its own searing, tangible realism on the page. For this isn't only a novel about magic and faeries, it's a novel about grief and loss and heartbreak . . . If you're willing to enter something magical, something dazzling and heartbreaking, then Adrian is a writer for you." — Patrick Ness, The Guardian  ". . . An enthralling nightmare. . . With the lusty, darkly comic finish comes an urge to wash one's hands while applauding; Adrian has twisted a romantic folly into a incredibly depraved orgy. Those who don't see the smut in Shakespeare might be shocked, but the Bard himself would likely be proud to see the bodily fluids spilled across one of his most beloved classics."— Josh Davis, Time Out New York "Chris Adrian's novels puff you full of delight, then rips your heart out. Adrian's a sadist, maybe. Or maybe he's got the biggest heart of any living writer, so big that it can hold the sweetest thoughts alongside shame and also death — real death, in all its devastation and splendor."—Eugenia Williamson, The Boston Phoenix
"Magical. . . Adrian. . . uses Shakespeare's comedy not for a virtuosic display of stylistic mimicry but as a vessel to help him access and contain the amazingly bountiful, sparkling 'jewels from the deep' (as the Bard called them) of his rich imagination."—Heller McAlpin, National Public Radio
"A wild ride—I found [The Great Night] almost viscerally thrilling, especially the experience of moving through [Adrian's] prose as it crackles and purrs . . . the most brilliant and profound reimagining in Adrian's vision isn't the way he magics the humans but the way he humanifies Shakespeare's fairies . . . Reading The Great Night was an extraordinary experience. When I finished it, I started it over again."—Alexandra Mullen, The Barnes and Noble Review
"Adrian has demonstrated a vast imagination in his earlier books, particularly The Children's Hospital, a tale of doctors and patients and angels (yes, angels) in a post-apocalyptic hospital that has become the world's new ark. He is a fellow in pediatric hematology-oncology and a graduate student at Harvard Divinity School, and his work indeed suggests a profound interest in where life meets death and how we make sense of that great undiscovered country . . . The Great Night is no exception . . . Adrian once again left me feeling both meditative and moved."—Chris Bohjalian, The Boston Globe
"Himself a pediatric oncologist, Adrian has always written with depth and compassion about grief, but I can't recall anything in his two prior novels or collection of stories that matches that chapters in [The Great Night] describing what it's like to be a mother experiencing the loss of a child . . . Rather than Pyramus and Thisbe, we're treated to a musical version of "Soylent Green," the 1973 dystopian thriller starring Charlton Heston, in which there isn't enough to eat, and the Soylent Corp. makes its money by secretly turning people into food. The humor is—well—delicious. But it also makes a joyous, life-affirming point, echoing Shakespeare's own insistence that lovers must eventually return to everyday life in Athens."—Mike Fischer, The Milwaukee Journal-Sentinel
"[Adrian] can pack more depth of understanding about what makes a human human into a single page than many novelists wedge into entire books. More than perhaps any author today, he understands people. His characters, whether men or pixies, are us . . . In fact, the scariest and most surprising thing about
The Great Night
is that it's proof that some lives and conditions and heartbreaks and losses and joys are so bewildering, they can only be understood as myths."—Tyler Cabot,
Esquire
 "Adrian. . . covered smaller, more controlled canvases in his previous works—
Gob's Grief
and
The Children's Hospital
, and the story collection
A Better Angel
.
The Great Night
—by turns brilliant, cruel, tenderhearted, visionary, poetic, and profane—is Adrian's ambitious attempt to fetch from his own imagination what Shakespeare referred to as 'jewels from the deep.'"—Lisa Shea,
Elle
 "William Shakespeare's
A Midsummer Night's Dream
deals with illusion—in particular, the illusion that things can be set aright, as if by magic. This riff by New Yorker 20 Under 40 author Adrian (
A Better Angel
) is a whole lot darker, declaring that no magic can take away the memory of suffering and that in our self-serving scramble we disdain the pain (and indeed the goodness) of others. On the summer solstice in San Francisco, the fairies come out from under their hill in Buena Vista Park to celebrate Great Night. But this year there will be no celebration, for Oberon has vanished and Titania is thoroughly undone by the death of her Boy, one of the many changelings brought to her by Puck--no mischievous sprite but a malevolent spirit. Even as a rowdy bunch rehearse a play aimed at exposing the mayor's crimes against the homeless, three people are trapped in the park by the fairies' madness: uptight Molly, lovesick Will, and gentle, obsessed Henry, who still misses decamped lover Bobby and whose tragic past and connections to other characters unfold tantalizingly. Verdict: Inventive and scarily beautiful, this could wipe out casual readers, but it is an extraordinary novel."—
Library Journal
(starred review)
Farrar, Straus and Giroux, 9780374166410, 304pp.
Publication Date: April 26, 2011
About the Author
Chris Adrian is the author of "Gob's Grief," "The Children's Hospital," and "A Better Angel." Selected by "The New Yorker" as one of their "20 Under 40," he lives in San Francisco, where he is a fellow in pediatric hematology-oncology.
Coverage from NPR
or
Not Currently Available for Direct Purchase