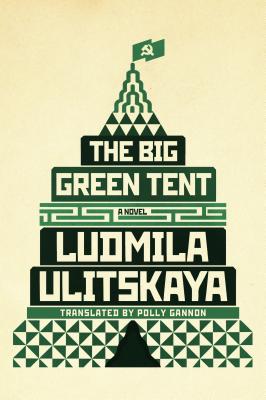 The Big Green Tent
A Novel
Hardcover

* Individual store prices may vary.
Other Editions of This Title:
Paperback (1/10/2017)
MP3 CD (1/17/2017)
Description
The Big Green Tent epitomizes what we think of when we imagine the classic Russian novel.
With epic breadth and intimate detail, Ludmila Ulitskaya's remarkable work tells the story of three school friends who meet in Moscow in the 1950s and go on to embody the heroism, folly, compromise, and hope of the Soviet dissident experience. These three boys—an orphaned poet; a gifted, fragile pianist; and a budding photographer with a talent for collecting secrets—struggle to reach adulthood in a society where their heroes have been censored and exiled. Rich with love stories, intrigue, and a cast of dissenters and spies, The Big Green Tent offers a panoramic survey of life after Stalin and a dramatic investigation into the prospects for individual integrity in a society defined by the KGB. Each of the central characters seeks to transcend an oppressive regime through art, a love of Russian literature, and activism. And each of them ends up face-to-face with a secret police that is highly skilled at fomenting paranoia, division, and self-betrayal. A man and his wife each become collaborators, without the other knowing; an artist is chased into the woods, where he remains in hiding for four years; a researcher is forced to deem a patient insane, damning him to torture in a psychiatric ward. Ludmila Ulitskaya's novel belongs to the tradition of Dostoevsky, Tolstoy, and Pasternak: it is a work consumed with politics, love, and belief—and a revelation of life in dark times.
Praise For The Big Green Tent: A Novel…
Named a must-read book by New York magazine, Travel+Leisure, Flavorwire, and Bustle

Among the 10 Best Fiction Books of 2015, The Christian Science Monitor
Among the Best Historical Fiction and Best Fiction in Translation of 2015, Kirkus Reviews
Long-listed for the 2016 Best Translated Book Award in Fiction
"Ludmila Ulitskaya's latest novel, The Big Green Tent, is as grand, solid and impressively all-encompassing as the title implies . . . Ulitskaya's readers will find it hard not to imagine themselves in her characters' place, to ponder what choices we'd make in similar situations. 'Conscience militates against survival,' one of the characters remarks. You can't help wondering which you would choose." —Lara Vapnyar, The New York Times Book Review
"The Big Green Tent, for all its grand ambition, manages an intimacy that can leave a reader reeling . . . a masterpiece." —Colin Dwyer, NPR
"This may be the Big Book of the year." —The Millions
"The Big Green Tent is like the sharp-tongued gossip that flowed in many a crowded kitchen—enlivened by dangerous undercurrents, and never boring . . . you don't have to be a compatriot to admire Ulitskaya's honesty and straight-faced irony, or her uncanny ability to marshal endless digressions and intentional stumbles into a gripping tale." —Leonid Bershidsky, The Atlantic
"A voice of moral authority for differently minded Russians, and one of Russia's most famous writers . . . [The Big Green Tent is] compelling, addictive reading." —Masha Gessen, The New Yorker
"One of Russia's most-read (and increasingly denounced) novelists writes page-turners that just happen to be monumentally important . . . like that other plot-forward dissident, Nobel winner Boris Pasternak, Ulitskaya puts characters first and politics second. According to the oddsmakers, she might follow him to Stockholm one day." —Boris Kachka, New York magazine
"The Big Green Tent has a job to do, and as it turns out, Ulitskaya is the only author who can do it properly . . . She is intrepid, prolific, and charmed . . . At a recent PEN club meeting in New York, Ulitskaya worried aloud that the atmosphere of the Brezhnev era is returning in Putin's Russia. If this is the case, then the time machine of The Big Green Tent will provide not only the interesting dirt that Ulitskaya carefully collects, but also an essential source of oxygen." —Beth Holmgren, Women's Review of Books

"Ludmila Ulitskaya's latest translated novel, The Big Green Tent, is a compelling testimony to the stifling atmosphere of stagnation-era Russia—and a warning, according to the author, to those Russians who feel nostalgic about the Soviet past . . . Ulitskaya avoids the kind of psychologizing that is a trademark of Russian novel, but she masterfully renders psychology through the language of the body, sensory experience and the shifting voice of the narrator." —The Chicago Tribune
"With both intimacy and cosmic scope, Russian novelist Ludmila Ulitskaya weaves an engaging tale of a group of cold war-era Soviet friends . . . Ulitskaya's easy-going manner and sense of humor are attractive and it doesn't take long to trust she knows what she's doing . . . The translation, by Polly Gannon, is light and lively, wonderfully devoid of accent or awkwardnesses." —The Christian Science Monitor
"A very interesting read as Ulitskaya covers with breathless gusto a period of Russian history unfamiliar to most American readers . . . You'll laugh, you'll cry, you'll occasionally want to throw the book across the room in frustration—but you'll keep reading."—Daniel Kalder, The Dallas Morning News
"Often it is achievement enough for a writer to depict a vast array of characters with insight and great sensitivity for each; Ulitskaya does this and more . . . It is undeniable that with this novel Ulitskaya has pulled off a multipronged feat."—Kim Hedges, The Minneapolis Star Tribune
"As the book leaps effortlessly from year to year, character to character, it ingeniously tells the story of a generation that is at the same time in love with and at war with its homeland . . . A delight to read." —The Harvard Crimson
"The huge cast allows Ulitskaya to lead the reader on delightful tours of all those late Soviet phenomena most fetishized in hindsight: samizdat, underground dissidence, and steamy kitchen conversations about jazz, politics, and forbidden literature." —Public Books
"[One of] Fall's most promising new books . . . Ludmila Ulitskaya's ambitious, newly translated Russian novel, tracks the lives of three young Muscovites from the death of Stalin to the fall of the Iron Curtain." —Travel+Leisure
"One of the year's best works of straightforward realism . . . an attempt to reawaken a dissident past." —Flavorwire
"Ludmila Ulitskaya's evocative book The Big Green Tent, set in Moscow after Stalin's death, has just appeared in Polly Gannon's elegant English translation. It is Ulitskaya's sixth novel translated into English and as readable as ever." —Russia Beyond the Headlines
"The popular Russian novelist takes a cue from the greats here, crafting a sweeping novel that's traditional in structure and scope but modern in humor and relevance." —Bustle
"Ambitious and absorbing, The Big Green Tent carries its readers into the lost world of Soviet dissidents, and its hold is unwavering. This is a daring and moral work, but it is also, above all, a great story." —Peter Finn, coauthor of The Zhivago Affair: The Kremlin, the CIA and the Battle over a Forbidden Book
"A sweeping novel of life in the Cold War Soviet Union, with plenty between the lines about life in Putin's Russia today . . . The greatest tragedy of Ulitskaya's story is that it comes to an end. Worthy of shelving alongsideDoctor Zhivago: memorable and moving." —Kirkus Reviews (starred review)
"For Western readers, the novel's sparkling imagery makes real the drab and dangerous Soviet era, with its scarcities and constant presence of the KGB. The characters are drawn with humor and melancholy yet endowed with hope and a love of literature. A great introduction for readers new to Ulitskaya." —Library Journal (starred review)
"[Ulitskaya is a] consummate storyteller . . . She can create characters with the best of them." —The Buffalo News
"One of the most important living Russian writers." —Gary Shteyngart, author of Super Sad True Love Story on Ludmila Ulitskaya
"Ludmila Ulitskaya arrives here not just as a shrewd novelist, but as a wise and evocative artist." —The Philadelphia Inquirer on Ludmila Ulitskaya
Farrar, Straus and Giroux, 9780374166670, 592pp.
Publication Date: November 10, 2015
About the Author
Ludmila Ulitskaya is one of Russia's most popular and renowned literary figures. A former scientist and the director of Moscow's Hebrew Repertory Theater, she is the author of more than a dozen works of fiction, including The Big Green Tent, several tales for children, and multiple plays that have been staged by a number of theaters in Russia and Germany. She has won Russia's Man Booker Prize and was on the judges' list for the Man Booker International Prize.

Polly Gannon is the director of cultural studies at the New York-St. Petersburg Institute of Linguistics, Cognition and Culture. She holds a Ph.D. in Russian Literature from Cornell University and is the co-translator of Word for Word by Lilianna Lungina. She lives, teaches, and translates in St. Petersburg, Russia.
or
Not Currently Available for Direct Purchase