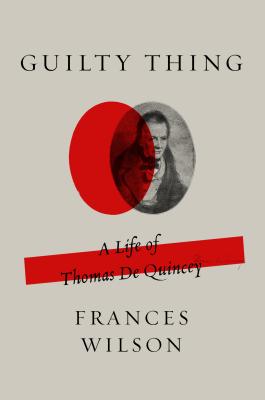 Guilty Thing
A Life of Thomas De Quincey
Hardcover

* Individual store prices may vary.
Other Editions of This Title:
Digital Audiobook (10/3/2016)
Paperback (10/17/2017)
MP3 CD (10/4/2016)
Compact Disc (10/4/2016)
Compact Disc (10/4/2016)
Description
National Book Critics Circle Award, Biographers International Organization Plutarch Award and Los Angeles Times Book Prize Finalist

New York Times Book Review, Times Literary Supplement and The Guardian Best Books of 2016

Thomas De Quincey was an obsessive. He was obsessed with Wordsworth and Coleridge, whose Lyrical Ballads provided the script to his life, and by the idea of sudden death. Running away from school to pursue the two poets, De Quincey insinuated himself into their world. Basing his sensibility on Wordsworth's and his character on Coleridge's, he forged a triangle of unusual psychological complexity.

Aged twenty-four, De Quincey replaced Wordsworth as the tenant of Dove Cottage, the poet's former residence in Grasmere. In this idyllic spot he followed the reports of the notorious Ratcliffe Highway murders of 1811, when two families, including a baby, were butchered in their own homes. In his opium-soaked imagination the murderer became a poet while the poet became a murderer. Embedded in On Murder as One of the Fine Arts, De Quincey's brilliant series of essays, Frances Wilson finds the startling story of his relationships with Wordsworth and Coleridge.

Opium was the making of De Quincey, allowing him to dissolve self-conflict, eliminate self-recrimination, and divest himself of guilt. Opium also allowed him to write, and under the pseudonym "The Opium-Eater" De Quincey emerged as the strangest and most original journalist of his age. His influence has been considerable. Poe became his double; Dostoevsky went into exile with Confessions of an English Opium-Eater in his pocket; and Charles Dickens, Oscar Wilde, George Orwell, Alfred Hitchcock, and Vladimir Nabokov were all De Quincey devotees.

There have been other biographies of Thomas De Quincey, but Guilty Thing is the first to be animated by the spirit of De Quincey himself. Following the growth of his obsessions from seed to full flowering and tracing the ways they intertwined, Frances Wilson finds the master key to De Quincey's vast Piranesian mind. Unraveling a tale of hero worship and revenge, Guilty Thing brings the last of the Romantics roaring back to life and firmly establishes Wilson as one of our foremost contemporary biographers.
Praise For Guilty Thing: A Life of Thomas De Quincey…
Publishers Weekly Ten Best Nonfiction Books of 2016

"Wilson's book is a revelatory study of its subject . . . She is a biographer with a De Quinceyan eye for pattern, and a sharp sense of the ironies that made her subject's life at once so rich and so depleted." —Dan Chiasson, New Yorker

"De Quincey recommended biography be written 'com amore' and 'con odio.' Love and hate. Frances Wilson delicately flavors her biography of the early-19th-century writer with both condiments but, above all, without censure . . . ." —John Sutherland, The New York Times Book Review

"She has set out, with immense energy and flait, to 'hunt' De Quincey 'though all his doubles,' and unlike previous biographers . . . Wilson [is] especially prepared for the ambiguous, shape-shifting, changeling, illusive quality in De Quincey. She sees the need for stylistic fireworks as well as steady scholarship to illuminate his life. She writes with speed, flamboyance, and constant changes of viewpoint and perspective, offset by moments of calm, shrewd analysis . . [A] risky, sprightly, passionate biography, which goes further than anything previously in catching the strange, elusive Opium Eater." —Richard Holmes, New York Review of Books

"In Guilty Thing, her entertaining, intellectually brilliant biography of De Quincey, Frances Wilson is just as truthful and evocative as her subject." —Jamie James, The Wall Street Journal

"Wildly entertaining . . . Wilson renders De Quincey's life with extraordinary sympathy and sensitivity, a beautifully written account of one of our oddest writers." —Kate Tuttle, The Boston Globe

"[Guilty Thing] eschews the traditional modes of biography—the recitation of a life's arc, its major milestones, and an even-tempered portrayal—in favor of something as death-haunted and murder-obsessed as De Quincey himself . . . Wilson's prose is at its best . . . when she mirrors and amplifies De Quincey's own style . . . Guilty Thing is less unruly but still captures that propulsion that drives De Quincey's greatest writings . . ." —Colin Dickey, The New Republic

"Frances Wilson's smart new biography of De Quincey, Guilty Thing, judiciously narrates the life of a writer who responded to the question 'How cam you to dream more splendidly than others?' with the answer 'He whose talk is of oxen, will probably dream of oxen.' . . . With the recent publication of a new Works of Thomas De Quincey and scholarly biographies by Grevel Lindop and Robert Morrison, perhaps attention is being redirected in a promising way. Frances Wilson's book will play no small part in this sublimely pleasant development." —Eric Banks, Bookforum

"[A] superb new biography . . . Wilson, who has shown herself to be a remarkable biographer of such strikingly different Romantic figures as the courtesan Harriette Wilson and Dorothy Wordsworth, sees the subterranean influence of the perennially peripheral De Quincey burbling up wherever she looks . . . Wilson is De Quincey's first De Quinceyan biographer. Herself densely allusive, she follows him on his Piranesian stairways with balletic aplomb." —Alexandra Mullen, The New Criterion

"This is a mesmerizing and agile biography of the 19th century English writer, best known for the autobiographical Confessions of an English Opium-Eater. Wilson captures De Quincey's multifaceted personality and career—as obsessive literary stalker, "born journalist," and visionary author, as well as his continuing influence on our own time." —Publishers Weekly (named one of the "Best Books of 2016")

"This is a seamless, stirring, sublime biography, which takes you to the heart, or rather the head, of the opium-eater." —Daisy Dunn, Evening Standard

"There are plenty of stylistic fireworks worthy of De Quincey here . . . The result is a great, complicated book." —Daisy Hay, The Guardian

"Wilson is steeped in her subject matter . . . A richly intelligent and well-informed study, which will surely become the favoured one for our time." —Gillian Tindall, The Financial Times

"In her pursuit, Wilson often catches decisively this most elusive character, and the chase is exhilarating." —Hermione Eyre, The Spectator

"Absorbing . . . De Quincey's previous biographers have sometimes felt duty bound to be balanced, comprehensive, to play the straight man in a double act with their grotesquely wayward subject. It's something of a relief, then, when Wilson suggests that what we need is not another biography of De Quincey but a 'De Quinceyan biography.' She takes pleasure in her quarry—and takes enjoyable risks with him—as she tracks him through his various lives . . . Wilson is responsive to [De Quincey's] writing throughout her book (she makes you want to read him, not merely know him)." —Matthew Bevis, Harper's Magazine

"Startling . . . By harnessing the sparks created by the friction of these twin obsessions, murder and imagination, Wilson ingeniously illuminates the dark realms De Quincey's spirit prowled . . . Wilson circumscribes her subject in an ingeniously De Quinceyan fashion . . . Exhilarating . . . [Wilson's] remarkable book engenders in its readers those modes of thinking necessary to follow De Quincey as he shifts unpredictably into and out of every imaginable shape." —Kelly Grovier, The Times Literary Supplement

"In connecting the architecture of De Quincey's wild, opium-fuelled mind with physical surroundings, Wilson provides a handrail through the pandemonium and isolation. He emerges from her book a sympathetic but irresponsible obsessive… Wilson has successfully brought De Quincey out from under the shadow of his contemporaries. He stands before us deeply flawed … But he was also a dreamer of the best dreams in literature" —Ruth Scurr, Daily Telegraph

"Multilayered and wonderfully insightful" —John Walsh, Sunday Times

"Stunning … A brilliant, giddy-making portrait not of a literary hanger-on, which is how posterity tended to see De Quincey, but of a genius, which is how he saw himself … Wilson's narrative [has] a wonderfully hallucinatory effect … Energetic and wonderfully compelling"—Kathryn Hughes, Mail on Sunday

"Guilty Thing brings triumphantly into focus a life racked by opium's insidious effects … Beautifully crafted, Frances Wilson's narrative sets up patterns, mirrors and doublings that make multiple intersections between De Quincey's inner and outer worlds. An impressive contribution to literary biography, her book amounts to the most 'De Quinceyan' account of De Quincey we are likely to see"—Nicholas Roe, Literary Review

"Wilson is forensic about the terrors lurking in De Quincey's imagination … Wilson's quirky, urgent biography, which is clearly steeped in extensive knowledge of the period, is an essential guide to this remarkable drug addict" —Daisy Goodwin, The Times, 9 April 2016

"Wonderfully insightful" —Sunday Times

"Wilson will enthrall readers with this mesmerizing and agile biography of English writer Thomas De Quincey . . . An impressively researched biography as dazzling as its subject." —Publisher's Weekly (starred review)

"Well-researched and elegantly written." —Kirkus Reviews
Farrar, Straus and Giroux, 9780374167301, 416pp.
Publication Date: October 4, 2016
About the Author
Frances Wilson is a critic, a journalist, and the author of several works of nonfiction, including Literary Seductions; The Courtesan's Revenge; The Ballad of Dorothy Wordsworth, which won the Rose Mary Crawshay Prize; How to Survive the Titanic, winner of the Elizabeth Longford Prize for Historical Biography; and Guilty Thing: A Life of Thomas De Quincey, which was a finalist for the National Book Critics Circle Award and the Los Angeles Times Book Prize. She is a Fellow of the Royal Society of Literature, and she received a fellowship from the New York Public Library's Cullman Center in 2018. She lives in London with her daughter.
or
Not Currently Available for Direct Purchase