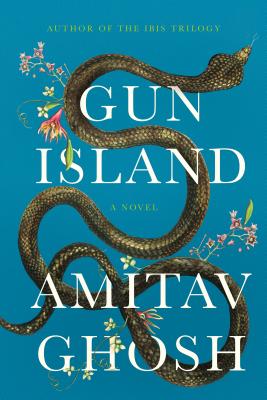 Gun Island
A Novel
Hardcover

* Individual store prices may vary.
Other Editions of This Title:
Digital Audiobook (12/9/2019)
Digital Audiobook (9/9/2019)
Paperback (11/17/2020)
MP3 CD (12/10/2019)
Compact Disc (12/10/2019)
Description
Named a Best Book of Fall by Vulture, Chicago Review of Books and Amazon

From the award-winning author of the bestselling epic Ibis trilogy comes a globetrotting, folkloric adventure novel about family and heritage

Bundook. Gun. A common word, but one that turns Deen Datta's world upside down.

A dealer of rare books, Deen is used to a quiet life spent indoors, but as his once-solid beliefs begin to shift, he is forced to set out on an extraordinary journey; one that takes him from India to Los Angeles and Venice via a tangled route through the memories and experiences of those he meets along the way. There is Piya, a fellow Bengali-American who sets his journey in motion; Tipu, an entrepreneurial young man who opens Deen's eyes to the realities of growing up in today's world; Rafi, with his desperate attempt to help someone in need; and Cinta, an old friend who provides the missing link in the story they are all a part of. It is a journey that will upend everything he thought he knew about himself, about the Bengali legends of his childhood, and about the world around him.

Amitav Ghosh's Gun Island is a beautifully realized novel that effortlessly spans space and time. It is the story of a world on the brink, of increasing displacement and unstoppable transition. But it is also a story of hope, of a man whose faith in the world and the future is restored by two remarkable women.
Praise For Gun Island: A Novel…
"Gun Island deals with two of the biggest issues of the current moment: climate change and human migration. The confidence with which he shapes a good, old-fashioned diversion around these particular poles is instructive. . . . That Ghosh is able to sustain the book's momentum when its primary inquiry is so cerebral is no mean feat... Gun Island is a novel for our times." --Rumaan Alam, The Washington Post

"How can novelists address climate change without turning their books into seminars? Mr. Ghosh's neat trick is to fold the subject into a juicy (if somewhat breathless) academic mystery of the sort popularized by Umberto Eco . . . The more puzzle pieces [Deen] fits together, the more chaos he reveals—which makes for an accurate depiction of the world as we know it." --Sam Sacks, The Wall Street Journal

"A brave experiment in bringing climate change to action-adventure readers . . . Ghosh challenges the writers among us to remember that throughout history we have dealt with crises by telling ourselves stories." --Melanie Finn, The New York Times Book Review

"[Gun Island] is an intellectual romp that traces Bengali folklore, modern human trafficking, and the devastating effects of climate change across generations and countries . . . Ghosh writes with deep intelligence and illuminating clarity about complex issues. This ambitious novel memorably draws connections among history, politics, and mythology." --Publishers Weekly

"Ghosh seductively combines old-fashioned storytelling with keen research and a socially conscious sensibility to enthralling and piquantly enlightening affect." --Booklist

"In the face of apocalyptic climate change, an Indian immigrant searches for the truth behind a Bengali legend . . . [Ghosh] blends elements of journalism, folklore, science, and history to describe a world on the verge of catastrophe . . . Involving and intricate, [Gun Island] speaks urgently to a time growing ever more perilous." --Kirkus

"A tender, attentive and engaging account of the ways in which an individual sensibility might be altered by ironies of history, chance alliances and climatological mutations . . . Gun Island is a rich and rewarding novel that reaffirms the transformative power of topographical and human connection, and registers the rhythms of the quiet and the unquiet life." --Matthew Adams, The Spectator (London)

"Flitting across continents, Ghosh deftly summons up a pungent sense of place, whether in the mangrove swamps of Bengal or the misty, cobbled streets of Venice. The past lurks convincingly in the present." --Siobhan Murphy, The Times (London)

"Amid the freak cyclones and oxygen-starved waters comes the story – or stories – of migration across the ages; tales of escapology, of deprivation and persecution, of impossible yearnings for a new world that bring us, inexorably, to the terrified refugees on the Mediterranean. Which is, perhaps, Ghosh's essential point; a shaggy dog story can take a very roundabout path towards reality, but it will get there in the end. It has to, or we're all doomed." --Alex Clark, The Guardian (Book of the Day)

"A Bengali Da Vinci Code . . . Gun Island is a book of reckless and persuasive scope, a huge, rambunctious reckoning with our environmental declension. Ghosh draws strong parallels between human and animal displacement, as refugee boats and migrating whales meet in the ocean." --Johanna Thomas-Corr, The Sunday Times (London)

"A novel that is as contemporary and compelling as can be . . . Ghosh has emerged in rude writing health from the 19th century world of opium trade. Taut and gripping, Gun Island is a parable for our times." --Soumya Bhattacharya, Hindustan Times

"In The Great Derangement, Amitav Ghosh, an important international writer, asked why writers avoid the foremost subject in our lives—climate change. In Gun Island it is unmistakably the central issue. With sweeping exuberant style and extraordinary linguistic facility, Ghosh takes us into a world where desperate refugees trickle through borders like water from melting ice, but where massing animals find no escapes. Old legends and ancient myths take on new meaning. The difficulties of characters in the Sundarbans begin to appear the world over as the climate becomes a forcing element. Our ordinary lives with air travel, cell phones, friends in distant places, smart-mouth teenagers, life insurance, money and investment concerns intersect with forest fire, flooding, storms. This important novel is an account of our current world, the one few writers have had the courage to face." —Annie Proulx, winner of the Pulitzer Prize in Fiction

"Amitav Ghosh's Gun Island is an extraordinary reading experience from one of our greatest living storytellers. Ghosh masterfully collocates disparate worlds to create a story of family, self, history, and destiny. I'm in awe." —Neel Mukherjee, author of A State of Freedom
Farrar, Straus and Giroux, 9780374167394, 320pp.
Publication Date: September 10, 2019
About the Author
Amitav Ghosh is the internationally bestselling author of many works of fiction and nonfiction, including The Glass Palace, and is the recipient of numerous awards and prizes. Ghosh divides his time between Kolkata and Goa, India, and Brooklyn, New York.
Coverage from NPR
or
Not Currently Available for Direct Purchase