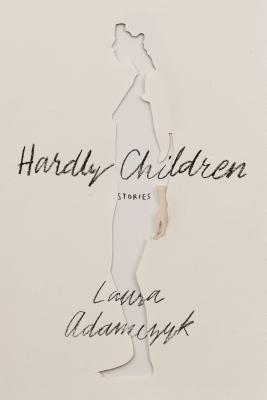 Hardly Children
Stories
Paperback

* Individual store prices may vary.
Description
Named a Fall Pick by Boston Globe, ELLE, Library Journal and MyDomain
An eerie debut collection featuring missing parents, unrequited love, and other uncomfortable moments
A man hangs from the ceiling of an art gallery. A woman spells out messages to her sister using her own hair. Children deemed "bad" are stolen from their homes. In Hardly Children, Laura Adamczyk's rich and eccentric debut collection, familiar worlds—bars, hotel rooms, cities that could very well be our own—hum with uncanny dread.
The characters in Hardly Children are keyed up, on the verge, full of desire. They're lost, they're in love with someone they shouldn't be, they're denying uncomfortable truths using sex or humor. They are children waking up to the threats of adulthood, and adults living with childlike abandon.
With command, caution, and subtle terror, Adamczyk shapes a world where death and the possibility of loss always emerge. Yet the shape of this loss is never fully revealed. Instead, it looms in the periphery of these stories, like an uncomfortable scene viewed out of the corner of one's eye.
Praise For Hardly Children: Stories…
"The stories are achingly open to the vulnerability that comes with forming attachments and the surprising difficulty of breaking them." --Danielle Lazarin, The New York Times Book Review
"A striking blend of graceful sentences and eerie premises." —Laura Pearson, Chicago Tribune
"Bold and observant . . . [Hardly Children] teems with wry writ as it explores memory and family and uncovers the unexpected in the everyday . . . Adamczyk considers the architecture of her stories, which often shift in striking ways." --Anne K. Yoder, The Millions
"Super weird, super unsettling, and super great." --The Boston Globe
"[A] knockout . . . Adamczyk's Hardly Children focuses on young people waking up to the dangers of the adult world." --ELLE
"Adamczyk's accomplished debut collection pulses with an underlying sense of menace. The short opener, "Wanted," has a quiet depth that moves it away from what is traditionally thought of as flash fiction . . . Adamczyk never writes the same story twice, giving this collection a sleek and unnerving feel as readers know something bad is going to happen, but are uncertain of what it'll be." --Publishers Weekly
"[Adamczyk] writes imaginatively off-kilter, slice-of-life stories meant to make readers uncomfortable . . . creepy stories that don't make for light reading but definitely get under your skin." --Barbara Hoffert, Library Journal (Top Short Fiction for Fall)
"In Laura Adamczyk's knockout collection of short stories, the perspective oscillates between adults living with childlike abandon and young people confronting with the dangers of growing up . . . stunning." --Megan Beauchamp, MyDomain
"Adamczyk has a singular imagination and an often astonishing way with metaphor. A challenging and unsettling collection that heralds a promising talent." —Kirkus
"Adamczyk's confident, quirky first outing is bound to find admirers in fans of Aimee Bender and Karen Russell." --Booklist
"With an elegant, surgical style, this excellent debut collection examines the murky divide between youth and adulthood, the infinite weirdnesses of aging, the way our childhoods warp in the rear view, and the myriad lies we must undo along the way. Laura Adamczyk is a clever, observant writer with a pleasantly dark wit and Hardly Children will thrill any reader who is baffled to realize they're an adult." —Catherine Lacey, author of Certain American States and The Answers
"Here is a collection I'll return to, eager for the familiarity of the characters, and certain the complexity and mystery will deepen with each read. The women in these stories feel recognizable and true, yet surprising, each struggling to figure out their interpersonal balances, alert to the losses already suffered even when they throw the dice again. These stories will redefine what you think of when you hear the word 'risk.'" —Jac Jemc, author of The Grip of It

"Hardly Children is a painful, wonderfully strange book, featuring some of the best stories I've read about the lifelong bruises of childhood. These stories hurt and confound on a personal level, making the world feel intimate, other people less far away. So, read it already. There's something for you in here." —Colin Winnette, author of Haints Stay and The Job of the Wasp
"These sharp stories are portals to a strange world adjacent to ours, one where the rules of men, women, and children are prismatically warped and distorted. Through prose precise as a scalpel, and sentences that ring like shattered glass, Laura Adamczyk spins the searing aches of youth, disenchantment, and loss into a pristine first collection that has already earned its place on your shelves." —Sarah Rose Etter, author of Tongue Party
"In Hardly Children, characters make bad but not irredeemable choices, and everywhere children are imperiled. It's a bold vision that doesn't hold back. These stories are funny and dark and ache for family." —Sara Majka, author of Cities I've Never Lived In
FSG Originals, 9780374167899, 240pp.
Publication Date: November 20, 2018
About the Author
Laura Adamczyk's fiction has won awards from the Union League Civic & Arts Foundation of Chicago and has appeared in Hobart, Chicago Reader, Pank, Salt Hill, Vol. 1 Brooklyn, Bellevue Literary Review, Necessary Fiction, and elsewhere. Her story "Girls," published in Guernica, won the 2014 Dzanc Books/Disquiet International Literary Program Award. She currently works at The A.V. Club in Chicago.