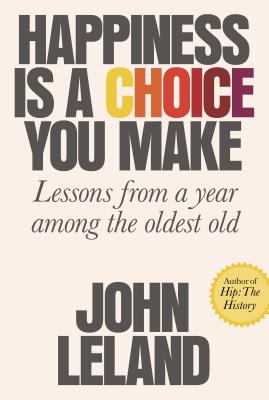 Happiness Is a Choice You Make
Lessons from a Year Among the Oldest Old
Hardcover

* Individual store prices may vary.
Other Editions of This Title:
Digital Audiobook (1/22/2018)
Paperback (1/8/2019)
Paperback, Large Print (5/1/2019)
CD-Audio (1/23/2018)
Library Binding, Large Print (1/17/2018)
Paperback, Chinese (12/11/2019)
Description
A New York Times Bestseller!
An extraordinary look at what it means to grow old and a heartening guide to well-being, Happiness Is a Choice You Make weaves together the stories and wisdom of six New Yorkers who number among the "oldest old"— those eighty-five and up.
In 2015, when the award-winning journalist John Leland set out on behalf of The New York Times to meet members of America's fastest-growing age group, he anticipated learning of challenges, of loneliness, and of the deterioration of body, mind, and quality of life. But the elders he met took him in an entirely different direction. Despite disparate backgrounds and circumstances, they each lived with a surprising lightness and contentment. The reality Leland encountered upended contemporary notions of aging, revealing the late stages of life as unexpectedly rich and the elderly as incomparably wise.
Happiness Is a Choice You Make is an enduring collection of lessons that emphasizes, above all, the extraordinary influence we wield over the quality of our lives. With humility, heart, and wit, Leland has crafted a sophisticated and necessary reflection on how to "live better"—informed by those who have mastered the art.
Praise For Happiness Is a Choice You Make: Lessons from a Year Among the Oldest Old…
A New York Times Book Review Editor's Choice
A People magazine "Best New Book"
"Inspired and inspiring." —Jane E. Brody, The New York Times
"John Leland's practical, powerful insights into the rich experiences of the 'oldest old' can guide all of us to lead happier lives—no matter what our age." —Gretchen Rubin, author of the New York Times bestseller The Happiness Project
"Uplifting and wise." —AARP The Magazine
"An uplifting and inspirational guide on how to be present and embrace life at any age." —The Asheville Citizen Times
"This charming, enlightening, and goodhearted nonfiction study will make you feel a little more grateful for your own life, however long it lasts." —Sarah Smith, Omnivoracious
"Loaded with charm, wisdom, and decades' worth of personal anecdotes, it explores the 'paradox of old age'and offers a startlingly simple solution: 'If you want to be happy, learn to think like an old person.'" —Furthermore
"Engrossing . . . Few books about aging show such clarity and purpose or so deftly blend clear-eyed examinations of social issues with a realistic but hopeful cast of mind. In this edifying and often quite moving book, Leland presents the "lessons" taught by his subjects even as they themselves are learning them, and he does so with an empathy and thoroughness that deserve our gratitude." —Kirkus (starred review)
"Engaging . . . This is not a record of the daily routines of this diverse socioeconomic group but rather of answers to questions regarding happiness, life, and death. . . Leland entertains and intrigues readers as six unique personalities emerge, sharing their reminiscences about love, heartache, aches and pains, and joy. This is a sympathetic and honest look at growing old." —Kathleen McBroom, Booklist
"Leland skillfully weaves the wisdom gleaned from their experiences into a fascinating chronicle of the joys and difficulties of living into one's 80s and beyond. . . Leland lends credence to his heartening story of how six seniors have nonetheless made the best of it. He also movingly shows, through his own example, how interacting with those much older than oneself can lead to seeing life in a new light." —Publishers Weekly
"Leland's book is the perfect blend of characters and essential information." —Marilyn Murray Willison, author of The Self-Empowered Woman
"Remarkable revelations gleaned from those who, in their superannuated years, have discovered rewarding benefits from the life that actually surrounds them." —A. E. Hotchner, author of Hemingway in Love

"In her oft-quoted poem 'The Summer Day,' Mary Oliver asks, 'Tell me, what is it you plan to do / with your one wild and precious life?' In his new book, John Leland offers up one surprising, funny, smart, inspiring answer after another. This book is heart medicine for uncertain times, and assurance that the only resolution that matters is the will to keep going." —Veronica Chambers, author of The Go-Between and coauthor of 32 Yolks
Sarah Crichton Books, 9780374168186, 256pp.
Publication Date: January 23, 2018
About the Author
John Leland is a reporter at The New York Times, where he wrote a yearlong series that became the basis for Happiness Is a Choice You Make, and the author of two previous books, Hip: The History and Why Kerouac Matters: The Lessons of "On the Road" (They're Not What You Think). Before joining the Times, he was a senior editor at Newsweek, editor in chief of Details, a reporter at Newsday, and a writer and editor at Spin magazine.
Coverage from NPR