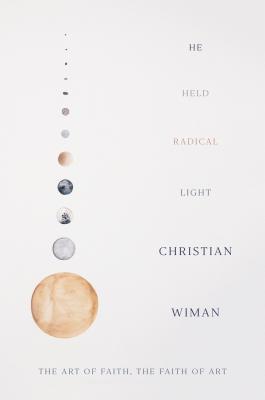 He Held Radical Light (Hardcover)
The Art of Faith, the Faith of Art
Farrar, Straus and Giroux, 9780374168469, 128pp.
Publication Date: September 11, 2018
Other Editions of This Title:
Paperback (10/1/2019)
MP3 CD (9/11/2018)
Compact Disc (9/11/2018)
Compact Disc (9/11/2018)
* Individual store prices may vary.
Description
A moving meditation on memory, oblivion, and eternity by one of our most celebrated poets
What is it we want when we can't stop wanting? And how do we make that hunger productive and vital rather than corrosive and destructive? These are the questions that animate Christian Wiman as he explores the relationships between art and faith, death and fame, heaven and oblivion. Above all, He Held Radical Light is a love letter to poetry, filled with moving, surprising, and sometimes funny encounters with the poets Wiman has known. Seamus Heaney opens a suddenly intimate conversation about faith; Mary Oliver puts half of a dead pigeon in her pocket; A. R. Ammons stands up in front of an audience and refuses to read. He Held Radical Light is as urgent and intense as it is lively and entertaining—a sharp sequel to Wiman's earlier memoir, My Bright Abyss.
About the Author
Christian Wiman is the author of several books, including a memoir, My Bright Abyss: Meditation of a Modern Believer (FSG, 2013); Every Riven Thing (FSG, 2010), winner of the Ambassador Book Award in poetry; and Stolen Air: Selected Poems of Osip Mandelstam. From 2003 to 2013, he was the editor of Poetry magazine. He currently teaches religion and literature at the Yale Institute of Sacred Music and Yale Divinity School. He lives in Connecticut.
Praise For He Held Radical Light: The Art of Faith, the Faith of Art…
"Soul-searing . . . Early on in this book that reads like an unfiltered tete-a-tete, Wiman writes that when he left college, he set out to be a poet who would write 'a poem that would live forever.' He has done that with this magnificent, radiant memoir." —Barbara Mahany, Chicago Tribune
"Taut, absorbing . . . Wiman, who was diagnosed with a rare blood cancer several years ago, wrestles with his own mortality and ambitions as he searches for truth through literature." —Elizabeth Lund, The Washington Post
"He Held Radical Light is a book-length essay woven of spiritual memoir, literary criticism, and lyric poetry. It demonstrates with intelligence, honesty, and humor how vital poetry can be for any exploration of faith." —Christianity Today
"Absorbing . . . doses of suspense keep this loosely associative text and its characters rolling briskly along: the narrative / memoir mode is interwoven with discussions of poems for which Wiman expresses a deep, unpedantic love." —Beverley Bie Brahic, Times Literary Supplement
"[Wiman] is expert at identifying the exact image or lines where a poet has wrestled eternity onto the page . . . Strangely powerful . . . Even the most transcendent art arrives via the transient vessels known as artists, and Wiman knows how to bring both to life on the page." —Casey N. Cep, The New York Times Book Review
"While continuing the discussion of existential and religious questions he addressed in earlier books, such as My Bright Abyss, in this latest work Wiman considers some of the central problems of a life dedicated to poetry—how the work must reach out toward something beyond it, and how one must nonetheless take the work seriously as an end in itself." —Lidija Haas, Harper's Magazine
"Beautiful and lasting . . . [He Held Radical Light] makes for a reading experience that is extremely rare." —Arthur Willemse, The Millions
"He Held Radical Light is about the rewards and also the perils of a calling that can never quite deliver the poet, or the reader, to its inferred, its intended destination. It is a kind of road novel, without a destination on the map, yet with an existential purpose." —Michael Schmidt, PN Review
"Wiman is a poet, a thinker, a searcher. He Held Radical Light is a wonderfully meandering, pensive, and sometimes complex book-length essay on what it means to seek God in poetry and life—and to often end up empty-handed, or even empty-hearted . . . A spirited jaunt through the world of contemporary poetry." —Nick Ripatrazone, The Christian Century
"Quite simply, Christian Wiman's He Held Radical Light is a beautiful book . . . Luminous and moving, He Held Radical Light brilliantly reveals the inextricable bonds of poetry and faith, and it serves as an evocative companion to Wiman's 2013 memoir, My Bright Abyss: Meditation of a Modern Believer." —Henry L. Carrigan Jr., BookPage
"Wiman . . . weaves together philosophy and lush prose in an elliptical memoir about his long flirtation with the belief that he could gain immortality by writing a perfect poem. He explains this drive for the ideal through delicately theological questions, . . . close readings of poems[,] and a vast reservoir of personal anecdotes . . . Readers who allow themselves to be swept along by Wiman's beautiful style and oblique considerations will come away with fresh strategies for unpacking faith in the contemporary world." —Publishers Weekly (starred review)
"The link between art and faith, as seen by a noted poet . . . In this memoir, the author considers the question, 'What is it we want when we can't stop wanting?' For Wiman, one answer is faith, but as he puts it, spiritual hunger is like poetry in that it 'thrives on longings that can never be fulfilled' . . . This moving book explores not only those torments, but also the understanding that art can provide." —Kirkus Reviews