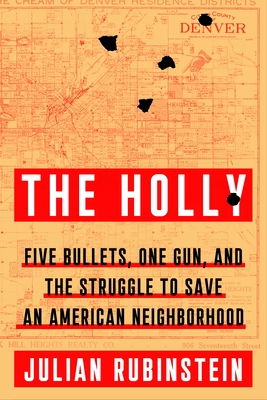 The Holly
Five Bullets, One Gun, and the Struggle to Save an American Neighborhood
Hardcover

* Individual store prices may vary.
Other Editions of This Title:
Digital Audiobook (5/10/2021)
Paperback (5/10/2022)
Description
A New York Times Book Review Editors' Choice

An award-winning journalist's dramatic account of a shooting that shook a community to its core, with important implications for the future

On the last evening of summer in 2013, five shots rang out in a part of northeast Denver known as the Holly. Long a destination for African American families fleeing the Jim Crow South, the area had become an "invisible city" within a historically white metropolis. While shootings there weren't uncommon, the identity of the shooter that night came as a shock. Terrance Roberts was a revered anti-gang activist. His attempts to bring peace to his community had won the accolades of both his neighbors and the state's most important power brokers. Why had he just fired a gun?

In The Holly, the award-winning Denver-based journalist Julian Rubinstein reconstructs the events that left a local gang member paralyzed and Roberts facing the possibility of life in prison. Much more than a crime story, The Holly is a multigenerational saga of race and politics that runs from the civil rights movement to Black Lives Matter. With a cast that includes billionaires, elected officials, cops, developers, and street kids, the book explores the porous boundaries between a city's elites and its most disadvantaged citizens. It also probes the fraught relationships between police, confidential informants, activists, gang members, and ex–gang members as they struggle to put their pasts behind them. In The Holly, we see how well-intentioned efforts to curb violence and improve neighborhoods can go badly awry, and we track the interactions of law enforcement with gang members who conceive of themselves as defenders of a neighborhood. When Roberts goes on trial, the city's fault lines are fully exposed. In a time of national reckoning over race, policing, and the uses and abuses of power, Rubinstein offers a dramatic and humane illumination of what's at stake.
Praise For The Holly: Five Bullets, One Gun, and the Struggle to Save an American Neighborhood…
"Drawing on rich research and extensive reporting, Rubinstein sets out to chart the social and historical forces that joined two men and a 9-millimeter automatic pistol on a late September day, in the neighborhood known as the Holly . . . By exposing the state surveillance, the crooked policing, the structural racism, the broken promises and the poverty that had plagued the Holly for decades, [Rubinstein] helps us realize that the problem of violence is far greater than two men and one gun." —Marcia Chatelain, The New York Times Book Review

"Rubinstein does not merely retell the events before and after [a] shooting but rather illuminates the dynamics that help explain the Black rage that has spilled into American streets over the past two years . . . Rubinstein artfully connects the dots between the rise of gangs, the long-ago shooting that put Roberts on trial, and the ongoing protests sparked by unjust police killings of Black citizens . . . For those of us who are suckers for telling details and character complexity in nonfiction narratives, Rubinstein delivers . . . It's an important read." —Martin J. Smith, Los Angeles Review of Books

"The Holly is a powerful, up-close look at the criminal, political, and economic forces that can erode a community . . . It's a complicated history, but Rubinstein makes it compellingly readable. If you want to understand the origins of the violence ravaging many urban areas and the challenges faced by one man trying to stop it, read The Holly." —Kevin O'Kelly, The Christian Science Monitor

"There are so many threads to this book and Rubinstein braids them together in a compelling multi-generational saga with a strong narrative and solid investigative reporting . . . For anyone who wants to understand systematic racism in tangible ways, Julian Rubinstein's investigative work makes it undeniable." —Bonnie Jean Feldkamp, Pittsburgh Post-Gazette

"An explosive story that sheds light on the issues rarely seen or covered. Among the findings are the misuse of informants and the questionable operations of America's premiere federal anti-gang and anti-gun program, Project Safe Neighborhoods. It also draws parallels between the civil rights movement and present-day America by asking whether activists in gentrifying communities are being targeted by those in power." —David Sirota, The Daily Poster

"The Holly is a triumphant achievement that fully brings the iceberg of criminal justice issues to the surface and exposes it for all to see. Not only is it one of the most important nonfiction books to be published in recent years, but it should be essential reading for anyone who wants to understand the extent to which this country's criminal justice system is currently broken." —Scott Neumyer, Shondaland

"Rubinstein . . . has constructed a shattering piece of investigative journalism involving street gangs, race relations, and law enforcement . . . This is a gripping deep dive into media underreporting and too-quick judgment, and, most shockingly, into how the criminal-justice industrial complex may be invested in systemic corruption designed to keep drug wars going. Dramatic and wrenching." —Connie Fletcher, Booklist (starred review)

"[A] haunting story . . . In a multigenerational saga that builds toward a suspenseful courtroom drama centered on [a] trial for assault and attempted murder, Rubinstein—who lives in Denver—creates a historical palimpsest that sets its events against the backdrop of broad social and political changes . . . The author offers especially sharp and well-developed scrutiny of the use of active gang members as confidential police informants . . . [An] important book." —Kirkus Reviews (starred review)

"This vivid story of redemption and loss offers profound insights into the forces that plague America's inner cities." —Publishers Weekly (starred review)

"An informed analysis of the complex intersections between police and the community, which will especially draw in readers involved in community organizing and anti-racist activism." —Library Journal

"Julian Rubinstein dives deep beneath the deafening sound of a gun shot to reveal the layers of violence that America reaps on its inner cities. Through the compelling life story of Terrance 'ShowBizz' Roberts, the Apostle Paul of Park Hill, The Holly forces us to bear witness to a series of underground wars in the invisible parts of our cities that have been left to die for too long. Rubinstein just wanted to 'pay attention' to his hometown's gang violence but uncovered a rich and tragic history of gangsterism that connects the street corner with the courthouse and the boardroom. This gripping story of political collusion, murder, and redemption is a page turner with a propulsive weight of urgency." —Davarian L. Baldwin, author of In the Shadow of the Ivory Tower: How Universities are Plundering Our Cities and Chicago's New Negroes

"Seldom have I encountered a feat of storytelling as memorable or richly textured as The Holly. With the utmost skill and empathy, Julian Rubinstein weaves together the absorbing tales of a city roiled by breakneck growth and a man determined to elude the ghosts of his destructive past. The result is a book that poignantly illuminates the joys and pitfalls of reinvention in America, a country forever struggling to live up to its mighty promise." —Brendan I. Koerner, author of The Skies Belong to Us and Now the Hell Will Start

"Every city has a parallel society that many residents choose not to see. Julian Rubinstein digs deep into what he calls the 'invisible Denver' of his hometown to find astounding cross-currents of trouble, heroism and love. Only through his careful reporting could the redevelopment of a shopping center resemble a Colorado mining boom and the leadup to a ribbon-cutting at a Boys and Girls Club assume the drumbeats of a march to the executioner." —Tom Zoellner, author of Island on Fire: The Revolt That Ended Slavery in the British Empire and The National Road: Dispatches from a Changing America

"If you, like others, have wondered about the connections between the end of the civil rights/Black Power movements and the onset of America's gang war, or whether activists who oppose gentrification and racist policies are the targets of informants, this book is mandatory reading. My father, the head of the Denver Black Panthers, was persecuted for his advocacy in his time in a way not unlike the way Terrance Roberts is now, with deadly consequences. The Holly is a decades-long crime thriller straight outta the shadows of invisible Denver, an unforgettable tale you won't hear in the mainstream media and a riveting wake-up call to activists, community organizers, and criminal justice advocates." —H-Soul Ashemu, Denver community activist and Chief Visionary Officer for the Righteous Rage Institute and Power of Soul Ltd.

"Don't let the snow-capped backdrop of the Rocky Mountains fool you. In The Holly, Julian Rubinstein reveals Denver, Colorado to be a crucible of so much that's wrong in America: the chasms of race and class that divide the nation; corrupt policing; systemic discrimination. This story of struggle spans the era of the Black Panthers to Black Lives Matter. Law enforcement is after the hero of this book—Terrance Roberts—in a drama brought to life by Rubinstein's fearless reporting." —Dale Maharidge, Pulitzer Prize–winning author of And Their Children After Them

"Among the very best non-fiction books I have ever read. It should be mandatory reading for every member of Congress, for anyone engaged in police reform." —Maximillian Potter, contributing editor at Vanity Fair and author of Shadows in the Vineyard
Farrar, Straus and Giroux, 9780374168919, 400pp.
Publication Date: May 11, 2021
About the Author
Julian Rubinstein is a journalist and the author of Ballad of the Whiskey Robber, which was a finalist for the Edgar Allan Poe Best Fact Crime award. His work has appeared in The New Yorker, Rolling Stone, and The New York Times Magazine, as well as in Best American Crime Writing. He is a visiting professor of the practice of documentary journalism at the University of Denver.