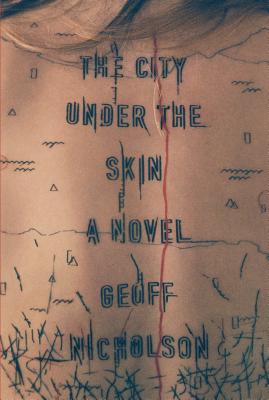 The City Under the Skin
A Novel
Hardcover

* Individual store prices may vary.
Other Editions of This Title:
Paperback (6/2/2015)
Description
A cartographic thriller with so many twists and turns it requires its own map
A cartography-obsessed misfit clerk from an antique map store in a district that's not quite trendy yet. A bold young woman chasing the answer to a question she can't quite formulate. A petty criminal hoping the parking lot he's just purchased is the ticket to a new life of respectability with his school-age daughter. A ruthless but vulnerable killer and his disgruntled accomplice. In The City Under the Skin, it's not fate that will bind these characters together but something more concrete and sinister: the appearance of a group of mysterious women, their backs crudely and extensively tattooed with maps.
They have been kidnapped, marked, and released, otherwise unharmed. When one turns up on the doorstep of the map shop and abruptly bares her back, only to be hustled away by a man in a beat-up blue Cadillac, it's the misfit clerk Zak, pushed by his curious new friend Marilyn, who finds himself reluctantly entering a criminal underworld whose existence he'd prefer to ignore.
In this haunting literary thriller, Geoff Nicholson paints a deft portrait of a city in transition. His sharply drawn characters are people desperate to know where they are but scared of being truly seen. A meditation on obsession and revenge, a hymn to the joys of urban exploration, The City Under the Skin is a wholly original novel about the indelible scars we both live with and inflict on others.
Praise For The City Under the Skin: A Novel…
"Geoff Nicholson's new crime novel, The City Under the Skin . . . compels the way a good crime novel should: by making you turn the pages at a clip . . . Nicholson prefers the hard-boiled to the philosophical. His characters truck in dialogue that is so stylized, so noirish, it's pretty fun to read. Everyone's got a zinger at the ready." —Fiona Maazel, The New York Times Book Review (Editors' Choice)
"In Nicholson's atmospheric chiller, his sixteenth novel, he continues to focus on the obsessed outsiders who make his work both entertaining and compelling. Cartography expert Zak runs a map store in a verging-on-trendy neighborhood. When a young woman stumbles into his shop and shows him the crude tattoo on her back, he recognizes the outlines of an inexpertly drawn map. Before he can decipher the location depicted, she is whisked away by a tough guy driving a beat-up blue Cadillac. The only other witness, a feisty young woman outfitted in thrift-store clothes, determines that the two should investigate. And that investigation takes them to some scary places, including the rambling, industrial-looking digs of the obese and powerful local crime lord, Wrobleski. It seems that there are more women who have been extensively tattooed with crude maps. Can a nerdy, map-obsessed urban explorer take down the hard-core thugs who seem to be running a criminal underworld? Let's hope so. With its fast-paced, dryly witty dialogue; looming, darkened cityscapes; wonderfully offbeat characters, including an enforcer with childcare problems; and metaphoric riffs on disorientation, this is a hugely entertaining crime novel." —Joanne Wilkinson, Booklist (starred review)
"Geoff Nicholson's taut thriller The City Under the Skin, wastes no time in establishing its tone, with a sneering, sarcastic conversation between two men that ends with one of them crushed in the trunk of a car . . . Nicholson works within the boundaries of a thriller framework and moves the story forward accordingly, but he does it in a way that manages to subvert any expectations you might have of where the story will lead . . . Nicholson's writing is controlled enough to contain the revelations for longer than one has any right to expect, and the result is a superb reckoning." —Matthew Tiffany, Minneapolis Star Tribune
"Take a deep two-hundred-page breath before you start: Geoff Nicholson's The City Under the Skin is really less about what can be mapped than what can't, his typically unhinged topography alive with his typically memorable characters, scrambling madly for new coordinates and dragging their latitudes and longitudes behind them. Irresistible, singular, laced with the black wit that dares you to laugh and dares you not to, teetering among the horrors you try to banish from your dreams before inviting them back." —Steve Erickson, author of Zeroville and These Dreams of You
"An excursion through a city of secrets, scars, facades, hidden depths, 'images' that may or may not be authentic, and people with their own traces and ruins left within it. If 'cartographic noir' can be considered a genre, Nicholson may well have established it." —Anthony Miller, Los Angeles Magazine
"The pleasure here is as much in the enjoyment of the text, chapter by chapter, as it is in the larger story: what Nicholson excels at is the smaller exchanges, the quirky details, the incidental events. His familiar themes of obsession and obsessiveness are found here, nicely handled, and the mapping-idea works well, as Nicholson also plays with varieties of tattooing (and tattoos-as-forms-of-maps), including the neat one of dermatographia . . . a very enjoyable read." —M.A. Orthofer, The Complete Review
Farrar, Straus and Giroux, 9780374169046, 272pp.
Publication Date: June 3, 2014
About the Author
Geoff Nicholson is the author of sixteen novels. His debut, Street Sleeper, was short-listed for the Yorkshire Post First Work Award; Bleeding London was short-listed for the Whitbread Prize; and Bedlam Burning was a New York Times Book Review Notable Book of the Year. His nonfiction titles include Sex Collectors and The Lost Art of Walking, and his journalism has appeared in, among other publications, The New York Times, Bookforum, Gastronomica, ArtReview, Black Clock, The Believer, McSweeney's, The Los Angeles Times and Custom Car. He is a contributing editor to the Los Angeles Review of Books. He was born in Sheffield, England, and currently lives in Los Angeles.
or
Not Currently Available for Direct Purchase