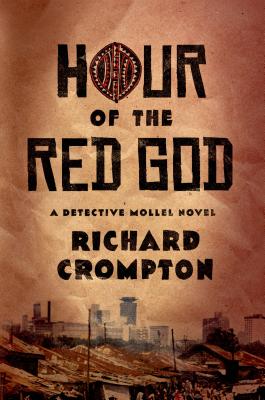 Hour of the Red God
Hardcover

* Individual store prices may vary.
Description
The Maasai believe in two gods. Enkai Narok, the Black God, is benign. Enkai Nanyokie, the Red God, is the god of anger, vengeance, and death.

Nairobi, 2007. In Africa's sprawling megacity, a small elite holds power over an impoverished, restless majority. Corruption, exploitation, and ethnic rivalry are part of everyday life. Amid claims of vote rigging and fraud, the presidential elections could be the spark that sets this city ablaze.
     With chaos looming, few care about one dead prostitute. But Detective Mollel does. For Mollel is a former Maasai warrior, and the dead girl was a Maasai, too.
     As he ventures from slums to skyscrapers, from suburbs to sewers, Mollel begins to realize that there is more at stake than just this murder. But even as he is forced to confront his turbulent past, he begins to doubt his warrior's instincts.
     Can Mollel manage to find the killer and solve the case before the Red God consumes all?
     With the sophistication of Ian Rankin and Colin Harrison, and set against the backdrop of Kenya's turbulent 2007 elections, Richard Crompton's Hour of the Red God brings Nairobi vividly to life: gritty and modern, with an extraordinary blend of tribal and urban elements. In this dark thriller, tradition and power collide, arriving at a shocking, unforgettable end. And in the Maasai hero Mollel, a new detective icon is born.
One of Publishers Weekly's Best Mystery/Thriller Books of 2013
Praise For Hour of the Red God…
"A spectacular fiction debut . . . Instantly elevates the author, now a Nairobi resident, to the first rank of African crime writers." —Publishers Weekly [starred review]
"[Hour of the Red God] combines a sinuous plot, a wonderfully complex and tragic protagonist, and a remarkable portrait of a city that is simultaneously exotic yet familiar . . . All fans of international crime fiction will want to follow Mollel through Nairobi's mean streets." —Booklist
"Former BBC journalist Crompton's debut features a unique voice, an in-depth look at diverse Kenyan rites and political chicanery, and a hero who, one hopes, is just at the beginning of his fictional career." —Kirkus Reviews
"[Hour of the Red God] is not the first mystery novel to be set in Kenya, but it must be the first in which the cop hero is a Masai warrior . . . Mollel, whose wife was killed in the 1990 bombing of the U.S. embassy in Nairobi, investigates the brutal murder of a prostitute. He is drawn into nasty local politics and corruption as Kenya holds its 2007 general elections and faces the violence that follows. National events and Mollel's family problems are blended into a good plot and an interesting cast of characters." —The Times (London)

"In Richard Crompton's hands, Nairobi makes for an exotic and exciting setting, a multilayered city pulsing with intriguing chaos. It's the characters, though—especially the steadfast and scarred Mollel—and the hope and fear the city's people experience and inspire, that elevate Hour of the Red God and keep you turning the pages, full of hope and fear of your own." —Bill Loehfelm, author of The Devil She Knows
Sarah Crichton Books, 9780374171995, 290pp.
Publication Date: May 7, 2013
About the Author
Richard Crompton, a former BBC journalist, lives in Nairobi, Kenya, with his wife and their three young children. Hour of the Red God is his first novel.
or
Not Currently Available for Direct Purchase