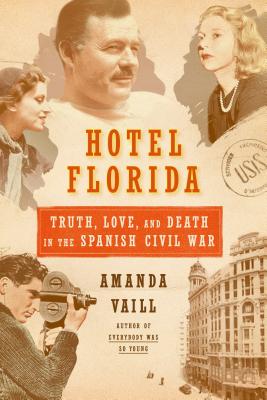 Hotel Florida
Truth, Love, and Death in the Spanish Civil War: Truth, Love, and Death in the Spanish Civil War
Hardcover

* Individual store prices may vary.
Other Editions of This Title:
Paperback (3/31/2015)
Description
A spellbinding story of love amid the devastation of the Spanish Civil War

Madrid, 1936. In a city blasted by a civil war that many fear will cross borders and engulf Europe—a conflict one writer will call "the decisive thing of the century"—six people meet and find their lives changed forever. Ernest Hemingway, his career stalled, his marriage sour, hopes that this war will give him fresh material and new romance; Martha Gellhorn, an ambitious novice journalist hungry for love and experience, thinks she will find both with Hemingway in Spain. Robert Capa and Gerda Taro, idealistic young photographers based in Paris, want to capture history in the making and are inventing modern photojournalism in the process. And Arturo Barea, chief of the Spanish government's foreign press office, and Ilsa Kulcsar, his Austrian deputy, are struggling to balance truth-telling with loyalty to their sometimes compromised cause—a struggle that places both of them in peril.
Beginning with the cloak-and-dagger plot that precipitated the first gunshots of the war and moving forward month by month to the end of the conflict. Hotel Florida traces the tangled and disparate wartime destinies of these three couples against the backdrop of a critical moment in history: a moment that called forth both the best and the worst of those caught up in it. In this noir landscape of spies, soldiers, revolutionaries, and artists, the shadow line between truth and falsehood sometimes became faint indeed—your friend could be your enemy and honesty could get you (or someone else) killed.
Years later, Hemingway would say, "It is very dangerous to write the truth in war, and the truth is very dangerous to come by." In Hotel Florida, from the raw material of unpublished letters and diaries, official documents, and recovered reels of film, the celebrated biographer Amanda Vaill has created a narrative of love and reinvention that is, finally, a story about truth: finding it, telling it, and living it—whatever the cost.
*INCLUDES 16 PAGES OF BLACK-AND-WHITE PHOTOGRAPHS
Praise For Hotel Florida: Truth, Love, and Death in the Spanish Civil War: Truth, Love, and Death in the Spanish Civil War…
"Fascinating chracters breeze through Vaill's pages as they once drifted through that lobby, and as they did in her stellar biography of Sara and Gerald Murphy and their sparkling set, Everybody Was So Young, a finalist for the National Book Critics Circle Award. In war-torn Spain, she's again in her element, galloping through intrigues that made the world turn . . . Vaill calls Hotel Florida a "reconstruction," based on letters, diaries, biographies and filmed evidence that paint an electric collective portrait. Instead of offering criticial analysis, she relies on exquisitely researched anecdotes to tell the story, and she revels in the poignancy of strobe-lit details . . . Vaill's account of the war and its voluntary witnesses validates our need for narrative in the face of atrocity--something beyond propaganda, and, at times, as essential as food or shelter." —Jessica Kerwin Jenkins, The New York Times Book Review
"Vaill isn't after anything as quixotic as trying to 'set the record straight' on the Spanish Civil War; instead, she delves deeply into the lives of three couples whose chronicling of the war shaped public perception . . . What Vaill seems to be mulling over in this book is the age-old question of what war does to people . . . Hotel Florida adds to the cold hard facts--as well as to the enduring mystique--of the Spanish Civil War." —Maureen Corrigan, NPR's Fresh Air
"Hotel Florida . . . is well researched, strongly paced and vividly placed, adroitly interlaces its dispiriting stories, and . . . tell you more of value than do many more earnest works." —Jeremy Treglown, Times Literary Supplement
"Vaill's considerable accomplishment in Hotel Florida stems from her structural strategy to view the Spanish Civil War through the interwoven stories of a sextet of individuals . . . The threads of all these tales ripple with excitement, doom, courage, betrayal, defeat and, of course, love . . . Vaill's book races forward like a novel, even as it provides a lucid account of a hugely complex and sometimes baffling war." —Steve Paul, The Kansas City Star
"Moving and illuminating. . .Like Shakespeare, Vaill knows that history isn't written without tragedy . . . If you've never cried over a biography or history, Hotel Florida might be your first weeper with an index." —Darryl Whetter, National Post
"[Vaill] is eminently capable of juggling multiple stories, of making readers care about all her characters . . . [She] has written a powerful account of a country harrowed by war, of a motley collection of talented human beings striding into the gunfire looking for the truth." —Daniel Dyer, The Plain Dealer (Cleveland)
"A vivid, well-paced story of the awfulness of war and of the complex motives of those who report on it." —James Campbell, The Wall Street Journal
"In her meticulously researched and beautifully told new book, Hotel Florida, Amanda Vaill refracts the turbulent events that took place between July 1936 and March 1939 through a prism of six such determined believers . . . The intertwined stories Vaill tells with the grace of a talented novelist are rife with courage and passion . . . Hotel Florida offers a compelling narrative of the timelessly inseparable entities of love and war, reminding us that, while motives can be both noble and self-serving, in the end, the true stories of wars rest in people, not ideologies." —Robert Weibezahl, BookPage
"Magical and meticulous . . . [Hotel Florida] is a masterful reconstruction of one of the most tumultuous conflicts in 20th Century Europe." —Jane Ciabattari, BBC.com
"[An] energetic group biography . . . [Vaill] is a diligent researcher and a spirited writer who confidently inhabits and channels her historical characters. Her set pieces are numerous and well turned." —Charles Trueheart, The American Scholar
"Beautifully told, Vaill's story captures the timeless immediacy of warfront reporting with the universal struggle to stay in love." —Publishers Weekly
"[Vaill's] gift for character portrayal keeps [Hotel Florida] moving along . . . It is bound to be popular with general readers of 20th-century history." —Library Journal
"War, sex, friendship, betrayal, celebrity, rivalry, jealousy, idealism, foolishness and foppery--all this and more gather in the lobby of Madrid's Hotel Florida." —Kirkus Reviews
"Hotel Florida gathers literary giants among the international volunteers for Spain's civil war of everyday dreamers. In this masterful narrative, with unfailing judgment and artistry, Amanda Vaill captures heartache and obsession on a vast but intimate scale before the era of national-security states." —Taylor Branch, author of The King Years
"A highly original, beautifully written, and utterly compelling account, by turns gripping and heartbreaking, of the intrepid--and sometimes crazy--journalists who risked everything to report on the Spanish Civil War." —Amanda Foreman, author of The Duchess
"Combining a historian's meticulous research with her accomplished skills as a biographer, in Hotel Florida Amanda Vaill tells the fascinating interwoven stories of six people whose lives were forever changed as they fought for 'the last great cause.'" —Scott Donaldson, author of Hemingway vs. Fitzgerald
"A stunner--cinematic in scope and detail, and speaking urgently to questions of truth and betrayal that are still compelling today." —Mary Dearborn, author of Mistress of Modernism
"The tragedy of the Spanish Civil War has never quite emerged from the fog of its own propaganda. In Hotel Florida, Amanda Vaill has dispelled that fog at last by telling the truth about three larger-than-life couples--men and women whose passion for one another mingled with the passions of war. It's a moving, powerful story--and nobody has ever told it better." —Stephen Koch, author of The Breaking Point
"Hotel Florida is a riveting tale of politics, propaganda, and indifference, told with conviction and real heart." —Brenda Wineapple, author of Ecstatic Nation
"Not since Orwell's Homage to Catalonia has there been so shattering a picture of the Spanish Civil War. A magisterial work of biography and history, Hotel Florida recounts a heartbreaking story with precision and passion. Page after page, Amanda Vaill writes scenes you will never forget." —Marion Meade, author of Dorothy Parker
"Timely, powerful, enchanting. Amanda Vaill's compelling heroes, their allies and enemies, remind us why the Spanish Civil War remains the defining struggle of hope and betrayal, for activism and justice--across so many generations." —Blanche Wiesen Cook, author of Eleanor Roosevelt
Farrar, Straus and Giroux, 9780374172992, 464pp.
Publication Date: April 22, 2014
About the Author
Amanda Vaill is the author of  the bestselling Everybody Was So Young: Gerald and Sara Murphy—A Lost Generation Love Story, which was a finalist for the National Book Critics Circle Award in biography, and Somewhere: The Life of Jerome Robbins, for which she was awarded a Guggenheim fellowship. In addition to her screenplay for the Emmy– and Peabody Award–winning public television documentary Jerome Robbins: Something to Dance About, she has also written features and criticism for a range of journals from Allure to The Washington Post Book World. She lives in New York City.
Coverage from NPR
or
Not Currently Available for Direct Purchase