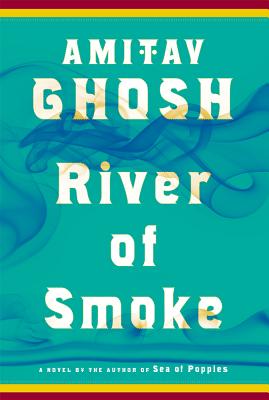 River of Smoke
A Novel (The Ibis Trilogy #2)
Hardcover

* Individual store prices may vary.
Other Editions of This Title:
Paperback (10/2/2012)
Compact Disc (9/27/2011)
Paperback (6/1/2011)
MP3 CD (10/2/2012)
Paperback (5/1/2012)
MP3 CD (8/11/2015)
Compact Disc (10/2/2012)
Hardcover (6/1/2011)
Paperback (5/1/2012)
MP3 CD (9/1/2011)
Compact Disc (9/1/2011)
MP3 CD (9/27/2011)
Description
A Washington Post Notable Fiction Book for 2011
The Ibis, loaded to its gunwales with a cargo of indentured servants, is in the grip of a cyclone in the Bay of Bengal; among the dozens flailing for survival are Neel, the pampered raja who has been convicted of embezzlement; Paulette, the French orphan masquerading as a deck-hand; and Deeti, the widowed poppy grower fleeing her homeland with her lover, Kalua.
The storm also threatens the clipper ship Anahita, groaning with the largest consignment of opium ever to leave India for Canton. And the Redruth, a nursery ship, carries Frederick "Fitcher" Penrose, a horticulturist determined to track down the priceless treasures of China that are hidden in plain sight: its plants that have the power to heal, or beautify, or intoxicate. All will converge in Canton's Fanqui-town, or Foreign Enclave: a tumultuous world unto itself where civilizations clash and sometimes fuse. It is a powder keg awaiting a spark to ignite the Opium Wars.
Spectacular coincidences, startling reversals of fortune, and tender love stories abound. But this is much more than an irresistible page-turner. The blind quest for money, the primacy of the drug trade, the concealment of base impulses behind the rhetoric of freedom: in River of Smoke the nineteenth and twenty-first centuries converge, and the result is a consuming historical novel with powerful contemporary resonance. Critics praised Sea of Poppies for its vibrant storytelling, antic humor, and rich narrative scope; now Amitav Ghosh continues the epic that has charmed and compelled readers all over the globe.
Praise For River of Smoke: A Novel (The Ibis Trilogy #2)…
"No writer in modern India has held a novelistic lamp to the subcontinent's densely thicketed past as vividly and acutely as Amitav Ghosh . . . River of Smoke, the second volume of his ambitious Ibis trilogy, is the work of a writer with a historical awareness and an appetite for polyphony that are equal to the immense demands of the material he seeks to illuminate . . . Evenly written and engaging . . . The force of Ghosh's ideas and the beauty of his tableaus of Canton are two of the book's achievements; the semantic ripples of the variety of dialects he folds into the narration are a third. River of Smoke is both a stirring portrayal of the past and, novelistically, a prescient beacon for the future." —Chandrahas Choudhury, The New York Times Book Review
"The narrative is suffused with the rich intercourse of commerce and miscegenation, embracing within its capacious rubric a variety of set-pieces, from a Chinese boat serving authentic Indian fare to an Armenian trader interviewing Napoleon in exile on St. Helena . . . The period detail is meticulously researched and lovingly described . . . The novel celebrates the joys of cultural and culinary mingling, the mongrelization of language in the forms of pidgin and Creole, and the mixing of peoples across old barriers of acceptable sexual and racial intercourse . . . With River of Smoke, Ghosh's Ibis trilogy is emerging as a monumental tribute to the pain and glory of an earlier era of globalization, an era when people came into contact and collision, intermixing costumes, customs, convictions, consonants, couplings and cash, shaping history all the while through their pettiness, their privations and their passions." —Shashi Tharoor, The Washington Post
"Like a wonderful multicoloured tapestry Ghosh has woven a story made up of a series of vibrant threads made from a multitude of materials . . . Ghosh has done a masterful job in not only making each of his characters fascinating studies and interesting people to spend time with, he has also managed to bring the strange exotic world of the foreign enclave in Canton vividly alive . . . While Ghosh's descriptive abilities allow us to create intricate portraits of people and locations, it's his agility with languages which gives River Of Smoke an extra level of verisimilitude. From the strange mix of words spoken by the family in the opening pages of the book, the scattering of pidgin appearing like exotic fruit in amongst the bland English of the trader's everyday speech, the conversations between the merchants and their Chinese partners, to the bombastic rhetoric of the ardent British free traders, each person we meet is given a voice as unique as their character and a language or dialect to match . . . River Of Smoke is a wonderful mixture of people, places and story that captures a moment in history like an insect snared in amber. All the details are there for the reader to see and appreciate." —Richard Marcus, Seattle Post-Intelligencer
"Spellbinding and astute, Ghosh continues the nineteenth-century historical saga about the opium trade that he launched with Sea of Poppies (2008). This is an even more fluid and pleasurable tale, however dire its conflicts, and stands firmly on its own, though readers shouldn't miss the first installment . . . With one more novel to go, Ghosh's epic trilogy is on its way to making literary history." —Donna Seaman, Booklist (starred review)
"Ghosh sets the second volume of his Ibis trilogy in 1838, appropriately enough, because at heart he's a 19th-century novelist with a sweeping vision of character and culture...Ghosh triumphs both through the clarity of his style and the sweep of his vision, and he leaves the reader eager for volume three." —Kirkus Reviews
"On one level, [River of Smoke] is a remarkable feat of research, bringing alive the hybrid customs of food and dress and the competing philosophies of the period with intimate precision; on another it is a subversive act of empathy, viewing a whole panorama of world history from the 'wrong' end of the telescope. The real trick, though, is that it is also fabulously entertaining." —Tim Adams, The Observer (London)
"Eloquent . . . Fascinating . . . [River of Smoke's] strength lies in how thoroughly Ghosh fills out his research with his novelistic fantasy, seduced by each new situation that presents itself and each new character, so that at their best the scenes read with a sensual freshness as if they were happening now." —Tessa Hadley, The Guardian
"[This] vast book has a Dickensian sweep of characters, high- and low-life intermingling . . . Ghosh conjures up a thrilling sense of place." —The Economist
"Ghosh's best and most ambitious work yet . . . [He] writes with impeccable control, and with a vivid and sometimes surprising imagination." —The New Yorker on Sea of Poppies
"A delight . . . [Ghosh is] a writer of uncommon talent who combines literary flair with a rare seriousness of purpose . . . His descriptions bring a lost world to life." —Shashi Tharoor, The Washington Post Book World on Sea of Poppies
"Brilliant . . . By the book's stormy and precarious ending, most readers will clutch it like the ship's rail awaiting, just like Ghosh's characters, the rest of the voyage to a destination unknown." —Don Oldenburg, USA Today on Sea of Poppies
Farrar, Straus and Giroux, 9780374174231, 528pp.
Publication Date: September 27, 2011
About the Author
Amitav Ghosh is the internationally bestselling author of many works of fiction and nonfiction, including The Glass Palace, and is the recipient of numerous awards and prizes. Ghosh divides his time between Kolkata and Goa, India, and Brooklyn, New York.
or
Not Currently Available for Direct Purchase