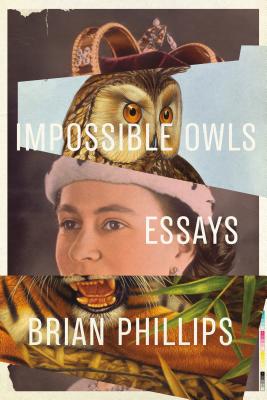 Impossible Owls
Essays
Paperback

* Individual store prices may vary.
Other Editions of This Title:
Digital Audiobook (10/1/2018)
Compact Disc (10/2/2018)
MP3 CD (10/2/2018)
Description
NEW YORK TIMES BESTSELLER. SEMI-FINALIST FOR THE PEN/DIAMONSTEIN-SPIELVOGEL AWARD FOR ART OF THE ESSAY.

One of Amazon, Buzzfeed, ELLE, Electric Literature and Pop Sugar's Best Books of 2018. Named one of the Best Books of October and Fall by Amazon, Buzzfeed, TIME, Vulture, The Millions and Vol. 1 Brooklyn.

"Hilarious, nimble, and thoroughly illuminating." —Colson Whitehead, author of The Underground Railroad

A globe-spanning, ambitious book of essays from one of the most enthralling storytellers in narrative nonfiction

In his highly anticipated debut essay collection, Impossible Owls, Brian Phillips demonstrates why he's one of the most iconoclastic journalists of the digital age, beloved for his ambitious, off-kilter, meticulously reported essays that read like novels.

The eight essays assembled here—five from Phillips's Grantland and MTV days, and three new pieces—go beyond simply chronicling some of the modern world's most uncanny, unbelievable, and spectacular oddities (though they do that, too). Researched for months and even years on end, they explore the interconnectedness of the globalized world, the consequences of history, the power of myth, and the ways people attempt to find meaning. He searches for tigers in India, and uncovers a multigenerational mystery involving an oil tycoon and his niece turned stepdaughter turned wife in the Oklahoma town where he grew up. Through each adventure, Phillips's remarkable voice becomes a character itself—full of verve, rich with offhanded humor, and revealing unexpected vulnerability.

Dogged, self-aware, and radiating a contagious enthusiasm for his subjects, Phillips is an exhilarating guide to the confusion and wonder of the world today. If John Jeremiah Sullivan's Pulphead was the last great collection of New Journalism from the print era, Impossible Owls is the first of the digital age.
Praise For Impossible Owls: Essays…
"An absolute blast . . . [Phillips] is able to navigate extraordinary circumstances with curiosity, playfulness, and humility, and his enthusiasm is best seen in his extensive research within these communities and their histories. And this is why I couldn't get enough of this book: Phillips is the perfect adventure guide — down for anything, talented enough to translate the experience." --Arianna Rebolini, Buzzfeed (Best Books of Fall 2018)

"Brian Phillips has a wonderful way of taking readers to entirely unfamiliar places in nature (the Yukon) and in culture (sumo wrestling), and translating those experiences into something that feels visceral, even for people who are stuck at their computers all day. Believe the John Jeremiah Sullivan comparisons and get lost in this captivating essay collection, which brings to life both the extraordinary and the mundane." --Maris Kreizman, Vulture

"As a journalist, Brian Phillips is willing to fall down a rabbit hole to uncover a mosaic of detail within a particular subject. This collection of essays presents some of his greatest examinations into the odd and intriguing . . . Philips takes readers down unexpected paths that are as world-expanding as they are entertaining." --Wilder Davies, TIME

"Brian Phillips has a way of making you care about the things he cares about in the way he cares about them, which is passionately, almost obsessively . . . The essays are invigorating and muscular; the perspective is enthusiastic and vital; the book is a must-get." --R. Eric Thomas, Elle (Best Books of 2018)

"Phillips is a long-form journalist of the old school, a deep research artist, and a killer stylist. His digressive and frequently hilarious explorations . . . ecall the work of John Jeremiah Sullivan and the late David Foster Wallace, with a dash of Janet Malcolm. Impossible Owls is an absorbing and totally distinctive exploration of wildly disparate corners of our world." --Taylor Antrim, Vogue

"[Brian Phillips's] keen eye is absolutely integral to his work, as is his presence in each piece. But he remains the narrator, the observer, he turns his investigations outward rather than inward; he never becomes the subject. Instead, he leads us into the hearts and minds of others, and in doing so, opens portals to times, places and lives outside both our and his first-hand experiences . . . One of the delights of this collection is Phillips's ability to make the unknown familiar and the unfamiliar known . . . Impossible Owls is layered, narratively organised and analytical on a diverse, often unexpected range of subjects." --Lucy Scholes, The National

"Brian Phillips's essays are out of this world: big-hearted, exhaustive, unrelentingly curious, and goddamned fun. It's about time he graced us with this collection." --Nick Moran, The Millions

"[Phillips] has now established himself as a master of long form reporting that is indistinguishable from the literary essay, through which he bares witness to our contemporary moment." --Los Angeles Review of Books

"Eclectic and witty." --Pop Sugar

"[Phillips's] stories feel boyish in the best sense: fresh-faced and adventuresome, casually funny or lyrical as the moment demands." --Harvard Magazine

"Enthralling nonfiction . . . What holds these styles together is Phillips's smart, readable prose as well his obsession with all things alien—the foreign, the puzzling, and the paranormal." --Max McKenna, PopMatters

"Again and again, Impossible Owls proves that Brian Phillips is a cultural codebreaker of the highest order, unlocking the hidden systems of our mad world. Hilarious, nimble, and thoroughly illuminating." —Colson Whitehead, author of The Underground Railroad

"Long-form narratives both diverting and engaging . . . [Phillips's] keen sensitivities color each scene, and he rarely hides his feelings about the figures he meets. Phillips has fashioned a calling for himself as an American flâneur, casting out into post-colonial frontiers and marveling at the oddities he encounters from the comfortable distance of unsupervised creative prose . . . [Full of] genuine insight the author dredges up from his experiences as well as the sense of a full human mind at large in the world that so many of his recollections approximate." —Kirkus (starred review)

"When Phillips, a jazzy John McPhee, ventures out into the world in pursuit of understanding of a place, mystery, vocation, or obsession, he is attention incarnate. The resulting prismatic descriptions power his vibrant, multidimensional essays, which are built on rich veins of research and further enlivened with crisply recounted conversations and convivially self-deprecating glimpses into his state of mind." —Booklist

"There is a section in Impossible Owls where Brian Phillips writes about tigers, and he notes that what's most astonishing about the animal is not its size or power or beauty, but its capacity to disappear. This is an excellent description of a tiger, but also an excellent description of how Phillips writes. These are big, powerful, beautiful essays—but no matter how personal the content, he just seems to disappear into the paragraphs." —Chuck Klosterman, author of But What if We're Wrong? and Eating the Dinosaur

"I most love Impossible Owls for how it sends me returning to the central question that I enjoy most in any work I find chasing after: what do we, as writers, owe a single idea, but to stretch it out beyond whatever our imaginations thought possible? I love that this is a book of highways and historical touchstones and large geographic shifts. But I also love that at the heart of those bigger things, there is the gentle touch of Brian Phillips underneath it all, creating a landscape for a reader to see not his work, but to better see themselves." —Hanif Abdurraqib, author of They Can't Kill Us Until They Kill Us

"Impossible Owls takes you deep into worlds both far-flung and familiar — tiger trails, tiny towns of the Yukon, Route 66, a Walmart parking lot. Brian Phillips riffs and reports with abiding curiosity and incisive humor. A fantastic, transporting read." —Jessica Hopper, author of The First Collection of Criticism by a Living Female Rock Critic

"The journeys that make up Impossible Owls lead us to some remarkable, unpredictable places, from the Alaskan wilderness to a supermarket parking lot in southern Japan, from an old movie palace in Moscow to the underground histories of northern Oklahoma. But these far-flung tales all share the same inspirational spark: Brian Phillips' soulful, intrepid spirit, and his masterful ability at turning everyday curiosities into epic quests that you can't stop reading." —Hua Hsu, author of A Floating Chinaman: Fantasy and Failure Across the Pacific

"Brian Phillips's Impossible Owls takes the American essay in new direction— these narratives are simultaneously stories of questing and strandedness. Characters and landscapes become knowable and disorienting. Tigers, royals, mysterious Russian artists and foreign countries are subjects of Phillips's close, careful journalism, as well as representatives of all the glittering, un-graspable things that lie outside us. Witty, pensive, sometimes whimsical, always truthful, Impossible Owls is testament to Phillips's gift for enchantment, and his genius for knowing exactly where our alienation from the world meets our sympathy for it." — Supriya Nair

"Entertaining, eclectic, and often insightful . . . Phillips's narrative voice is consistently appealing, and often laugh-out-loud funny . . . Phillips's essays leave readers with newfound appreciation for subjects they may not have considered before." —Publishers Weekly

"This eclectic collection from journalist Phillips combines in-depth reporting with personal histories to explore broadly the contemporary human condition . . . The subjects have broad appeal and would be enjoyed by anyone interested in New Journalism as a literary genre. Phillips's essays are not only fascinating and thoroughly researched but written in a distinctive voice that conveys humor, awareness, and vulnerability." —Library Journal
FSG Originals, 9780374175337, 352pp.
Publication Date: October 2, 2018
About the Author
Brian Phillips is a former staff writer for Grantland and a former senior writer for MTV News. He has written for The New York Times Magazine, The New Yorker, and Slate, among other publications, and his work has appeared in Best American Sports Writing and Best American Magazine Writing. He lives in central Pennsylvania. Impossible Owls is his first book.