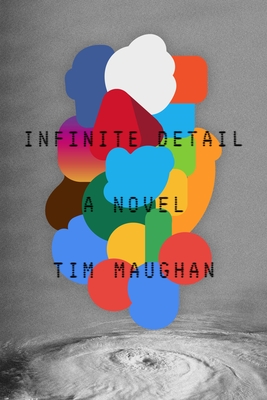 Infinite Detail
A Novel
Paperback

* Individual store prices may vary.
Description
A LOCUS AWARD FINALIST FOR BEST FIRST NOVEL!
The Guardian's Pick for Best Science Fiction Book of the Year!

A timely and uncanny portrait of a world in the wake of fake news, diminished privacy, and a total shutdown of the Internet

BEFORE: In Bristol's center lies the Croft, a digital no-man's-land cut off from the surveillance, Big Data dependence, and corporate-sponsored, globally hegemonic aspirations that have overrun the rest of the world. Ten years in, it's become a center of creative counterculture. But it's fraying at the edges, radicalizing from inside. How will it fare when its chief architect, Rushdi Mannan, takes off to meet his boyfriend in New York City—now the apotheosis of the new techno-utopian global metropolis?

AFTER: An act of anonymous cyberterrorism has permanently switched off the Internet. Global trade, travel, and communication have collapsed. The luxuries that characterized modern life are scarce. In the Croft, Mary—who has visions of people presumed dead—is sought out by grieving families seeking connections to lost ones. But does Mary have a gift or is she just hustling to stay alive? Like Grids, who runs the Croft's black market like personal turf. Or like Tyrone, who hoards music (culled from cassettes, the only medium to survive the crash) and tattered sneakers like treasure.

The world of Infinite Detail is a small step shy of our own: utterly dependent on technology, constantly brokering autonomy and privacy for comfort and convenience. With Infinite Detail, Tim Maughan makes the hitherto-unimaginable come true: the End of the Internet, the End of the World as We Know It.
Praise For Infinite Detail: A Novel…
"On its face, the internet kill switch is such an on-the-nose science fiction premise that it's a wonder Maughan is the first author to get it to market. Luckily, in his hands, the broad-stroke concept trickles down into weird and unexpected crevices: sage futurism, political treatise, and mournful meditation on the violence of technological dependency." —Elvia Wilk, Bookforum

"A politically astute, fascinating, and depressing glimpse of a near future brought to its knees by the abrupt death of the internet." —Ian Mond, Locus Magazine

"I still think about Infinite Detail . . . It's one of those rare novels that, if you enjoyed it the first time, you'll want to re-read it." —Valentina Palladino, Ars Technica

"Maughan's book, as precise and evocative as its title demands, is ultimately clear-eyed in its evaluation of what would be lost, and what gained, if our connections were swept away." —Sumit Paul-Choudhury, BBC Culture

"Maughan conducts a masterclass in the thrill and contradictions of counterculture, the uses and abuses of networks, the ways that capitalism can bend and flex to adapt, until, suddenly, it breaks. This is a stunning debut." —Cory Doctorow, Boing Boing

"Much-anticipated . . . It's a book that only Maughan could write . . . Maughan chose the harder task and pulled off a marvel. It makes for an uncomfortable read but a necessary one." —Skiffy and Fanty

"A tapestry of near-term prognostication that stuns you with its contextual implications while its streetwise prose gets to work on picking your emotional pockets . . . a searing debut novel from a writer who couldn't be more relevant to these troubled and troubling times." —British Science Fiction Association

"Says something important and thought provoking about such hot-topic issues as privacy, the interconnectedness of the world's population, and class structure; but, thanks to Maughan's rigorously developed characters and his ability to tell a compelling story, the book is never preachy. A seriously good page-turner with plenty of meat on its bones." —David Pitt, Booklist

"Maughan's dynamic, sprawling, post-postmodern cyberpunk debut . . . is an energetic novel about civilization as it races toward the ultimate overload." —Publishers Weekly

"The characters are compelling, and it's worth reaching the end just to find out how Maughan wraps up this Byzantine puzzle box. An original and engaging work of kitchen-sink dystopia." —Kirkus Reviews

"Deft and jolting as an EMP, Infinite Detail is a worryingly credible ghost story about our electronic lives." —Lauren Beukes, author of The Shining Girls

"A singular speculative debut, Infinite Detail asks crucial questions about the nature of our relationship to technology. A lively and provocative novel particularly equipped for the challenges of our moment." —Jeff VanderMeer, author of Borne and the Southern Reach trilogy

"Looping and layered, disruptive and deeply linked—Tim Maughan's unsparing tale of the internet's end is a paper internet unto itself. The native 21st-century novel is coming into view; it looks like Infinite Detail." —Robin Sloan, author of Sourdough

"Tim Maughan brings a deep knowledge of why the contemporary world works as it does, along with an informed awareness of how subcultures operate, to Infinite Detail—a powerful narrative featuring characters hardened but never crushed, told in crystal-sharp writing that leaves you wanting more." —Jack Womack, author of Random Acts of Senseless Violence

"Tim Maughan's fiction is whip-smart, funny as hell, and full of hard truths most people would rather ignore. And despite its riveting dystopian scenario and biting critiques of life in late capitalism, Infinite Detail has so much deeply felt grace, heart, and hope." —Ingrid Burrington, artist, journalist, and author of Networks of New York

"Tim Maughan gets it. This civilization is over and everyone knows it. Infinite Detail gets on with the job of figuring out what to do next. His inspiring characters show us how to live and love in these ruins." —McKenzie Wark, author of A Hacker Manifesto, Gamer Theory, and Telesthesia

"Infinite Detail is an immaculately patterned debut novel, its author as in control of its design as the metafiction specialist Christopher Priest. Maughan's feel for and knowledge of the technological straightjacket of contemporary culture is the equal of William Gibson. I have not often felt optimistic after reading a dystopian sci-fi novel, but Maughan's debut leaves you with a Vonnegut-like sense of abiding humanity. Infinite Detail offers a sorely-needed perspective on the transience of the internet age. Fierce and compassionate, its vision of a post-apocalyptic afterlife is a blessing." —Dan O'Hara, editor of Extreme Metaphors: Selected Interviews with J. G. Ballard
MCD x FSG Originals, 9780374175412, 384pp.
Publication Date: March 5, 2019
About the Author
Tim Maughan is an author, a journalist, and a features writer who uses both fiction and nonfiction to explore issues around cities, class, culture, globalization, technology, and the future. His work regularly appears on the BBC and in Vice and New Scientist.