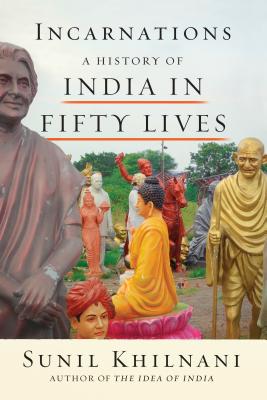 Incarnations
A History of India in Fifty Lives
Hardcover

* Individual store prices may vary.
Other Editions of This Title:
Digital Audiobook (9/19/2016)
Paperback (9/19/2017)
MP3 CD (9/20/2016)
Compact Disc (9/20/2016)
MP3 CD (9/20/2016)
Compact Disc (9/20/2016)
Description
An entertaining and provocative account of India's past, written by one of the country's leading thinkers

For all India's myths, its sea of stories and moral epics, Indian history remains a curiously unpeopled place. In Incarnations, Sunil Khilnani fills that space, bringing to life fifty extraordinary men and women who changed both India and the world. Journeying across India in pursuit of their stories—visiting slum temples, ayurvedic call centers, Bollywood studios, textile mills, and Mughal fortresses—Khilnani offers trenchant portraits of emperors, warriors, philosophers, artists, iconoclasts, and entrepreneurs. Some of these historical figures are famous. Some are unjustly forgotten. And all, Khilnani convinces us, are deeply relevant today. As their rich and surprising lives take the reader through twenty-five hundred winding years of Indian and world history, Khilnani brings wit, feeling, historical rigor, and uncommon insight to dilemmas that extend from ancient times to our own.

We encounter the Buddha not as the usual beatific icon but as a radical young social critic. We meet the ancient Sanskrit linguist who inspires computer programmers today. We hear the medieval poets, ribald and profound, who mocked rituals and caste and whose voices resonate in contemporary poetry. And we see giants of the twentieth-century Independence movement—among them Mohandas Gandhi; Ambedkar, the Untouchable lawyer turned constitution maker; and the legendary singer M. S. Subbulakshmi—not as cardboard cutouts but as complex and striving human beings. At once a provocative and sophisticated reinterpretation of India's history and an incisive commentary on its present-day conflicts and struggles, Incarnations is an authoritative, sweeping, and often moving account of a nation coming into its own.
Praise For Incarnations: A History of India in Fifty Lives…
"A whirlwind tour of roughly 2,500 years of Indian history in 50 fast-paced chapters. . . . Khilnani's writing is easy to read, yet authoritative. He has spent much of his career studying-India . . . [and] strives to connect the lives and ideas of his subjects to one another and to contemporary India . . . Readers can dip in and out of chapters randomly without being confused, but Incarnations is most rewarding when read from start to finish . . . To my mind the best thing Khilnani has done is to leave the reader wanting more." —Vikas Bajaj, The New York Times Book Review

"An incisive work of popular history . . . undercutting, irreverent, and impish. It attempts to show, through prodigious but lightly worn scholarship, how complex and heterodox the Indian past was, and how it has been, and continues to be, constructed . . . Khilnani offers a fresh, cosmopolitan way of examining the Indian past. Everywhere he looks he sees rivers of influence and thought and ideas." —Karan Mahajan, The New Yorker

"Beautifully written with both scholarship and an enviably light touch, thoughtfully constructed and enviably erudite in its wide-ranging references, and as much at ease discussing higher mathematics and philosophy as politics and art, Incarnations is a major work by one of India's most impressive minds, and the best possible introduction to both the complexities and the charms of Indian history." —William Dalrymple, The Guardian

"Incisive and elegantly written . . . A work of distinction." —John Keay, The Times Literary Supplement

"Revelatory, bold and contemplative . . . Scholarly and accessible, lively and deeply serious . . . Is this simply cashing in on the idea behind the blockbuster A History of the World in 100 Objects by Neil MacGregor? Can anyone ever match the erudition and verve of the erstwhile director of the British Museum? Yes and yes. And though this may be heretical, at times Khilnani may even have surpassed him." —The Independent

"A tour de force of intellectual history, engagingly written." —Financial Times

"Khilnani is a rare blend of scholar and cracking travel writer . . . This exceptional book serves as a further reminder of India's great strengths." —Sunday Times (UK)

"Khilnani builds a mosaic of India's history since the time of the Buddha . . . [and] shows how the past has been remade to serve present-day agendas . . . [Incarnations is] punchy, personal, and quick moving, creating an incentive to learn more." —Andrew J. Nathan, Foreign Affairs

"It is hard to think of this mammoth task being executed any better. Even those who know Indian history well will be introduced to figures they did not know—and discover new things about familiar figures." —The Telegraph

"Fuelled by a quiet, relentless curiosity and an extraordinary ability to capture the sweep of history. Incarnations is an essential, and timely, read . . . It is also an exceptionally liberating intellectual journey to take. Mr. Khilnani's prose is light and fast-paced . . . the solid labour of travel, research and meetings with other scholars as well as interviewees builds a stronger foundation for Incarnations than most non-fiction books about India can claim. And a more entertaining one than most, too." —Business Standard

"This is a terrific book. Each biography runs into 10-13 pages, and though the prose is deceptively easy, you probably want to take your time as you savour the book, perhaps reading a piece daily. Or even reading and rereading it in this fashion for a long time to come. I know I will be placing a copy with each of my children so that they may know, in these anxiety-inducing times, what it truly means to be Indian." —Mint (India)

"Khilnani's choices are spirited, relevant, and aimed to provoke 'pressing contemporary questions' . . . immensely readable." —Kirkus Reviews

"An idiosyncratic and lively journey across 2,500 years of Indian history, offering bite-size essays on the lives of 50 exemplary figures whose achievements and afterlives have influenced contemporary Indian identity . . . Khilnani's essays are provocative and serious, a worthy rebuttal to the image of Indian history as 'curiously unpeopled.'" —Publishers Weekly

"How does one capture the multifaceted complexities of a country like India? Historian Khilnani presents a novel approach: weave a tapestry of 50 figures from the country's rich and ancient history that serves not only as an innovative introduction to the world's largest democracy but also a gauge to evaluate how that past informs the present . . . The well-researched yet short chapters cover a lot of ground with ease, and Khilnani succeeds in achieving his goal of emphasizing the continued relevance of history." —Poornima Apte, Booklist
Farrar, Straus and Giroux, 9780374175498, 464pp.
Publication Date: September 20, 2016
About the Author
Sunil Khilnani, born in New Delhi and educated at Cambridge University, teaches politics at Birkbeck College, University of London. The author of Arguing Revolution, he is at work on a biography of Nehru (forthcoming from FSG).