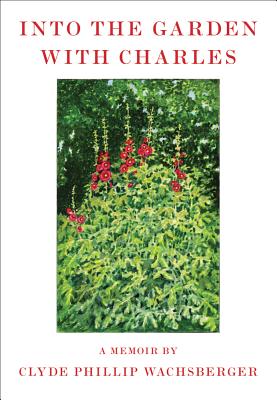 Into the Garden with Charles
A Memoir
Hardcover

* Individual store prices may vary.
Description
Set in the tiny village of Orient, Long Island, and in New York City, Into the Garden with Charles is a memoir about falling in love. As a boy in suburban New York in 1940s, Clyde Wachsberger daydreams about storybook gardens where magic happens under the huge leaves. Through the 1960s and 1970s, when most gay men disdained monogamy, the author—an artist and set-designer in New York City—searches unsuccessfully for a soul mate. In 1983, approaching middle-age and having given up on finding love, he moves to a three-hundred-year-old house on a third of an acre, where he channels his passion into creating a garden appropriate to his historical home. Then remarkable circumstances lead him to Charles—a connoisseur of art, a gardener, and the man who will become his life-partner. Together they create a garden of sensuous wild beauty.

Into the Garden with Charles is infused with the author's artistic sensibility and is written in a voice that is unaffected, generous, and straightforward. Enriched with the author's paintings—giving it the look and feel of an antique children's book—Into the Garden with Charles is a unique and moving memoir about growing old and falling in love.
Praise For Into the Garden with Charles: A Memoir…
"There is something about the way they blend their lives, the way they are kind to each other, that is so comforting. It makes a reader long for the book, for the world of the book--the long winter evenings, the summer days with visitors and friends. Wachsberger has a wide-eyed, boyish gratitude--how could this life have possibly come to him? He does not seem to realize that he created it." —Susan Salter Reynolds, Los Angeles Review of Books

"Destined to become a classic, Into the Garden with Charles by Clyde Philip Wachsberger is a jewel of a memoir. The author's charming watercolors accompany this tale of a lonely New Yorker with an unsuspected botanical bent who abandons the pursuit of love and pours his heart into a garden--one that becomes 'as demanding and manipulative as a jealous lover, and as high maintenance.' That adoring care prepares him for the entrance into his life of an elegant Southerner named Charles. The two men blossom in each other's company, reviving that ancient (but forever fertile) metaphor of a garden of love." —Molly Peacock, More

"Illustrated by Skip's enchanting watercolors, [Into the Garden with Charles] charts the seasons of his magnificent garden alongside his 16-year relationship with Charles, until both love affairs are cut short by Skip's cancer. Even the book's chapters are landscape-based, with each focusing on a different offering from the private half-acre garden . . . The result is a luminous account of a life painstakingly sown and reaped." —Kelly McMasters, Newsday

"Clyde Phillip Wachsberger's delightful memoir about tending beds of flowers as compensation for a lonely middle age only to find unexpected romance along the way is a sweet reminder that, as he puts it, 'anything can happen in a garden.' In prose that balances candor with perfect courtesy, he charms us with the message that keeping a garden with a beloved companion, this most ephemeral of all the arts, can bring us the most enduring joys and pleasures." —Philip Gambone

"Clyde Phillip Wachsberger has written a sweet and poignant book about loneliness and love and the restorative power of a garden." —Page Dickey, author of Embroidered Ground\

"Into the Garden with Charles is well on its way to becoming a cult classic." —Mac Griswold, author of Pleasures of the Garden
Farrar, Straus and Giroux, 9780374175719, 224pp.
Publication Date: April 10, 2012
About the Author
Clyde Phillip Wachsberger is an artist, gardener, and writer living in Orient on Long Island's North Fork. His published books include Daffodil, Rose, Of Leaf and Flower and Stories and Poems for Gardeners, which he co-edited with his partner, Charles Dean, and for which his illustrations won the Garden Writers Association award for best book illustration.
or
Not Currently Available for Direct Purchase