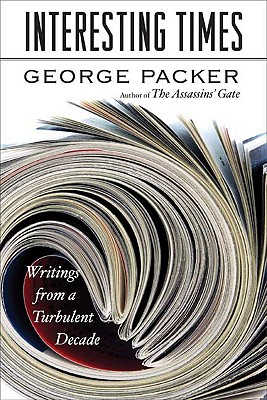 Interesting Times (Hardcover)
Writings from a Turbulent Decade
Farrar, Straus and Giroux, 9780374175726, 432pp.
Publication Date: November 10, 2009
Other Editions of This Title:
Paperback (11/9/2010)
* Individual store prices may vary.
Description
Throughout his career as a journalist, George Packer has always been attuned to the voices and stories of individuals caught up in the big ideas and events of contemporary history. "Interesting Times "unites brilliant investigative pieces such as "Betrayed," about Iraqi interpreters, with personal essays and detailed narratives of travels through war zones and failed states. Spanning a decade that includes the September 11 attacks and the election of Barack Obama, Packer brings insight and passion to his accounts of the war on terror, Iraq, political writers, and the 2008 election. Across these varied subjects a few keythemes recur: the temptations and dangers of idealism; the moral complexities of war and politics; the American capacity for self-blinding and self-renewal.
Whether exploring American policies in the wake of September 11, tracking a used T-shirt from New York to Uganda, or describing the ambivalent response in Appalachia to Obama, these essays hold a mirror up to our own troubled times and showcase Packer's unmistakable perspective, which is at once both wide-angled and humane.
About the Author
George Packer is a staff writer for "The New Yorker "and the author of several books, most recently "The Assassins' Gate "(FSG, 2005). His reporting has won four Overseas Press Club awards.
Praise For Interesting Times: Writings from a Turbulent Decade…
Praise for Interesting Times
"George Packer is a modern-day George Orwell. Like the author of Homage to Catalonia, the places he writes about are never stages for personal or ideological heroism. They are always real and full of frustrating facts that expose both liberal and conservative absolutism as reckless attempts to deny reality. Interesting Times should be read not just as an antidote to contemporary media poison, but as a testament to the values of moral seriousness in a troubled age." —Jed Lipinski, The Village Voice
"This volume coheres better than most in the genre. That's because Packer has a far more coherent worldview than most reporters . . . Interesting Times seems an inapt title, ironic and detached in ways that Packer is simply not. But his is the good kind of attachment, self-aware and self-reflective. He writes, 'One can only be honest about having a point of view while remaining open to aspects of reality—the human faces and voices—that might demolish it.' In his best work, reality is haunting, indeed." —Franklin Foer, The New York Times Book Review 
Praise for The Assassins' Gate

"In reading [Packer] we see the staggering gap between abstract ideas and concrete reality." —Fareed Zakaria, The New York Times Book Review

"Masterful . . . Packer's sketch of the prewar debates is subtle, sharp and poignant . . . His reporting from Iraq was always good, but the book is even better, putting the reader at the side of Walter Benjamin's angel of history, watching helplessly as the wreckage unfolds at his feet." —Gideon Rose, The Washington Post Book World

"The most complete, sweeping, and powerful account of the Iraq War . . . [Packer] has depicted in stark colors the disillusionment of an entire nation." —Keith Gessen, New York

"A deftly constructed and eloquently told account of the war's origins and aftermath . . . Packer makes it deeply human and maddeningly vivid." —Daniel Kurtz-Phelan, Los Angeles Times Book Review

"Authoritative and tough-minded." —Michiko Kakutani, The New York Times

"A book that is not only relevant but discerning and provocative . . . [Packer] offers the vivid detail and balanced analysis that have made him one of the leading chroniclers of the Iraq war." —Yonatan Lupu, San Francisco Chronicle
or
Not Currently Available for Direct Purchase