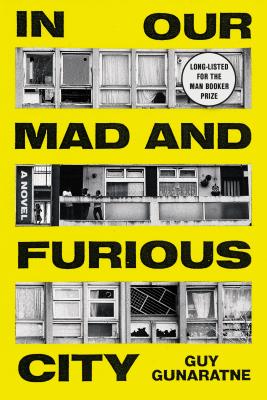 In Our Mad and Furious City
A Novel
Paperback

* Individual store prices may vary.
Other Editions of This Title:
Digital Audiobook (12/10/2018)
CD-Audio (12/11/2018)
Description
Long-listed for the 2018 Man Booker Prize
Short-listed for the 2018 Gordon Burn Prize
Short-listed for the 2018 Goldsmiths Prize

Inspired by the real-life murder of a British army soldier by religious fanatics, Guy Gunaratne's In Our Mad and Furious City is a snapshot of the diverse, frenzied edges of modern-day London. A crackling debut from a vital new voice, it pulses with the frantic energy of the city's homegrown grime music and is animated by the youthful rage of a dispossessed, overlooked, and often misrepresented generation.

While Selvon, Ardan, and Yusuf organize their lives around soccer, girls, and grime, Caroline and Nelson struggle to overcome pasts that haunt them. Each voice is uniquely insightful, impassioned, and unforgettable, and when stitched together, they trace a brutal and vibrant tapestry of today's London. In a forty-eight-hour surge of extremism and violence, their lives are inexorably drawn together in the lead-up to an explosive, tragic climax.

In Our Mad and Furious City documents the stark disparities and bubbling fury coursing beneath the prosperous surface of a city uniquely on the brink. Written in the distinctive vernaculars of contemporary London, the novel challenges the ways in which we coexist now—and, more important, the ways in which we often fail to do so.
Praise For In Our Mad and Furious City: A Novel…
"The London book of our lifetime." —Sabrina Mahfouz, author of How You Might Know Me

"An immersive, jarring narrative dealing with questions of history, violence, and art–and the disquieting ways that they can converge in unpredictable ways." —Vol. 1 Brooklyn

"The last great novel of 2018. . . an introduction to a voice so fiery it burns to the touch." —David Canfield, Entertainment Weekly

"A must read portrait of London... Gunaratne's prose swells to a stylish, ground-level street symphony." —Nicholas Mancusi, Time

""Gunaratne has a gift for inhabiting the lives of his characters, and has used that gift here to give voice to Londoners who are not often seen in contemporary fiction, and who will recognize themselves in this very fine novel—wearing the same trainers, speaking the same road slang, rolling out of the same school gates." —Jon McGregor, The New York Times Book Review

"Even as this book turns tragic, it remains utterly alive, even joyous. . . every page, by dint of sheer linguistic exuberance, carries its own adventure." —James Wood, The New Yorker

"Guy Gunaratne throws words against the wall and makes us watch them bounce. You feel the heat, reel from the sound, and bump to the unstoppable pulse. A novel so of this moment that you don't even realize you've waited your whole life for it." —Marlon James, winner of the 2015 Man Booker Prize

"In Our Mad and Furious City is a brave and beautiful book. Guy Gunaratne can see into the minds of the young and the old, the angry and the pious. In this virtuosic work, an entire world comes to life: polyglot, immigrant London, a city of fears and passions." —Héctor Tobar, author of Deep Down Dark

"A novel that's a piece of communal vitality, choral in its urgency, one that squares up to the history of division, makes contemporary disjuncture come alive on the page, doesn't flinch, and demands change right now." —Ali Smith, The Guardian

"This is cracking. Original, honest voices and a vivid portrayal of a London rarely seen in literature." —Paula Hawkins, author of The Girl on the Train

"What a voice. What an ear for language. No mean feat to capture the street, the nuance of black experience, the architecture of so many different lives. It's a brave and original piece of work." —Kit de Waal, author of The Trick to Time

"Gritty, grotesque; graceful and beautiful. This is the London that we call home." —JJ Bola, author of No Place to Call Home

"The voices and the language are stunning . . . The narrative and energy hooked me right from the start and never let go. It really is a very special book—the book we've all been waiting for." —Gautam Malkani, author of Londonstani

"A blazing, swaggering, polyphonic debut. Here is London through the eyes of those 'with elsewhere in their blood'. Gunaratne has a ventriloquist's command of voice, a film-maker's eye, and talent to burn. —Simon Wroe, author of Here Comes Trouble

"Both blighted by frustration and elevated by dreams we can all recognize and share. Guy's characters are drawn with compassion and flair, and I was captivated by their humanity." —Stephen Kelman, author of Pigeon English

"A beautiful, fierce storm of a book, full of courage and hope." —Jackie Morris, author of The Lost Words

"The language is virtuosic throughout while remaining largely true to each narrator's first-person voice, replete with their own distinctive slang . . . an impressive feat." —The Times Literary Supplement

"[A] blazing polyphonic debut." —Guardian

"A blistering debut unlike anything I've read before. This is a powerful, raw, yet heartrending account of 48 hours on a London estate" —BBC

"In Our Mad and Furious City is fraught and heartbreaking at the same time, with a biting, in-your-face clarity to it that you can't ignore. It's a searing marvel of a novel." —Belfast Telegraph

"The prose remains alive, alert and subtly integrated, with various accents and non-standard Englishes raising themselves up to the same very high literary watermark . . . What you are left with . . . is a prose that benefits from being read aloud. But more so, a prose that just plain deserves to be read." —Irish Times

"Etches a rich picture of contemporary London and the recurring, historically rooted racial tensions that dominate it." —Booklist
MCD x FSG Originals, 9780374175771, 288pp.
Publication Date: December 11, 2018
About the Author
Guy Gunaratne was born in London in 1984. His debut novel, In Our Mad and Furious City, was long-listed for the 2018 Man Booker Prize, and short-listed for the 2018 Gordon Burn Prize, as well as the 2018 Goldsmiths Prize. He previously worked as a journalist and as a documentary filmmaker covering human rights stories around the world. He divides his time between London and Malmö, Sweden.