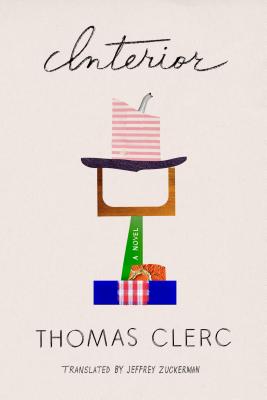 Interior (Hardcover)
A Novel
Farrar, Straus and Giroux, 9780374176860, 352pp.
Publication Date: July 10, 2018
Other Editions of This Title:
Paperback (7/16/2019)
* Individual store prices may vary.
Description
"Haunting, a book of ghosts and a book of this moment." —Parul Sehgal, The New York Times
A comic experiment in sociology and self-absorption, the award-winning author Thomas Clerc's autobiographical Interior is a unique invitation into a professor's preoccupations and possessions within the rooms of a small Parisian apartment.
Composed of bite-size vignettes, remembrances, and digressions, and filled with lighthearted transitions from pure description to quirky reminiscence and back, this meticulous tour through the rooms of Clerc's home reveals fascinating insights into the author's obsessions, desires, and frustrations. Each space is described in painstaking detail, sometimes down to the centimeter, and the history of every object and appliance is fully excavated with self-deprecating wit. From the ideal varieties of bathroom reading material to the color of his dish rack to the chaos of his sock drawer, Clerc happily and shamelessly guides us through the most intimate crannies of his home, as well as through all the strata of his existence as a bourgeois city dweller approaching middle age.
Playful and irreverent, as well as a sly commentary on materialism, Interior finds drama in the domestic and dark humor in every doomed attempt to express individuality through the things that we own.
About the Author
Thomas Clerc was born in 1965 and is the author of several books, including The Man Who Killed Roland Barthes, a collection of short stories for which he received the Grand Prix de la Nouvelle of the Académie Française. Clerc teaches at Université Paris Nanterre, where he specializes in contemporary French literature.
Praise For Interior: A Novel…
"Constructed out of short vignettes full of puns, references, and epigrammatic phrasing, [Interior] displays [Thomas] Clerc's glorious confidence that anything can be the stuff of literature . . . This wonderfully translated, thought-provoking work questions what defines a person, the relationships we have with the objects that define our routines, and what literature can be." —Alexander Moran, Booklist

"At heart, Interior is a tour of the author's apartment, animated with a comic level of detail and consideration . . . Like Samuel Beckett's fiction, [it] comes alive through its narrator . . ." —The Millions
"Dizzyingly indulgent, solipsistic, and self-assured . . . The agoraphobic delight is palpable." —Audrey Deng, Columbia Journal
"Full of humor and brainy mischief . . . [A] mélange of acuity and silliness, of pseudo-sociology and OTT TMI." —Kirkus Reviews
or
Not Currently Available for Direct Purchase