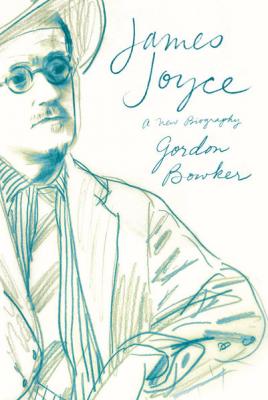 James Joyce (Hardcover)
A New Biography
Farrar, Straus and Giroux, 9780374178727, 656pp.
Publication Date: June 5, 2012
Other Editions of This Title:
Paperback (6/11/2013)
Paperback (3/1/2012)
Hardcover (5/1/2011)
* Individual store prices may vary.
Description
A revealing new biography--the first in more than fifty years--of one of the twentieth-century's towering literary figures
James Joyce is one of the greatest writers of the twentieth century, his novels and stories foundational in the history of literary modernism. Yet Joyce's genius was by no means immediately recognized, nor was his success easily won. At twenty-two he chose a life of exile; he battled poverty and financial dependency for much of his adult life; his out-of-wedlock relationship with Nora Barnacle was scandalous for the time; and the attitudes he held towards the Irish and Ireland, England, sexuality, politics, Catholicism, popular culture--to name a few--were complex, contradictory, and controversial.
Gordon Bowker draws on material recently come to light and reconsiders the two signal works produced about Joyce's life--Herbert Gorman's authorized biography of 1939 and Richard Ellman's magisterial tome of 1959--and, most importantly by binding together more intimately than has ever before been attempted the life and work of this singular artist, Gordon Bowker here gives us a masterful, fresh, eminently readable contribution to our understanding, both of Joyce's personality and of the monumental opus he created.
Bowker goes further than his predecessors in exploring Joyce's inner depths--his ambivalent relationships to England, to his native Ireland, and to Judaism--uncovering revealing evidence. He draws convincing correspondences between the iconic fictional characters Joyce created and their real-life models and inspirations. And he paints a nuanced portrait of a man of enormous complexity, the clearest picture yet of an extraordinary writer who continues to influence and fascinate over a century after his birth. Widely acclaimed on publication in Britain last year, perhaps the highest compliment paid was by Chris Proctor, of London's "Tribune" "Bowker's success is to lead you back to the texts, perhaps understanding them better for this rich account of the maddening insane genius who wrote them.
About the Author
Gordon Bowker has written highly acclaimed biographies of Malcolm Lowry ("Pursued by Furies," a "New York Times" Recommended Book of the Year), George Orwell, and Lawrence Durrell, and articles and reviews for "The Observer" (London), "The Sunday Times" (London), "The Independent," "The New York Times," and "The Times Literary Supplement." He lives in Notting Hill, London.
Praise For James Joyce: A New Biography…
Praise for James Joyce, runner-up for the PEN / Jacqueline Bograd Weld Award 2013 for Biography:
"[Bowker] offer[s] a less awestruck, more warts-and-all account of the writer's life and character . . . Bowker writes clearly and forcefully . . . Gordon Bowker's 'new biography' is well worth reading, even if Joyce comes across as brilliant but exploitative, admirable as an artist but often mortifying as a man. It's not always a pretty picture, but it seems like a true one." —Michael Dirda, The Washington Post

"Gordon Bowker's life, the first significant volume for more than 50 years since Richard Ellmann's version, is a masterly example of how to trace the life of a writer, particularly one as difficult as Joyce. Mr Bowker begins by skillfully describing his early years in Dublin, filling in the background details of an Ireland which Joyce would draw upon, for the rest of his life, as material for his fiction. Mr Bowker evokes the dark and occasionally cramped conditions of the Joyces' various family homes, and refers to meteorological reports, school timetables and details of Joyce's father's various mortgages, his biography meticulously researched. Out of these facts, a picture of a brilliant but troubled writer emerges . . . It is apt, 90 years after 'Ulysses' was published, that Joyce is celebrated on 'Bloomsday', June 16th. This biography is an excellent reminder of why he deserves such a celebration." —The Economist
"Gordon Bowker's James Joyce: A New Biography is a fascinating and insightful portrait of the artist as a young, then middle-aged, and then old man, and goes a long way to explaining the Western world's most enigmatic literary giant . . . Bowker's narrative concentrates on the existential struggle of Joyce's life, going beyond the complex relationship he had with his wife, Nora Barnacle, his muse and template for Molly Bloom. Bowker reveals the yin of this fundamentally bourgeois family man with the yang of his hyper-bohemian and rebellious soul . . . Bowker vividly sets the turbulent life of James Joyce in the context of his time and place, dominated as it was by the über-provincialism of his native Ireland, the land that he loved and scorned, immortalized and repudiated." —Doug McIntyre,
The Lost Angeles Daily News
"It is a great boon that British biographer Gordon Bowker, who has written lives of Malcolm Lowry, George Orwell and Lawrence Durrell, should have taken on this task, and better yet that he has produced such a fine portrait of the artist and the man who was James Joyce . . . Instead of being daunted by Joyce having in a sense got there before him, Bowker makes this a strength, as he skillfully presents incidents and experiences both as they happened in life and, suitably transformed to varying degrees, on the page . . . the reader has the best of both worlds, being informed—or in the case of those already familiar with the books, reminded—both of the glories of Joycean fiction and of their roots in his life. Never reductive, genuinely attuned to both Joyce's fictive methodology and his human qualities, Bowker manages to be immensely sympathetic to his subject while managing to preserve necessary critical distance and acuity." —Martin Rubin,
The San Francisco Chronicle


"In his unfussy way Bowker gives a sound account of Joyce's maturation as an artist, one who could weather the many vicissitudes, rejections, and appalling bouts of ill-health with which he had to contend . . . Gordon Bowker has written a solidly readable life of one of the great figures of the twentieth century . . . If it succeeds in bringing new and younger readers to these marvelous fictions, his book is to be warmly welcomed." —John Banville,
The New Republic


"Joyce himself emerges from these pages as oddly heroic in his seriousness and perseverance . . . The distance between Joyce the man suffering and Joyce magisterial at his desk seems large and mysterious. The story of his life, told here with verve and pace, nonetheless remains a fascinating version of making it new under the most severe pressures." —Colm Toibin,
The New York Times Book Review


"The biographer of Orwell, Lowry and Durrell returns with a massively detailed narrative of the life of the author of
Ulysses
. Bowker (
Inside George Orwell
, 2003, etc.) begins with several of the myriad epiphanies Joyce valued—the first, a moment when he was 16 and lost both his virginity and the Virgin (he decided that was 
fun
, and
no Jesuit priesthood for 
me
). The author then announces his intentions—to show the complexities and contradictions of the man—and proceeds to do so in detail that is . . . impressive . . . Our guide is wise and the journey is wondrous." —
Kirkus


"Bowker's splendid, insightful, and witty biography illuminates the connection between Joyce's erotic imagination and humane spirit, offering a clear-eyed celebration of his perverse comic genius . . . Drawing on material published since the 1982 revision of Richard Ellman's classic Joyce biography, including biographies of Nora herself and their troubled daughter, Lucia, Bowker . . . explores Joyce's inner landscape, most of it shaped by Dublin and his Jesuit education. Bowker captures the human comedy that surrounded Joyce, describing Ezra Pound, whose review of Dubliners in 1913 launched Joyce's career, as 'Literature's own fairy godmother.' As Joyce's reputation grew, he retreated into a circle of friends and family and the increasingly interior world of his writing. His last years were increasingly darkened by illness and concern for his family. Joyce thought his daughter Lucia's strangeness was untapped genius similar to his own and fought to keep her out of the hands of doctors and clinics—egocentric in the extreme, but far from heartless." —
Publishers Weekly
(starred review)
"Wonderfully detailed and gripping . . . It is different from most literary biographies because Joyce's life and work are so tightly bound. Bowker sets it down: there would have been no Stephen Dedalus without James' father, no Molly Bloom without Nora, no Leopold Bloom without Alfred Hugh Hunter . . . Here we meet the models for everybody . . . And the final success of this book is that when you snap shut the final page there is nothing your hand wants to reach for except a volume of Joyce." —Chris Proctor,
Tribune Magazine
(London)
"
James Joyce
by Gordon Bowker is the finest biography of the year . . . but this new work is a consummate and more complete understanding of James Joyce and the source of his inspirations . . . If you care about the making of a new language by the most revolutionary Irish writer who ever lived, you will also find how the persons and incidents in his life became the fragments for
Ulysses
and more. This is also a brilliant study of young Pound, Yeats, Synge, Eliot. It's also a potboiler. How could it be anything but? The young James Joyce was licentious, sentient, fearless, and interested in a sexually active world. Literature may be a high form of gossip and this has all the rich and powerful details, as well as a history of European literature in the early 20th century . . . It would be impossible to read this book and not be transported and privileged to be led through the doors and mirrors with this tortured—self-created genius.  Gordon Bowker's exhaustive research has given us a triumph of literary scholarship." Ruth Cavalieri,
The Washington Independent Review of Books


"The strength in
James Joyce: A New Biography
is that Bowker knew exactly what he was dealing with . . . he's crafted a powerful, insightful, and compelling biography of a man who is scarcely better understood than his work. His tone is confident but never familiar, and very rarely speculative—a pleasure given the trends in recent biography . . . You hold in your hands the best 'approximation' of a life—no less, but so much more. It's not a novel, or a soulless two-dimensional collection of facts. Instead, it's a more than capable, fast-flowing narrative that is buttressed by facts that contributed to some of the greatest and boldest literature of the twentieth century . . . A portrait of the artist, and a not so flattering one at that, emerges . . . Bowker's approach outshines what people come in knowing, destroys rumor, provides fact, and paints a vivid portrait . . . of the scarred life of a genius . . . Each corollary between life and literature, made by Bowker, is enriching and exciting as the knowledge of Joyce's works (major and minor alike) is continually expanded . . . [A] terrific biography . . . . Read the Bowker, and reach to Joyce." —Josh Zajdman,
Bookslut


"[A] deft, accomplished biography . . . It shows Joyce's recognition of his creative vocation as a gift to the world, though it cost so much in the way of poverty, misery and mortification." —Richard Davenport-Hines,
The Telegraph


"No book on James Joyce goes half as far as this one in establishing connections between passages in the classic texts and incidents in the artist's life . . . This study will be valuable to students as a summation of our current biographical knowledge of Joyce. It captures recurring features of his art [and] shows how difficult he could be even to his greatest admirers; yet it also evokes the heroism of a man who, confronted by poverty, ill health and endless uprootings, somehow found in himself the courage to write epics in celebration of ordinary people and the intricacies of their minds. It is in its way an example as well as an account of dignified audacity." —Declan Kiberd,
The Guardian


"Both learned and readable . . . There have only ever been three important biographies of Joyce, including the present volume." —Edmund Gordon,
The Sunday Times
(London)
"This new book extends the record—and not only the record, but the entire epistemology of the Joycean discourse. Taking previous biographies and published records as a series of knowing but politicised texts, Bowker has restored Joyce to his contradictory, ambivalent humanity. Digging deeper into personal archives, Bowker explores the complex family background . . . [A] shrewd and highly readable biography." —Thomas McCarthy,
Irish Examiner


"In
James Joyce
, Gordon Bowker does an efficient job of presenting the often bleak realities of Joyce's childhood. Since that childhood became the raw material of so much of his fiction, Mr. Bowker is wise to emphasize it . . . Mr. Bowker's endearing advocacy—'when [Joyce] wrote, all boundaries fell before the force and sweep of his imagination'—is touching and . . . revealing of truth . . . This is a well-researched, accessible book . . . It is refreshingly free of the jargon of literary-critical theory . . . Ultimately, Mr. Bowker's biography leaves the reader with a picture that feels true—of a brilliant, somewhat broken but ineffably brave author who set out while very young to do something impossible and was willing to accept any consequence . . . Joyce is a powerful reminder that only one thing matters: the words on the page and getting them right. He worked hard at that task. It seems only fair that his readers might be asked to meet him halfway, as Mr. Bowker does, to his credit." —Joseph O'Connor,
The Wall Street Journal
"Gordon Bowker . . . gives us a massive, intricate, contemporary take on Joyce, making use of newly discovered materials . . . Bowker . . . create[s] a sharp, memorable portrait of Joyce, particularly the youthful Joyce whose 'merry comedic spirit,' along with 'his brilliance, his wit and his amusing streak of contrariness' comes across vividly . . . [The biography] remind[s] us of the enormous talent and dedication [Joyce] possessed." —Floyd Skloot,
The Boston Globe
"Gordon Bowker's new
James Joyce
. . . [is] a pleasure, for Joyce fans as well as those fascinated by writers' lives . . .  Bowker writes knowledgeably and engagingly about his subject, clearly fascinated by how the life led to the words that survive it. Early on, he compares biography to confronting the wreckage of a deserted house. 'Amid the chaos,' he writes, 'we may catch a fleeting impression of what the place once was like when occupied, a presumption of lives lived, of memories stored and passions spent.' Here, he's found a life—and a mind—well worth a second glance." —Moira Macdonald,
The Seattle Times
"Veteran writer Gordon Bowker's
James Joyce: A New Biography
is a deft and delightful left turn, a graceful avoidance of the sternly traditional approach to literary biography . . . Gordon Bowker walks through the deserted, century-old 'rooms' of James Joyce's life, duly noting the location of the furniture, the details, the fabrics, which windows or doors are closed, which ones are open. He fingers the curios on the shelf, but, unlike Richard Ellmann before him, he dares to spin the gramophone, uncover the chair in the corner and try it out, see how it feels; he sits down, noticing the view from that corner of the long-dead room. He shares it with us, helps us see the life of a great writer . . . One of the strengths of Bowker's approach is his presentation of the roots and origins of the famous characters—Leopold Bloom, Molly Bloom, Stephen Dedalus, Humphrey Chimpden Earwicker, all drawn from the streets and people of Joyce's Dublin, his friends, enemies, relations. We know them now, we see them . . . It is Bowker's style and grace that illumines and enchants. You will be inspired to reread. Or first read.
Finnegans Wake
on the beach this summer? It could happen." —Barry Wightman,
The Washington Independent Review of Books
"There are obvious autobiographical resonances throughout
Ulysses
and
A Portrait of the Artist as a Young Man
, and Bowker is helpful in drawing these out . . . Bowker carefully unpicks these characters, settings, and events from Joyce's work, both annotating the life fictionally and allowing biography to 'foreshadow the work' . . . Describing Joyce's death in 1940, Bowker writes that 'his condition deteriorated and he lost consciousness, waking only to ask that Nora's bed be placed next to his as his had been close to hers in the hospital once. ("He might die before his mother came," thought young Stephen Dedalus.)'  Flights of biographical fancy like this one—where the writing serves as a direct substitute for the writer's thought—have a beautiful, mirror-like quality . . . Bowker . . . conjure[s] sparks." —Jenny Hendrix,
The Christian Science Monitor
"Particularly during his account of Joyce's final two decades, Bowker provides useful updates to what Ellmann wrote, thanks to more recent biographies of Nora and Lucia Joyce, Stuart Gilbert's often catty journal and materials involving
Ulysses
publisher Sylvia Beach. Bowker also draws helpful connections between biographical details in Joyce's life and fragments of
Finnegans Wake
, where even the most intrepid and devoted Joyce reader can always use more help." —Mike Fischer,
Milwaukee Journal-Sentinel
"Bowker's work focuses more on Joyce's inner life . . . As a biographer of Malcolm Lowry, George Orwell, and Lawrence Durrell, Bowker is well-placed to take on those English writers' high-modernist Irish predecessor and contemporary . . . The first half moves along at an efficient pace as many anecdotes demonstrate how Joyce applied everyday details that would be used decades later in his texts . . . Along the long way, Bowker corrects common misnomers such as the assumed Jewish identities of Reuben J. Dodd and Alfred Hunter, and he regales readers with bawdy and witty snippets from Joyce and his cronies, notably his 'Mephistopheles' Oliver St. John Gogarty . . . Bowker's work is a necessary contribution to the study of Joyce, and should be welcomed by any serious student or scholar . . . The biography ends . . . poignantly; what emerges is the tale of a man whose books often brim with the mingled anguish and hopes of his fellow Dubliners and the milieu which paralyzed them first, and then their maker." —John L. Murphey,
Pop Matters
"Gordon Bowker's biography, based on many new sources, must now be considered the definitive life of Joyce, and it is most welcome." —Tim Redman,
The Dallas Morning News
"[An] engrossing new life." —Bill Tipper,
Barnes and Noble Review
"For those seeking a terse account of the life, Edna O'Brien's
James Joyce
will do the job. For those wishing strictly literary criticism, John Gross's
James Joyce
is recommended. But for readers who want both in sufficient and up-to-date detail, nothing beats Bowker's book . . . Outstanding about Bowker are his judiciousness and readability on top of thorough research . . . Bowker's book becomes a paradigm of how brilliant fictional strategy works up bits of reality, how genius transfigures the givens of life . . . Bowker has further strengths, such as a dry wit that complements Joyce's own, frequently and hilariously quoted. Also keen psychological insight into such matters as Joyce's stupendous love-hate for his native Dublin . . . Joyce's entire life [is] deftly evoked by Bowker . . . I warmly suggest your reading Bowker's spellbinding biography." —John Simon,
Uncensored John Simon
or
Not Currently Available for Direct Purchase