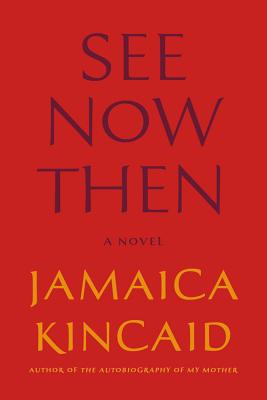 See Now Then
A Novel
Hardcover

* Individual store prices may vary.
Other Editions of This Title:
Digital Audiobook (2/4/2013)
Paperback (2/4/2014)
Compact Disc (2/5/2013)
Library Binding, Large Print (5/1/2013)
Description
In See Now Then, the brilliant and evocative new novel from Jamaica Kincaid—her first in ten years—a marriage is revealed in all its joys and agonies. This piercing examination of the manifold ways in which the passing of time operates on the human consciousness unfolds gracefully, and Kincaid inhabits each of her characters—a mother, a father, and their two children, living in a small village in New England—as they move, in their own minds, between the present, the past, and the future: for, as she writes, "the present will be now then and the past is now then and the future will be a now then." Her characters, constrained by the world, despair in their domestic situations. But their minds wander, trying to make linear sense of what is, in fact, nonlinear. See Now Then is Kincaid's attempt to make clear what is unclear, and to make unclear what we assumed was clear: that is, the beginning, the middle, and the end.
Since the publication of her first short-story collection, At the Bottom of the River, which was nominated for a PEN/Faulkner Award for Fiction, Kincaid has demonstrated a unique talent for seeing beyond and through the surface of things. In See Now Then, she envelops the reader in a world that is both familiar and startling—creating her most emotionally and thematically daring work yet.
Praise For See Now Then: A Novel…
"Writers make uncomfortable kin . . . There's a reflex in every writer that trumps even the maternal instinct, a part of her that, even while her newborn suckles at her breast, is cold-eyed, choosing words to describe the pit-bull clamp of its gums, the crusted globe of its skull, with the same dispassion which she might describe fellow passengers on a bus . . . The intimate treachery, the permanent duality that this entails . . . are lucidly examined in Jamaica Kincaid's latest novel . . . Kincaid has the gift of endowing common experience with a mythic ferocity… [She] is one of our most scouringly vivid writers." —Fernanda Eberstadt, New York Times Book Review
"Chaucer's Wife of Bath meets Virginia Woolf! . . . With the intensity of Virginia Woolf, Kincaid creates a palimpsest of time past, time present and time future . . . Mrs. Sweet in these pages makes a verbal symphony . . . Kincaid's attempt to capture living itself may just be, as she puts it, 'always just out of reach,' but her talent for trying remains palpable on every page . . . Connoisseurs will find it delicious." —Alan Cheuse, Chicago Tribune, Book of the Month
"See Now Then is not simply a recounting of the entanglement, disappointment, betrayal, and quiescence that are the four corners of the institution of marriage, though it does that with great facility. I read it as a brilliant unpicking of the intricate tapestry of time, the time that it takes to get from one place to another, from being single and full of promise to being discarded and ridiculed, and all the dances in-between: the sultry samba of innocence, the salsa tempo of dreams, the slow tango of motherhood, the quickstep of parenthood, and the graceful sway of bowing off a stage from which one has been effectively, if impolitely, excused. It is about marriage, and it is about everything else . . . Long paragraphs running into pages at times, give us both history and context, a life lived, and a life coming undone, choices made and regrets felt. These pages are filled with convoluted sentences and thoughts that echo the colossal mess of our minds, the way we as writers and human beings, speak to ourselves, narrating our own lives, and imagining the narration of others around us, spinning one yarn after another until it is quite impossible to distinguish where the story begins or ends. More than that, the experiences of a lifetime--leaving home, the loving estrangement between mothers and daughters, life in these United States, the damning lies that are told to each other routinely by Americans more invested in politeness than honesty, the business of receiving the 'pity and scorn' of people who don't look like we do, the desire to be more than we were born to be, the pursuit of art in a world often hostile to the arts, all things that are examined in one or more of her previous books--are brought together and held up to the light of retrospection in See Now Then . . . What Jamaica Kincaid does in See Now Then, is to hold a mirror up to all our illusions--about writing, and about life--and she does so with inimitable craft and language." —Ru Freeman, The Nation (Sri Lanka)
"Most readers feel protective of that little unit, the family. When it breaks, as it so often does and most certainly will in this story, we experience the tragedy . . . Was it ever any different? Did Mr. Sweet, who so utterly resembles the absent-minded Mr. Ramsay from Virginia Woolf's To the Lighthouse, ever truly love Mrs. Sweet, a modern-day Mrs. Ramsay--the mother who struggles every day to save her family from destruction, or just unhappiness?" —Susan Salter Reynolds, Newsday
"See Now Then is a hurricane of a book, a novel of psychic bewilderment and seething inaction that relentlessly defines and redefines the sense of otherness and displacement that is the permanent legacy of slavery and colonialism. An existential crisis if there ever was one, Jamaica Kincaid mines it with seriousness, tenderness and frequently savage humor in this novel, showing that it touches not just blacks, but all people, however loathe they may be to admit it. But See Now Then gives us no choice. From the first pages, its intimate, matter of fact, stream of consciousness style blurs the lines between us and them, now and then, poetry and prose, reality and imagination . . . With Kincaid, it's never a matter of what wins, only of what is." —Ms. Magazine
"Pervasive in See Now Then . . . is bawdy humor and unabashed rage and sorrow . . . The theme of time's inexorable march and how it colors our perspective is reinforced by sometimes abruptly shifting recollections. . . Those who treasure Kincaid's quirky lyricism will no doubt enjoy the challenge." —USA Today
"If there is a plot to See Now Then, it is the story of Mrs. Sweet's efforts to confront her own fear of the 'round, turning world' --a fear that can no longer be assuaged by incantations of age and youth. To say that Mrs. Sweet conquers her terror is too pat a summary but by the end of the novel she has reached a kind of equilibrium. It is marvelous to behold." —Hannah Gersen, The Millions
"Bold and beautiful . . . Joycean? Yes, and also much like the role of Winnie in the Samuel Beckett play 'Happy Days'--both Winnie and Kincaid addressing us in a rush that we recognize as an actual process of thought . . . See Now Then is--by turns--lovely, even lilting, difficult, and condemning of Mr. Sweet. The good news is that everything works--Kincaid's style, story and startling way of telling a tale of the cosmos in terms of domesticity . . . There is courage and brilliance here, and an unusual way of going about it. We hurt for Mrs. Sweet, we pull for her, we identify with her passion for her children while we somewhat understand Mr. Sweet – and fairly jump for joy when Mrs. Sweet notes that, 'Death has no Then and Now.'" —Karen Brady, Buffalo News
"Damned, haunted and psychological . . . Kincaid's heady fiction doesn't unfold dramatically, but her prose does, vining and clinging to readers' ears, blooming into a tritone musical theory--see-now-then . . . Churning through the tenses, Mrs. Sweet's stream of consciousness is the narrative form: an aesthetic rendering of how time, memory and imagination create the fabric of being . . . In her earlier novels, misaligned family relations produce the potential for human failure. Kincaid's female protagonist-narrators triumph against those circumstances through literary intelligence. Mrs. Sweet's grappling with time is beautiful and brutal: It acknowledges that our failures sometimes deny surmounting and, instead, resonate across memory into persistent, heart-rending permanence." —Walton Muyumba, Dallas Morning News
Farrar, Straus and Giroux, 9780374180560, 192pp.
Publication Date: February 5, 2013
About the Author
Jamaica Kincaid was born in St. John's, Antigua. Her books include At the Bottom of the River, Annie John, Lucy, The Autobiography of My Mother, and My Brother. She lives with her family in Vermont.
or
Not Currently Available for Direct Purchase