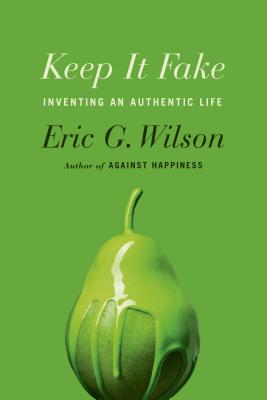 Keep It Fake
Inventing an Authentic Life
Hardcover

* Individual store prices may vary.
Other Editions of This Title:
Paperback (5/10/2016)
Description
Shoot straight from the hip. Tell it like it is. Keep it real.
We love these commands, especially in America, because they appeal to what we want to believe: that there's an authentic self to which we can be true. But while we mock Tricky Dick and Slick Willie, we're inventing identities on Facebook, paying thousands for plastic surgeries, and tuning in to news that simply verifies our opinions. Reality bites, after all, and becoming disillusioned is a downer.
In his new book Keep It Fake: Inventing an Authentic Life, Eric G. Wilson investigates this phenomenon. He draws on neuroscience, psychology, sociology, philosophy, art, film, literature, and his own life to explore the possibility that there's no such thing as unwavering reality. Whether our left brains are shaping the raw data of our right into fabulous stories or we're so saturated by society's conventions that we're always acting out prefab scripts, we can't help but be phony.
But is that really so bad? We're used to being scolded for being fake, but Wilson doesn't scold--because he doesn't think we need to be reprimanded. Our ability to remake ourselves into the people we want to be, or at least remake ourselves to look like the people we want to be, is in fact a magical process that can be liberating in its own way. Because if we're all a bunch of fakes, shouldn't we embrace that? And if everything really is fake, then doesn't the fake become real--really?
In lively prose--honest, provocative, witty, wide-ranging (as likely to riff on Bill Murray as to contemplate Plato)--Keep It Fake answers these questions, uncovering bracing truths about what it means to be human and helping us turn our necessary lying into artful living.
Praise For Keep It Fake: Inventing an Authentic Life…
"[A] terrific new philosophical investigation . . . The great appeal to me of Wilson's view and this book [is] he is brave enough to admit that the work of trying to be a good person requires you to think very hard—yes, very honestly—about how you actually interact with others." —The New York Times Book Review
"Wilson has ultimately written a deeply personal book, almost a lifeline . . . An elliptical, provocative meditation that reads as much like a catharsis as a manifesto." —Kirkus
"A gifted, candid raconteur, [Wilson] serves up pithy and often playful writing… Readers should be left entertained and enlightened by Wilson's vast knowledge, immediacy, and honesty." —Publishers Weekly
"A leisurely, light-footed overview of our cultural obsession with doom, gloom, and gore." —Josh Rothman, The Boston Globe on Everyone Loves a Good Train Wreck
"In the teeming ranks of the American Professoriat, you could argue that Eric G. Wilson is among those most palpably needed by the world at large." —Jeff Simon, The Buffalo News on Everyone Loves a Good Train Wreck
"[Everyone Loves a Good Train Wreck] reassures: enjoying grotesque, horrible, frightening images is a natural impulse. From fairy tales to crime dramas, they hit us where we are most human." —Kate Tuttle, The Boston Globe on Everyone Loves a Good Train Wreck
"Mr. Wilson's case for the dark night of the soul brings a much needed corrective to today's mania for cheerfulness. One would almost say that, in its eloquent contrarianism and earnest search for meaning, Against Happiness lifts the spirits." —Colin McGinn, The Wall Street Journal on Against Happiness
"An impassioned, compelling, dare I say poetic, argument on behalf of those who 'labor in the fields of sadness'. . ." —Minneapolis Star Tribune on Against Happiness
"[Wilson has] the passionate soul of a nineteenth-century romantic who, made wise by encounters with his own personal darkness, invites readers to share his reverence for nature and exuberance for life. Providing a powerful literary complement to recent psychological discussions of melancholy . . . this selection is variously gloomy and ecstatic, infuriating and even inspiring." —Brendan Driscoll, Booklist on Against Happiness
Sarah Crichton Books, 9780374181024, 240pp.
Publication Date: May 5, 2015
About the Author
Eric G. Wilson is the Thomas H. Pritchard Professor of English at Wake Forest University in Winston-Salem, North Carolina. He is the author of Everyone Loves a Good Train Wreck: Why We Can't Look Away, Against Happiness: In Praise of Melancholy, The Mercy of Eternity: A Memoir of Depression and Grace, and five books on the relationship between literature and psychology.
or
Not Currently Available for Direct Purchase