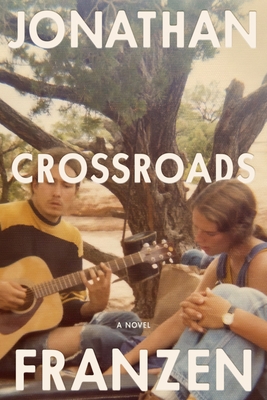 Crossroads
A Novel
Hardcover

* Individual store prices may vary.
Other Editions of This Title:
Digital Audiobook (10/4/2021)
Digital Audiobook, Spanish, Castilian (10/20/2021)
Digital Audiobook (10/4/2021)
Paperback (10/4/2022)
Paperback, Large Print (12/7/2022)
Library Binding, Large Print (10/6/2021)
CD-Audio (10/5/2021)
Description
Jonathan Franzen's gift for wedding depth and vividness of character with breadth of social vision has never been more dazzlingly evident than in Crossroads.

It's December 23, 1971, and heavy weather is forecast for Chicago. Russ Hildebrandt, the associate pastor of a liberal suburban church, is on the brink of breaking free of a marriage he finds joyless—unless his wife, Marion, who has her own secret life, beats him to it. Their eldest child, Clem, is coming home from college on fire with moral absolutism, having taken an action that will shatter his father. Clem's sister, Becky, long the social queen of her high-school class, has sharply veered into the counterculture, while their brilliant younger brother Perry, who's been selling drugs to seventh graders, has resolved to be a better person. Each of the Hildebrandts seeks a freedom that each of the others threatens to complicate.

Jonathan Franzen's novels are celebrated for their unforgettably vivid characters and for their keen-eyed take on contemporary America. Now, in Crossroads, Franzen ventures back into the past and explores the history of two generations. With characteristic humor and complexity, and with even greater warmth, he conjures a world that resonates powerfully with our own.

A tour de force of interwoven perspectives and sustained suspense, its action largely unfolding on a single winter day, Crossroads is the story of a Midwestern family at a pivotal moment of moral crisis. Jonathan Franzen's gift for melding the small picture and the big picture has never been more dazzlingly evident.
Praise For Crossroads: A Novel…
INSTANT NEW YORK TIMES BESTSELLER

Named a Best Book of the Year by Air Mail, Barack Obama, Bookforum, BookPage, Electric Lit, Financial Times, The Guardian (UK), Good Housekeeping, The Independent (UK), Kirkus Reviews, Lit Hub, Oprah Daily, The Millions, New Statesman, Newsweek, NPR, Publishers Weekly, Slate, St. Louis Post-Dispatch, The Telegraph, TIME, Town and Country, USA Today, Vogue, Vulture, The Washington Post, and more

"A mellow, marzipan-hued '70s-era heartbreaker. Crossroads is warmer than anything [Franzen has] yet written, wider in its human sympathies, weightier of image and intellect . . . Franzen patiently clears space for the slow rise and fall of character, for the chiming of his themes and for a freight of events . . . [but] the character who cracks this novel fully open—she's one of the glorious characters in recent American fiction—is Marion . . . The action in Crossroads flows and ebbs toward several tour-de-force scenes." —Dwight Garner, The New York Times Book Review

"Thank God for Jonathan Franzen . . . With its dazzling style and tireless attention to the machinations of a single family, Crossroads is distinctly Franzen-esque, but it represents a marked evolution . . . It's an electrifying examination of the irreducible complexities of an ethical life. With his ever-parsing style and his relentless calculation of the fractals of consciousness, Franzen makes a good claim to being the 21st century's Nathaniel Hawthorne." —Ron Charles, The Washington Post

"Superb . . . As with the best of Franzen's fiction, the characters in Crossroads are held up to the light like complexly cut gems and turned to reveal facet after facet . . . Franzen has created characters of almost uncanny authenticity. Is there anything more a great novelist ought to do?" —Laura Miller, Slate

"The Corrections was a masterpiece, but Crossroads is [Franzen's] finest novel yet . . . He has arrived at last as an artist whose first language, faced with the society of greed, is not ideological but emotional, and whose emotions, fused with his characters, tend more toward sorrow and compassion than rage and self-contempt..." —Frank Guan, Bookforum

"A work of total, tantalizing genius. Entombed with big ideas and eccentric characters, Crossroads is a brilliant, excessive, and absorbing novel that instantly feels like Franzen's finest." —Brady Brickner-Wood, The Chicago Review of Books

"Like a latter-day George Eliot, Franzen can light up large thematic skies but also keep his eye on the sparrow." —Thomas Mallon, The New York Times Book Review

"Franzen is a master of rendering the broad sweep of humanity through the (extremely human) minutia of a family. In Crossroads, I felt a frustration and fondness for the Hildebrandts so deep it was almost familial. This is, perhaps, [Franzen's] greatest skill as a writer . . . What more could a reader ask for, really?" —Jessie Gaynor, Lit Hub

"[A] pleasure bomb of a novel . . . New prospects are what keep [Crossroads] so engrossing, each section expanding on and deepening the poignancy of what has come before . . . . Few [writers] can take human contradiction and make it half as entertaining and intimate as Franzen does . . . A magnificent portrait of an American family on the brink of implosion . . . Crossroads is Act I of what's bound to be an American classic." —Lauren Mechling, Vogue

"Soulful, funny and so sharply observed it hurts . . . Crossroads gets this wildly ambitious [trilogy] off to a glorious start." —Michael Upchurch, The Seattle Times

"[A] sweeping, sumptuous new novel . . . [Franzen] pays homage to great nineteenth century social realists, from George Eliot to Balzac to Dickens, while gazing unflinchingly to the ills that shape us today . . . Crossroads is consumed with the cause and effect of our choices, especially our selfish ones. The novel closes on a cliffhanger, teeing up for the next two installments of his trilogy, a triumphant opening gambit in what may become a vital pillar of our literature." —Hamilton Cain, Oprah Daily

"[Crossroads] is carefully wrought, its neatly balanced architecture another clandestine source of its power." —Kathryn Schulz, The New Yorker

"Crossroads is expansive and funny; a pure pleasure to read." —Xan Brooks, The Guardian

"Franzen brings to this novel a refreshing simplicity . . . What remains is family drama as high art. What remains is Franzen's gift for interiority, his uncanny ability to take us into minds as fraught and depraved as our own." —Erin Somers, The A.V. Club

"A marvelous novel." —Becca Rothfeld, The Atlantic

"Absolutely engrossing . . . There's not a scenario in [Crossroads] that doesn't ring true." —Allison Arieff, San Francisco Chronicle

"Superbly rendered . . . [Crossroads is] a supremely skillful book, ingenious and practiced in its execution, on point in its small, historical details . . . " —Walter Kirn, Air Mail

"Franzen's best novel." —Sasha Frere-Jones, 4Columns

"[A] superb domestic epic . . . Franzen's faith in fiction as a means to get at questions of goodness and righteousness is unshakable." —Mark Athitakis, USA Today (Four out of Four Stars)

"This is peak Franzen, with richly created characters, conflicts and plot . . . The writing is a marvel." —Rob Merrill, Associated Press

"Excellent . . . With Marion, [Franzen] reminds us that he's actually one of our great novelists of female fury . . . Jonathan Franzen really is one of the great novelists of his generation. Crossroads stands ready and willing to prove it." —Constance Grady, Vox

"[Franzen] imbues his books with big ideas, in this case about responsibility to family, self, God, country, and one's fellow man, among other matters, all the while digging deep into his characters' emotions, experiences, desires, and doubts in a way that will please readers seeking to connect to books heart-first . . . Franzen's intensely absorbing novel is amusing, excruciating, and at times unexpectedly uplifting—in a word, exquisite."—Kirkus Reviews (starred review)

"Franzen returns with a sweeping and masterly examination of the shifting culture of early 1970s America, the first in a trilogy . . . Throughout, Franzen exhibits his remarkable ability to build suspense through fraught interpersonal dynamics. It's irresistible." —Publishers Weekly (starred review)

"[A] masterful, Tolstoian saga . . . Franzen adroitly portrays eternal generational conflicts . . . This masterpiece of social realism vividly captures each character's internal conflicts as a response to and a reflection of societal expectations, while Franzen expertly explores the fissions of domestic life, mining the rich mineral beneath the sediments of familial discord. In this first volume of a promised trilogy, Franzen is in rarified peak form." —Booklist (starred review)

"Franzen pens complex, densely layered characters . . . with America's heartland functioning as a stage upon which the tension between enduring values and societal change is enacted . . . Franzen is keenly aware that human struggle is defined by understanding and acceptance and that it is generational, ideas he admirably captures here." —Library Journal (starred review)

"[Franzen] does not disappoint . . . [He writes] with penetrating insight delivered through incisive sentences . . . I can't wait to read what happens next." —BookPage (starred review)
Farrar, Straus and Giroux, 9780374181178, 592pp.
Publication Date: October 5, 2021
About the Author
Jonathan Franzen is the author of five novels, including The Corrections, Freedom, and Crossroads, and five works of nonfiction, most recently Farther Away and The End of the End of the Earth, all published by Farrar, Straus and Giroux. He lives in Santa Cruz, California.