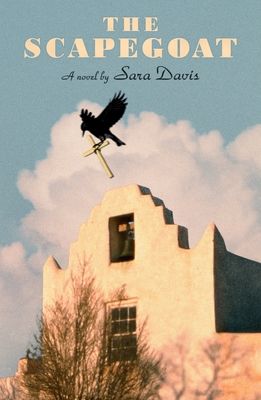 The Scapegoat
A Novel
Hardcover

* Individual store prices may vary.
Other Editions of This Title:
MP3 CD (5/11/2021)
Compact Disc (5/11/2021)
Paperback (3/1/2022)
Description
"The Scapegoat is a novel of disquiet and disturbance, with an atmosphere of perfect dread. Think Patricia Highsmith or Jim Thompson, that blend of menace and brilliance. Sara Davis had me shivering. This is the debut novel of a marvelous new talent." —Victor LaValle, author of The Changeling

N is employed at a prestigious California university, where he has distinguished himself as an aloof and somewhat eccentric presence. His meticulous, ordered life is violently disrupted by the death of his estranged father—unanticipated and, as it increasingly seems to N, surrounded by murky circumstances. His investigation leads him to a hotel built over a former Spanish mission, a site with a dark power and secrets all its own. On campus, a chance meeting with a young doctor provokes uncomfortable feelings on the direction of his life, and N begins to have vivid, almost hallucinatory daydreams about the year he spent in Ottawa, and a shameful episode from his past.

Meanwhile, a shadowy group of fringe academics surfaces in relation to his father's death. Their preoccupation with a grim chapter in California's history runs like a surreal parallel to the staid world of academic life, where N's relations with his colleagues grow more and more hostile. As he comes closer to the heart of the mystery, his ability to distinguish between delusion and reality begins to erode, and he is forced to confront disturbing truths about himself: his irrational antagonism toward a young female graduate student, certain libidinal impulses, and a capacity for violence. Is he the author of his own investigation? Or is he the unwitting puppet of a larger conspiracy?

With this inventive, devilish debut, saturated with unexpected wit and romanticism, Sara Davis probes the borders between reality and delusion, intimacy and solitude, revenge and justice. The Scapegoat exposes the surreal lingering behind the mundane, the forgotten history underfoot, and the insanity just around the corner.
Praise For The Scapegoat: A Novel…
"As our narrator loses his grip on reality, Davis drops her readers into successive scenes so fluidly that even we forget what just happened. I raced through the book, marveling at its precise, restrained prose and grasping paranoiacally at small details that might indicate what was real and what wasn't. What does become clear by the end, though, are the dangers of dwelling on past miseries, which so thoroughly haunt the novel." —Chelsea Leu, The New York Times Book Review

"Bizarre, arresting . . . Menace gathers. So does a marvelously calibrated pace and tension. As with some of our best haunted fiction (The Turn of the Screw, The Haunting of Hill House), the story obeys an internal, quasi-demonic logic . . . Scapegoat manages to interleave tokens of wry wisdom—about American culture, academic and social life, marriage, dailiness." —Joan Frank, The Washington Post

"Riveting . . . Davis' vividly wrought setting is more than backdrop. It fuels one of the novel's big questions: What is our responsibility to the past? . . . Within her haunting landscape and propulsive plot, [Davis] manages to introduce some morbid humor . . . Davis emerges as a legitimately skillful novelist unafraid to ask difficult questions." —L.A. Taggart, San Francisco Chronicle

"To call the final act of The Scapegoat unpredictable would be a massive understatement; Davis wraps things up on her own terms, expectations be damned. That's part of what makes The Scapegoat such a thrilling, audacious book . . . [N's narration] suffuses the novel with a suffocating terror that escalates as the book draws to a close . . . [Davis] is a truly talented author . . . The Scapegoat is definitely the stuff of nightmares, hugely unsettling and impressively creepy. It's a remarkable debut from an author whose imagination seems unlimited." —Michael Schaub, Alta

"An eerie, captivating narrative that twists like a dream and will haunt like a nightmare . . . This dreamlike version of a murder mystery deserves the comparisons to David Lynch . . . If you're looking to get swept away in an eerie, dreamy mystery, The Scapegoat is for you." —Debbie Clark, The Post and Courier

"A wild, beguiling tale . . . Like Pynchon, Davis is unafraid to be playful, skewering postmodern conventions even as she celebrates them." —David James Poissant, New York Journal of Books

"I'm always pleased to recommend a debut, and even more so when it's as sharp as Davis's. For some reason, this book feels French—it has the claustrophobic tautness of The Perfect Nanny. It also has the compression of Jean-Paul Manchette: the novel takes place over the course of a fortnight, and we are in the mind of a man who is losing his grip on reality." —Lisa Levy, Crime Reads

"Unnervingly good . . . An eerie and surprising reconstruction by an unreliable narrator." —Kirkus (starred review)

"Sara Davis's The Scapegoat is ingenious, suspenseful, wise, sad, sometimes very frightening, and often very funny, too. The novel gets at the terrifyingly convincing lies (or stories) that we tell ourselves, inevitably about that which we most need to know. The Scapegoat made me fall in love again with the form of the novel!" —Rivka Galchen, author of Little Labors

"The Scapegoat is a brilliant, mysterious book that challenges every tired idea of what a novel should be. Fast, funny, and deeply disturbing, it reads as though it's been beamed in from some alternate universe, one where the rules of time and space operate just differently enough to create an entirely new kind of storytelling. Sara Davis is some kind of sorcerer. I'll be haunted by this book for a long time to come." —Andrew Martin, author of Cool for America

"Sara Davis's The Scapegoat is a mystery novel in the way Paul Auster's New York Trilogy or Haruki Murakami's The Wind-Up Bird Chronicle are mystery novels: it's an investigation of life, of thinking, of investigation itself. It's impossible to anticipate, and very, very hard to put down." —Paul LaFarge, author of The Night Ocean

"The Scapegoat is a delight—like a David Lynch movie, a Swedish detective novel, and The Shining combined, with not just an unreliable narrator but an unforgettable one. Sara Davis captures campus life and the ruthlessness of academia in a novel that is at once a chilling murder mystery, a witty academic noir, and a poignant exploration of an illegitimate son's quest for parental recognition and love." —Rebecca Curtis, author of Twenty Grand and Other Tales of Love & Money
Farrar, Straus and Giroux, 9780374181451, 224pp.
Publication Date: March 2, 2021
About the Author
Sara Davis, the daughter of two Stanford immunologists, grew up in Palo Alto, California and received her BA and MFA at Columbia University. She has taught creative writing in New York City and Detroit. She has been awarded residencies from Ucross, Vermont Studio Center, and Ragdale. She lives in Shanghai, China. The Scapegoat is her first book.