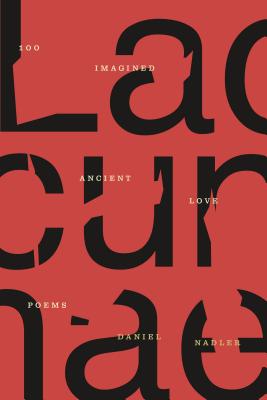 Lacunae (Hardcover)
100 Imagined Ancient Love Poems
Farrar, Straus and Giroux, 9780374182694, 128pp.
Publication Date: August 9, 2016
Other Editions of This Title:
Paperback (7/25/2017)
* Individual store prices may vary.
Description
Lacunae, Daniel Nadler's debut collection, is an exercise in poetics of vital import. In it, Nadler imagines himself into those moments of unintelligibility—blank spaces in time—where constraint and expansion coincide. When faced with such ellipses, like where a few decisive hieroglyphs have worn off a wall, he infers and reconstructs the flora, fauna, and pleasures of an ancient world.
"Like the wind that gusts coastal pines toward the water / sleep bends me toward my lover / and I cannot drink from her": Nadler's is a project of constant negotiation, one that bends his poems into new shapes. He attends to an impulse of restoration and conservation, in turns. From this tension arises verse of searing simplicity and clarity of vision, imbued with that trembling quality of new life: "luminous and half-naked."Lacunae, deeply felt and gnomically wise, dares to pave a poetic landscape all its own, the work of a remarkable new poet with enormous ambition and ability.
About the Author
Daniel Nadler's poetry has been widely published and anthologized, including in Best American Experimental Writing. More than seventy of his poems have appeared in leading American literary publications. Lacunae, his debut collection, was published by Farrar, Straus and Giroux in 2016. A graduate of Harvard University, he divides his time between New York City and the West Coast.
Praise For Lacunae: 100 Imagined Ancient Love Poems…
AN NPR BEST BOOK OF THE YEAR
"These love poems live...in a distant mythic past." —Nathaniel Popper, The New York Times

"A striking debut by Daniel Nadler...tight, haikulike meditations that can be entered at almost any point in the sequence....Everything feels ephemeral and timeless -- like the moon that 'has gone farming at night/ in the soil of your dreams' -- as if this book has hit a reset button to help readers discover poetry anew." —Elizabeth Lund, Washington Post
"A poet of unusual focus, ambition, and ability." —Timothy Donnelly, Boston Review
"Daniel Nadler's poems unfailingly capture the sense of looking on the world as if for the first time, fusing inner and outer, emotion and sense-data, as one feels when falling in love or, as Keats would have it, on first reading Homer." —Ange Mlinko
"Perhaps the most soothing manuscript of the past year...Poems that feel less like lyrics than incantations for a trance-like state...The result is a dream-inducing exercise in imagism that Ezra Pound would be impressed by." —Mina Tavakoli, NPR

"These delicate poems sing of the natural world and the fever of love. They seem to be made with a sewing needle and have a magical freshness." —Henri Cole
"If you have ever stumbled upon up an eye-catching stone and picked it up from the ground, let it settle into the center of your palm and found yourself amazed by its destiny and weight, your eyes caught in the complexity of its once seemingly simple color, your fingers compelled to rub its surface because you suddenly can't help but feel its story is told in the touch?and then you look down to find yourself surrounded by a bounty of such stones, so you stay?this is what it's like to read Daniel Nadler's Lacunae. These poems are made of the stuff that sloughed down from the mountains and up from the Earth; they are as poetry should hope to be: sublime and feral." —Rowan Ricardo Phillips
or
Not Currently Available for Direct Purchase