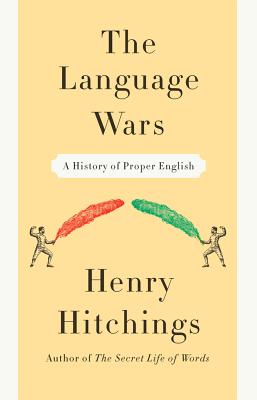 The Language Wars (Hardcover)
A History of Proper English
Farrar, Straus and Giroux, 9780374183295, 416pp.
Publication Date: October 25, 2011
Other Editions of This Title:
Paperback (10/30/2012)
Paperback (9/1/2011)
Hardcover (2/1/2011)
* Individual store prices may vary.
Description
The English language is a battlefield. Since the age of Shakespeare, arguments over correct usage have been bitter, and have always really been about contesting values—morality, politics, and class. The Language Wars examines the present state of the conflict, its history, and its future. Above all, it uses the past as a way of illuminating the present. Moving chronologically, the book explores the most persis­tent issues to do with English and unpacks the history of "proper" us­age. Where did these ideas spring from? Who has been on the front lines in the language wars?

The Language Wars examines grammar rules, regional accents, swearing, spelling, dictionaries, political correctness, and the role of electronic media in reshaping language. It also takes a look at such de­tails as the split infinitive, elocution, and text messaging. Peopled with intriguing characters such as Jonathan Swift, Lewis Carroll, and Lenny Bruce, The Language Wars is an essential volume for anyone interested in the state of the English language today or its future.
About the Author
Henry Hitchings was born in 1974. He is the author of "The Secret Life of Words, Who's Afraid of Jane Austen?, "and "Defining the World. "He has con-tributed to many newspapers and magazines and is the theater critic for the London "Evening Standard."
Praise For The Language Wars: A History of Proper English…
"Hitchings has prepared a turducken of language-history entrées. Consuming one layer, we discover another, and another. And we feast."---The Cleveland Plain Dealer "Thoroughly charming…A rich history of English and the shifting rule books for its correctness…Hitchings cautions readers to take care, not in the way of the 'grumblers, fault-finders, quibblers and mud-slingers,' but following the example of Orwell, in using language to be clear, to be honest, to connect with each other."---The Boston Globe "Hitchings has earned a place at the head table of contemporary linguists."---The Denver Post
"Mr. Hitchings's trenchant prose is irresistible."---
The Baltimore Sun
"Extraordinary…Chock-full of historical and literary references,
The Language Wars
is a fascinating, eye-opening look at the evolution of the English language."---
The Huffington Post
"Crisply written, amusing, informative, and thought-provoking. Anyone interested in the English language and its history should read it."---The Sunday Telegraph (London)
or
Not Currently Available for Direct Purchase