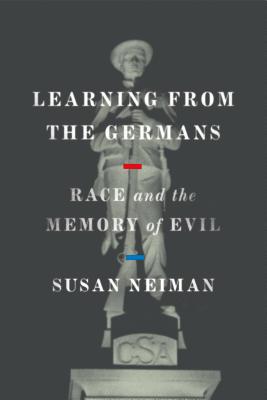 Learning from the Germans
Race and the Memory of Evil
Hardcover

* Individual store prices may vary.
Other Editions of This Title:
Paperback (9/8/2020)
Compact Disc (8/27/2019)
Description
As an increasingly polarized America fights over the legacy of racism, Susan Neiman, author of the contemporary philosophical classic Evil in Modern Thought, asks what we can learn from the Germans about confronting the evils of the past

In the wake of white nationalist attacks, the ongoing debate over reparations, and the controversy surrounding Confederate monuments and the contested memories they evoke, Susan Neiman's Learning from the Germans delivers an urgently needed perspective on how a country can come to terms with its historical wrongdoings. Neiman is a white woman who came of age in the civil rights–era South and a Jewish woman who has spent much of her adult life in Berlin. Working from this unique perspective, she combines philosophical reflection, personal stories, and interviews with both Americans and Germans who are grappling with the evils of their own national histories.

Through discussions with Germans, including Jan Philipp Reemtsma, who created the breakthrough Crimes of the Wehrmacht exhibit, and Friedrich Schorlemmer, the East German dissident preacher, Neiman tells the story of the long and difficult path Germans faced in their effort to atone for the crimes of the Holocaust. In the United States, she interviews James Meredith about his battle for equality in Mississippi and Bryan Stevenson about his monument to the victims of lynching, as well as lesser-known social justice activists in the South, to provide a compelling picture of the work contemporary Americans are doing to confront our violent history. In clear and gripping prose, Neiman urges us to consider the nuanced forms that evil can assume, so that we can recognize and avoid them in the future.
Praise For Learning from the Germans: Race and the Memory of Evil…
"Fascinating . . . Susan Neiman's book is an important and welcome weapon in that battle." —Deborah E. Lipstadt, The New York Times Book Review (Editors' Choice)

"It's not the German material that makes Neiman's book so powerful. She recounts it with a lucid, masterful brevity, but what really matters here is the juxtaposition contained in its first sentence: 'I began life as a white girl in the segregated South, and I'm likely to end it as a Jewish woman in Berlin.' None of the Americans who've seen the connection has had Neiman's comprehensive knowledge of how the Germans have worked to overcome their past; none has pursued it so tenaciously, so originally." —Michael Gorra, The New York Review of Books

"Susan Neiman relates hard truths from which others shrink. Her audacious work is a refreshing change from those, afraid to offend, who leave unsaid things that seem self-evident . . . Her distillation of five years' research produces a powerful tonic . . . Excellent." —Michael Henry Adams, The Guardian

"Firmly convinced of the exceptional nature of their country, many Americans resist opportunities to learn from the history of others . . . [Susan Neiman] has written a corrective." —Andrew Moravcsik, Foreign Affairs

"Incisive, vivid and highly readable, forceful in its impact and unsettling in many of its revelations." —David Donoghue, The Dublin Review of Books

"Neiman's book is an informative and stimulating read, provocatively addressing questions that, sadly, remain all too relevant today . . . A fascinating mixture of analysis and anecdote in which Neiman's own intelligent voice can be clearly heard throughout." —Mary Fulbrook, BBC History Magazine

"The accomplishment of this book is that it asks how we can live in a world riven with evil—evil that we may have tolerated or even perpetrated. The kind of communal reckoning Neiman identifies is hard but necessary . . . Crafting a narrative that acknowledges our collective sins can set us up to envision a society that reimagines justice." —Chris Hammer, Christian Century

"Comparing German and American attempts to reckon with the past is a worthy exercise . . . [A] very persuasive case for reparations . . . The United States' debate about its own past is enriched by books like this one, and it could use another ten like it." —Heather Souvaine Horn, The New Republic

"While Neiman makes it clear that she has a personal stake in truth-telling and historical memory, the great strength in the book is her argument that we all have a stake . . . Profoundly thought-provoking . . . In a stirring final section, Neiman invites us to think more deeply about who suffered the real harms, then and now, and what practical steps we can take to begin working off the past and addressing the unanswered questions of justice." —Jeremy Rutledge, The Post and Courier (Charleston, SC)

"[Neiman] declares a different kind of hope . . . Learning from the Germans is an important book for showing us a path we can follow." —Y.S. Fing, Washington Independent Review of Books

"Profound . . . Brilliantly conceived and written . . . Incredibly poignant and insightful." —Dennis Moore, East County Magazine (San Diego)

"Thought-provoking . . . A stimulating . . . exploration of moral myopia in the face of unnecessary suffering." —Ian Thomson, The Spectator (UK)

"[Neiman] allows the voices of those involved in thinking about how to address public memory to animate her pages . . . Firmly focused." Eric Banks, Bookforum

"Richly rewarding, consistently stimulating and beautifully written . . . [Learning from the Germans] provides the crucial facets of any successful attempt to work off a nation's criminal past . . . This disturbing but hopeful and insightful book wrestles with the questions of who we are as human beings and what values we have as a nation." —Roger Bishop, BookPage (starred review)

"[Learning from the Germans] presents an insightful comparative analysis of post-WWII German sentiments about Nazi atrocities alongside southern American attitudes about the Civil War and slavery, suggesting how Americans might better come to terms with their country's history . . . [Neiman's] commentary is thoughtful and perceptive, her comparison timely. This exceptional piece of historical and political philosophy provides a meaningful way of looking at the Civil War's legacy." —Publishers Weekly (starred review)

"A pointed demonstration of how Germany offers lessons for attending to polarizing issues of the past and present . . . [Learning from the Germans] serves as an important lesson for those who seek to face up to the past wrongs in this country. A timely, urgent call to revisit the past with an eye to correction and remedy." —Kirkus Reviews

"We've been given a gift in Susan Neiman's Learning from the Germans . . . Neiman would have us take up the rare and righteous work of remembering rightly. And in our day . . . this work is especially needful." —David Dark, Chapter 16

"Combining big thoughts and startling snapshot particulars, Learning from the Germans is an enthralling moral meditation on mass social sin and its expiation as practiced in post–Third Reich Germany and the postapartheid American South. Susan Neiman, a citizen-philosopher who has never shied from difficult topics, has mustered her stylish pen, formidable intelligence, and unique experience as a southern Jewish expat in Germany to produce a nuanced work of conscience with urgent relevance today." —Diane McWhorter, author of the Pulitzer Prize–winning Carry Me Home: Birmingham, Alabama: The Climactic Battle of the Civil Rights Revolution

"Learning from the Germans asks a deep question: As Americans struggle, once again, with the legacy of slavery, what can they learn from the German attempt to come to terms with the Holocaust? Susan Neiman's eloquent, moving, and searching answer is clear. It is time for Americans to listen and to learn from the anguish and truth-seeking of the German confrontation with evil." —Michael Ignatieff, author of The Ordinary Virtues: Moral Order in a Divided World and president and rector of Central European University

"Susan Neiman's Learning from the Germans puts discussion of the horror of American anti-black racism into instructive, fascinating, and disturbing dialogue with rumination on the record of Nazism in Germany. This is a moving, deep, important book." —Randall Kennedy, Professor, Harvard Law School

"Susan Neiman has devised a genre that's encompassing enough to address the problem of evil: investigative philosophy. She tests moral concepts against lived realities, revealing actual human beings wrestling with—or away from—the unforgiving past: Germans who implant memorial plaques in the street, who work to integrate immigrants, and who think Germany was not defeated but liberated in 1945; and in Mississippi, citizens who insist that humanity drives better when it takes the time to gaze into the rearview mirror. This compelling, discerning book is as necessary and provocative as its title." —Todd Gitlin, author of Occupy Nation and Chair of Communications at Columbia University

"The United States has much to learn from twentieth-century German history. As a learned and passionate guide, Susan Neiman draws on her long-term immersion in German history and her knowledge of American (especially Southern) racism to address vital questions: Does Germany's reckoning with Nazism offer lessons for the United States? How should a nation's history be told to new generations? Should monuments to Confederate leaders be removed? Should there be reparations for slavery and other historical injustices? Packed with stories about individuals and communities dealing with the legacy of racial violence, Learning from the Germans identifies constructive steps for addressing the past and the present to make a different future." —Martha Minow, 300th Anniversary University Professor, Harvard University
Farrar, Straus and Giroux, 9780374184469, 432pp.
Publication Date: August 27, 2019
About the Author
Susan Neiman is the director of the Einstein Forum. Her previous books, which have been translated into many languages, include Why Grow Up?: Subversive Thoughts for an Infantile Age; Moral Clarity: A Guide for Grown-Up Idealists; Evil in Modern Thought: An Alternative History of Philosophy; The Unity of Reason; and Slow Fire: Jewish Notes from Berlin. She also writes cultural and political commentary for diverse media in the United States, Germany, and Great Britain. Born in Atlanta, Georgia, Neiman studied philosophy at Harvard and the Free University of Berlin, and was a professor of philosophy at Yale and Tel Aviv Universities. She is the mother of three grown children, and lives in Berlin.