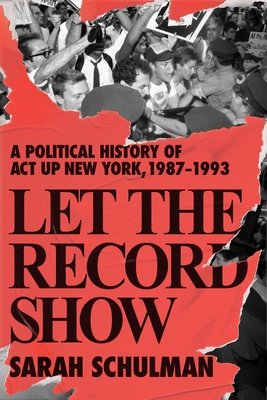 Let the Record Show
A Political History of ACT UP New York, 1987-1993
Hardcover

* Individual store prices may vary.
Description
"A masterpiece of historical research and intellectual analysis that creates many windows into both a vanished world and the one that emerged from it, the one we live in now." --Alexander Chee

Twenty years in the making, Sarah Schulman's Let the Record Show is the most comprehensive political history ever assembled of ACT UP and American AIDS activism

In just six years, ACT UP, New York, a broad and unlikely coalition of activists from all races, genders, sexualities, and backgrounds, changed the world. Armed with rancor, desperation, intelligence, and creativity, it took on the AIDS crisis with an indefatigable, ingenious, and multifaceted attack on the corporations, institutions, governments, and individuals who stood in the way of AIDS treatment for all. They stormed the FDA and NIH in Washington, DC, and started needle exchange programs in New York; they took over Grand Central Terminal and fought to change the legal definition of AIDS to include women; they transformed the American insurance industry, weaponized art and advertising to push their agenda, and battled—and beat—The New York Times, the Catholic Church, and the pharmaceutical industry. Their activism, in its complex and intersectional power, transformed the lives of people with AIDS and the bigoted society that had abandoned them.

Based on more than two hundred interviews with ACT UP members and rich with lessons for today's activists, Let the Record Show is a revelatory exploration—and long-overdue reassessment—of the coalition's inner workings, conflicts, achievements, and ultimate fracture. Schulman, one of the most revered queer writers and thinkers of her generation, explores the how and the why, examining, with her characteristic rigor and bite, how a group of desperate outcasts changed America forever, and in the process created a livable future for generations of people across the world.
Praise For Let the Record Show: A Political History of ACT UP New York, 1987-1993…
"People often speak of the authoritarian handbook, and I always wonder, what is the opposite? Maybe this book, in fact. In so many ways. Sarah Schulman has written more than an authoritative history of ACT UP NY here-- it is a masterpiece of historical research and intellectual analysis that creates many windows into both a vanished world and the one that emerged from it, the one we live in now. I can't think of a book like this--it is an almost entirely new model, uniquely possible as the result of Schulman's life's work. As one of our only genuinely intellectual iconoclasts, she returns to us with this story of a movement that changed the world at least once, now a part of the work to change that world again. Any reader will be changed, I think, by the stories here--radicalized and renewed, which to me is something better than just hope." --Alexander Chee, author of How to Write an Autobiographical Novel

"In the style of the late great Howard Zinn, Sarah Schulmam has written an epic, moving and important People's History of the Act up Movement, filled with powerful storytelling and invaluable lessons in the do's and don't of organizing. We owe a great deal to Schulman for the depth and years of her research, for her commitment to telling a story that lifts and honors a group rather than highlighting only a few individuals, and for her willingness to tell the whole truth with serious rigor and love."--V (formerly Eve Ensler), author of The Vagina Monologues

"Sarah Schulman's remarkable book Let the Record Show offers a thorough and corrective retelling of the history of ACT-UP, introducing a diverse cast of characters that has been largely erased from what passes as the official HIV/AIDS narrative. She brings extraordinary reporting, finely calibrated detail and her own lived experience to a book that is at once a love letter to the movement that refused to back down as it forced an epidemic to its knees and a road map for a new generation of activists grappling with social change." --Linda Villarosa, contributing writer, The New York Times Magazine

"Sarah Schulman has achieved the near impossible in this riveting and powerful book. She writes with the knowledge and experience of a passionate insider as she lays out a detailed and deep history of ACT UP. Yet she has a sharp eye for the bigger picture, offering a broad analysis, bringing in diverse, fascinating, and illuminating perspectives. Not until this book has an author captured how ACT UP was grounded in both the feminist and civil rights movements, nor how the group spawned new movements and inspired a new generation of queer activism while dramatically influencing the course of the AIDS epidemic and making a mark on American culture. The writing is crisp and compassionate. The stories are vivid -- heroic, painful, breathtaking and joyous. Sarah Schulman has produced a definitive and monumental work." --Michelangelo Signorile, author of It's Not Over: Getting Beyond Tolerance, Defeating Homophobia and Winning True Equality
Farrar, Straus and Giroux, 9780374185138, 736pp.
Publication Date: May 18, 2021
About the Author
Sarah Schulman is the author of more than twenty works of fiction, nonfiction, and theater, and the producer and screenwriter of several documentaries. Her writing has appeared in The New Yorker, The New York Times, Slate, and many other outlets. She is a Distinguished Professor of Humanities at College of Staten Island, a Fellow at the New York Institute of Humanities, the recipient of multiple fellowships from the MacDowell Colony, Yaddo, and the New York Foundation for the Arts, and was presented in 2018 with Publishing Triangle's Bill Whitehead Award. She is also the cofounder of the MIX New York LGBT Experimental Film and Video Festival, and the co-director of the groundbreaking ACT UP Oral History Project. A lifelong New Yorker, she is a longtime activist for queer rights and female empowerment, and serves on the advisory board of Jewish Voice for Peace.