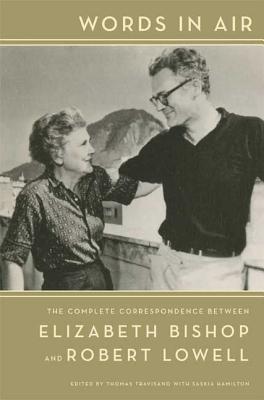 Words in Air (Hardcover)
The Complete Correspondence Between Elizabeth Bishop and Robert Lowell
Farrar Straus Giroux, 9780374185435, 875pp.
Publication Date: October 28, 2008
* Individual store prices may vary.
Description
Robert Lowell once remarked in a letter to Elizabeth Bishop that "you ha ve] always been my favorite poet and favorite friend." The feeling was mutual. Bishop said that conversation with Lowell left her feeling "picked up again to the proper table-land of poetry," and she once begged him, "Please never stop writing me letters--they always manage to make me feel like my higher self (I've been re-reading Emerson) for several days." Neither ever stopped writing letters, from their first meeting in 1947 when both were young, newly launched poets until Lowell's death in 1977. The substantial, revealing--and often very funny--interchange that they produced stands as a remarkable collective achievement, notable for its sustained conversational brilliance of style, its wealth of literary history, its incisive snapshots and portraits of people and places, and its delicious literary gossip, as well as for the window it opens into the unfolding human and artistic drama of two of America's most beloved and influential poets.
About the Author
Elizabeth Bishop (1911-79) and Robert Lowell (1917-77) were among the greatest and most honored poets of the last century. Their poetry, prose, and letters are published by FSG.
Praise For Words in Air: The Complete Correspondence Between Elizabeth Bishop and Robert Lowell…
"Helplessly lyrical till death did them part, Elizabeth Bishop and Robert Lowell wrote so many wonderful letters and postcards to each other from 1947 through 1977 that it's amazing they ever found the time to publish their poetry. Words in Air, edited by Thomas Travisano with Saskia Hamilton, is their complete correspondence, 800 pages of epigrams and gossips, anxieties and epiphanies, logrolling and backbiting." —John Leonard, Harper's
"Their surviving 459 letters . . . give us the closest view of these wounded creatures—his muscular, bull-in-a-china-shop intellect; her pained shyness and abject modesty, and a gaze like the gleam off a knife . . . The pleasures of this remarkable correspondence lie in the untiring way these poets entertained each other with the comic inadequacies of the world."
—
William Logan
,
The New York Times
 "I just can't praise
Words in Air
enough. As Lowell and Bishop's friend Randall Jarrell used to say: 'Anybody who cares about poetry will want to read it.'" —Michael Dirda,
The Washington Post Book World
"A remarkable friendship—part long-distance romance, part artistic collaboration, part AA meeting—that lasted almost thirty years. This huge and wonderful book encompasses all the surviving correspondence between Bishop and Lowell. 458 items in all, adding more than three hundred previously unpublished letters.' " —Christopher Benfey, The New Republic
"[Words in Air reveals] how this long literary and personal friendship developed and evolved, underwent painful strains, and always recovered . . . But beyond these descriptive tour de forces and compliments, beyond the literary and political gossip, the poet—especially as their lives grew increasing troubled by estrangements, separations, divorce, illnesses, and the deaths of friends—exchanged tender, serious, disturbed, and grieving messages." —Helen Vendler, The New York Review of Books
"What is absorbing and ultimately delightful about the book is that we can read the back-and-forth between the two writers for the first time, as each responds to the other." —Dinitia Smith,
The Wall Street Journal
"The letters act as a kind of topographical map of the poets' personal and creative lives. They chart Lowell's periodic descents into psychosis, his three marriages, and his rise to become the most influential postwar poet in America. Of Bishop, living more quietly in Brazil, they offer elaborations on a sensibility that, combined with technical mastery, would cause her to win the Pulitzer Prize, the National Book Award, and the National Book Critics Circle Award. The letters offer vivid glimpses behind the scenes of what poet James Merrill has called 'her own instinctive, modest, lifelong impersonations of an ordinary woman.' " —Dominic Luxford, The Believer
"Words in Air makes an invaluable contribution to American literary scholarship, as most of the letters here have never been published before; yet it is something more. By devoting a single volume to the letters between the pair in chronological order, the editors have re-created a lifelong conversation that is intensely moving and readable . . . What finally gives Words in Air its emotional heft is its long continuity, which endows its pages with the immediacy of life. Joys and sorrows and puzzlements jostle; great passions blaze and fade. In the last pages, the poets bury friends and colleagues with obituaries that are frank and sometimes moving. The satisfying constant is their devotion to each other." —Jamie James, Los Angeles Times 
"This volume takes its place, along with the correspondence between Edmund Wilson and Vladimir Nabokov, or Kingsley Amis and Philip Larkin, as consummate examples of wit, affection, and indeed—in the case of Bishop and Lowell—love." —William H. Pritchard,
The Boston Globe
"
Words in Air
allows us to experience the peculiar rhythm of the Bishop-Lowell relationship, a relationship conducted almost exclusively through the mail. The letters are assiduously but unobtrusively annotated by Thomas Travisano and Saskia Hamilton, and sometimes the dullest letters are also the most weirdly revealing . . .
Words in Air
is a sad, fascinating book by two great artists." —James Longenbach,
The Nation
"With this fall's release of Words In Air: The Complete Correspondence Between Elizabeth Bishop and Robert Lowell, edited by Thomas Travisano with Saskia Hamilton, we will be able to measure with excruciating fullness what the demise of our epistolary culture, should it occur, will be. In some 450 letters written across three decades and requiring 800 book pages to present, two superb poets from the mid-twentieth century explore writing, reading, politics, travel, friendship, and love at a level of discourse we may not see again. Travisano's central introductory claim is not puffery but truth: 'For the artistic distinction of the correspondents, for the unfolding intimacy of the interchange, for its sustained colloquial brilliance of style (with neither poet ever on stilts), for its keen observation of both the ordinary and the extraordinary spliced with a wealth of literary and social history and a smorgasbord of literary gossip, it is hard to think of a parallel.' " —The Georgia Review
"Throughout this momentous volume, transcendence comes to these two often troubled writers through the shared experience of art that brought them together and sustained them." —Publishers Weekly (starred review)
or
Not Currently Available for Direct Purchase