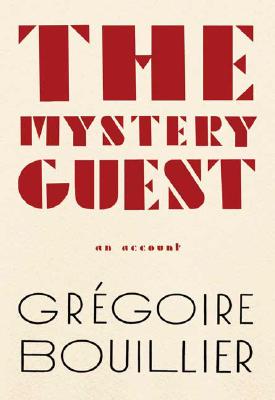 The Mystery Guest: An Account (Hardcover)
An Account
Farrar, Straus and Giroux, 9780374185701, 128pp.
Publication Date: August 22, 2006
* Individual store prices may vary.
or
Not Currently Available for Direct Purchase
Description
When the phone rang on a gloomy fall afternoon in 1990, Grégoire Bouillier had no way of knowing that it was the woman who'd left him, without warning, ten years before. And he couldn't have guessed why she was calling--not to apologize for, or explain, the way she'd vanished from his life, but to invite him to a party. A birthday party. For a woman he'd never met.

This is the story of how one man got over a broken heart, learned to love again, stopped wearing turtlenecks, regained his faith in literature, participated in a work of performance art by mistake, and spent his rent money on a bottle of 1964 bordeaux that nobody ever drank. The Mystery Guest is, in the words of L'Humanité, a work of "fiendish wit and refinement." It pushes the conventions of autobiography (and those great themes of French literature: love and aging) to an absurd, poignant, and very funny conclusion. This translation marks the English-language debut of an iconoclast who has attracted one of the most passionate cult followings in French literature today.
About the Author
Gregoire Bouillier's first book, "Rapport sur moi," received the 2002 Prix de Flore for an author of outstanding promise. "The Mystery Guest "("L'invite mystere") is his second book. He lives in Paris.

"
Praise For The Mystery Guest: An Account…
"Somewhere out in the woeful constellation of literary comparison, a lonely satellite drifts between remote stars--Ulysses and Mrs. Dalloway, The Stranger and When Harry Met Sally--beguilingly reflecting the distant light of each. Taped to the bottom of that satellite is this perfect little book, a message to extraterrestrial intelligence that says: we are human, heartbroken, grim and funny in our despair, yet hopeful and miracle-prone, and some of us are French." --John Hodgman, author of THE AREAS OF MY EXPERTISE

"I woke up the other morning and started to read this marvelous book. I stayed in bed until I read the last page. I could not for the life of me think of anything in the world I wanted to do but read this book. I am tempted to stay in bed until Grégoire Bouillier produces another one." --Daniel Handler, author of ADVERBS "'Just when you think you've thought of everything,' Gregoire Bouillier writes, 'you forget the book sitting right there on your bedside table.' This should be that book. It is intelligent, compact, and curious, like a good hunting dog scrambling up a tree." --Gary Shteyngart, author of The Russian Debutante's Handbook
"In The Mystery Guest, Gregoire Bouillier has been ditched by a girlfriend in the way another man might be abandoned by God: does the universe make sense any more? Paranoid, badly dressed and often drunk, madly hopeful one moment and howlingly distressed the next, Bouillier makes for an unforgettable narrator, and Lorin Stein's fine and resourceful translation succeeds in capturing the mood of poised hysteria. This book goes a long way toward confirming the truth of what Beckett said: there is nothing funnier than unhappiness." --Benjamin Kunkel, author of Indecision
Advertisement