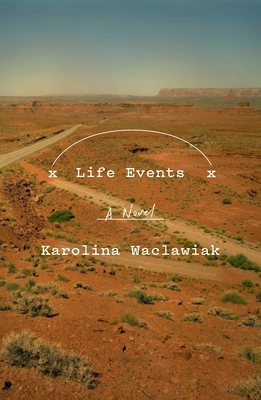 Life Events
A Novel
Hardcover

* Individual store prices may vary.
Other Editions of This Title:
Digital Audiobook (7/27/2020)
Paperback (7/27/2021)
MP3 CD (7/28/2020)
Compact Disc (7/28/2020)
Description
One of Buzzfeed's 29 Books We Couldn't Put Down This Year

"Every page of this novel is a point of no return; once you've read Karolina Waclawiak's Life Events, you will never see life, death, grief, and healing the same way."—Saeed Jones, author of How We Fight for Our Lives

A woman at a crossroads learns the only way to reclaim her life is to help others die

Karolina Waclawiak's breakout novel, Life Events, follows Evelyn, who, at thirty-seven, is on the verge of divorce and anxiously dreading the death of everyone she loves. She combats her existential crisis by avoiding her husband and aimlessly driving along the freeways of California looking for an escape—one that eventually comes when she discovers a collective of "exit guides." Evelyn enrolls in their training course, where she learns to provide companionship and a final exit for terminally ill patients seeking a conscious departure.

She meets Daphne, a dying woman still full of life; Lawrence, an aging porn king; and Daniel, who seems too young to die and whom Evelyn falls for, despite knowing better, not to mention the exit guide code. Each client opens something new in Evelyn, allowing her a chance to access her own grief and confront the self-destructive ways she suppresses her pain. When Evelyn travels through the Southwest to an afterlife convention to further her death education, she must finally face her complicated relationship with her alcoholic father and reconcile her life choices.

Sensitively observed and darkly funny, Life Events is a moving, enlivening story of the human condition: the doldrums of loneliness, the consuming regret of past mistakes, and the thrill, finally, of finding meaning—and love—where you least expect it.
Praise For Life Events: A Novel…
"Astute and distressing . . . Waclawiak accomplishes a brilliant feat here, creating an atmosphere of almost palpable, effortful dullness that presides over the entire novel. With so much opportunity for raw emotion, the author seems to avoid it at all cost, going for exceptional clarity instead . . . The novel offers you a hand, gently helping you pull your head out of the sand to accept the inevitable." --Lara Vapnyar, The New York Times Book Review

"Waclawiak gives us a sidelong examination of death. Vivid portraits of those who have chosen to end their lives leave a lasting impression, as do Evelyn's long drives in the California desert, during which she conceives of the wilderness as taking 'the land back from people, to turn it back over to vast nothingness.'" --The New Yorker (Briefly Noted)

"Life Events is a masterwork in pleasurable dread. It's a book that one-ups the faceless, gloomy, self-seriousness a dictionary usually associates with the word, and turns it into a fun interrogation of a feeling that every living person will one day confront: death, and our anxiety of it." --Hayden Bennett, The Believer

"[Life Events is] as clear-eyed and precise a look at grief as I've ever read." --Diane Cook, BOMB

"Waclawiak pivots from the coastal Connecticut setting of The Invaders for a bleak, atmospheric foray through the deserts and valleys around Los Angeles. . .Waclawiak maintains a gloomy tone through well-observed details of the landscape which mixes well with Evelyn's wry irreverence. This doesn't promise answers, nor does it give any, and it's better for it." --Publishers Weekly

"Richly symbolic and undeniably haunting . . . [an] atmospheric novel of emotional despair and existential dread . . . there is much to applaud in the manner in which [Waclawiak's] heroine honestly assesses her limitations and acknowledges her pain." --Booklist

"[M]oves at a meditative pace. What makes [Life Events] engaging is its narrative voice and its cleareyed assessment of the human condition. . .Contemplative and complex." --Kirkus Reviews

"Waclawiak writes with emotional precision and explores the tragedy of existence by masterfully walking the line between suffering and hope." --Arianna Rebolini, BuzzFeed

"Brilliant and exhilarating. Every page of Life Events shines with insight, feeling, and astonishing candor, and not a sentence rings false. I love this novel." —R.O. Kwon, author of The Incendiaries

"Every page of this novel is a point of no return; once you've read Karolina Waclawiak's Life Events, you will never see life, death, grief, and healing the same way. Waclawiak's mesmerizing storytelling, both painfully funny and joyfully despairing, immediately grabs hold of you and takes you on a ride. And this highway has no exits."—Saeed Jones, author of How We Fight for Our Lives

"Life Events is a masterwork on grief and loss, living and dying, feeling trapped and becoming free. This transcendent novel braided the numbness and the hope of everyday living into a lifeline that pulled me along through each mesmerizing chapter. If you've ever wanted to escape, this stunning book is for you. If you stayed because you knew there could be more, it's also for you."—Diane Cook, author of Man V. Nature

"Life Events is a hypnotic novel that beautifully grapples with fundamental questions about how to die and how to live. Karolina Waclawiak transports the reader into the streets of Los Angeles, the deserts of the southwest, the apartments of the dying, and a woman's life at a moment of profound change. Filled with compelling, provocative details about the work of "exit guides" for terminally ill people, Life Events is both a mid-life bildungsroman and a meditation on self-determination. I can't stop thinking about this novel." --Lydia Kiesling, author of The Golden State

"In this exquisite novel, Karolina Waclawiak rightfully recasts the American West as the territory of wandering dreams and dreamers and the land where this life and the improbable afterlife most often collide. Life Events is a deeply moving meditation on death and the dying, the fierce weight of marriage and family, and the unrelenting absurdity of being alive." —Hannah Lillith Assadi, author of Sonora
Farrar, Straus and Giroux, 9780374186951, 288pp.
Publication Date: July 28, 2020
About the Author
Karolina Waclawiak is the author of the novels How to Get into the Twin Palms and The Invaders. Formerly an editor at The Believer, she is the executive editor of culture at BuzzFeed News. Her writing has appeared in The New York Times, Los Angeles Times, The Virginia Quarterly Review, Hazlitt, and elsewhere.
or
Not Currently Available for Direct Purchase