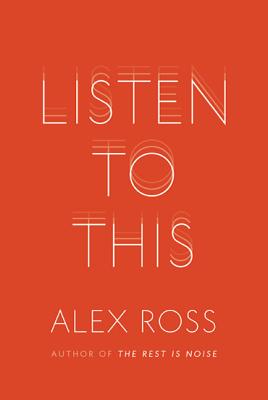 Listen to This (Hardcover)
Farrar, Straus and Giroux, 9780374187743, 384pp.
Publication Date: September 28, 2010
Other Editions of This Title:
Digital Audiobook (9/27/2010)
Paperback (10/25/2011)
* Individual store prices may vary.
Description
One of The Telegraph's Best Music Books 2011
Alex Ross's award-winning international bestseller, The Rest Is Noise: Listening to the Twentieth Century, has become a contemporary classic, establishing Ross as one of our most popular and acclaimed cultural historians. Listen to This, which takes its title from a beloved 2004 essay in which Ross describes his late-blooming discovery of pop music, showcases the best of his writing from more than a decade at The New Yorker. These pieces, dedicated to classical and popular artists alike, are at once erudite and lively. In a previously unpublished essay, Ross brilliantly retells hundreds of years of music history—from Renaissance dances to Led Zeppelin—through a few iconic bass lines of celebration and lament. He vibrantly sketches canonical composers such as Schubert, Verdi, and Brahms; gives us in-depth interviews with modern pop masters such as Björk and Radiohead; and introduces us to music students at a Newark high school and indie-rock hipsters in Beijing.
Whether his subject is Mozart or Bob Dylan, Ross shows how music expresses the full complexity of the human condition. Witty, passionate, and brimming with insight, Listen to This teaches us how to listen more closely.
About the Author
Alex Ross, music critic for The New Yorker, is the recipient of numerous awards for his work, including two ASCAP Deems Taylor Awards for music criticism, a Holtzbrinck Fellowship at the American Academy in Berlin, a Fleck Fellowship from the Banff Centre, and a Letter of Distinction from the American Music Center for significant contributions to the field of contemporary music. He is the author of The Rest of Noise and Listen to This.
Praise For Listen to This…
"The triumph of Listen to This is that Ross dusts off music that's centuries old to reveal the passion and brilliance that's too often hidden from a contemporary audience. It's a joy for a pop fan or a classical aficionado." —New York Times Review of Books
"Even at his most cerebral, Ross deftly draws in the ears of the seasoned and the uninitiated alike, demystifying the traditions of music while celebrating its ability to transform. . . Listen to This is undeniably essential." —Doyle Armbrust, Time Out Chicago
"A collection of supremely eloquent essays, addressing a range of subjects from Bach to Björk." —Jeremy A. Eichler, The Boston Globe
"Every page of this collection is rich with vivid analysis and evocative vigor...Listen to This deserves to stand next to the best-written modern books on music: the collected works of Whitney Balliett, say, and Ross' own recent history of 20th century sounds, The Rest Is Noise." —Tom Nolan, The San Francisco Chronicle
"Vibrant . . . A celebration of what it means to be alive in a world of great music." —Kirkus Reviews
"In this brilliant collection, music critic Ross utilizes a wide musical scale--classical music in China; opera as popular art; sketches of Schubert, Bjork, Kiki and Herb--as a way of understanding the world. Featuring mostly revised essays published in the span of his 12-year career at the New Yorker, Ross offers timeless portraits that probe the ways that the powerful personalities of composers and musicians stamp an inherently abstract medium so that certain notes, songs, or choruses become instantly recognizable as the work of a certain artist. The virtuoso performance comes in the one previously unpublished essay, Chacona, Lamento, Walking Blues, where Ross isolates three different bass lines as they wind through music history from the 16th-century chacona, a dance that promised the upending of the social order, through the laments of Bach, opera, and finally the blues. Ross nimbly finds the common ground on which 16th-century Spanish musicians, Bach, players from Ellington' s 1940 band and Led Zeppelin' s bassist John Paul Jones can stand, at least momentarily." —Publishers Weekly (starred review)
or
Not Currently Available for Direct Purchase