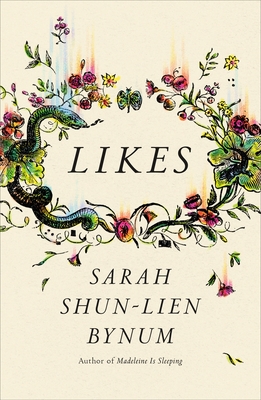 Likes
Hardcover

* Individual store prices may vary.
Other Editions of This Title:
Digital Audiobook (8/31/2020)
Paperback (9/7/2021)
Description
A BEST BOOK OF THE YEAR: Library Journal, Electric Literature, The New York Public Library, PopMatters
A Finalist for the Los Angeles Times Book Prize and the Story Prize

National Book Award finalist Sarah Shun-lien Bynum's highly anticipated return weaves together like and unlike, mythic and modern

In nine stories that range from the real to the unreal, strange to familiar, funny to frightening, Sarah Shun-lien Bynum reminds us why her wildly original debut, Madeleine Is Sleeping, and her masterful Ms. Hempel Chronicles have become contemporary classics--celebrated and beloved.

In a nimble dance of lightness and gravity, Likes explores the full range and contradictions of our contemporary moment. Through unexpected visitors, Waldorf school fairs, aging indie-film stars, the struggle to gain a foothold in the capitalist shell-game of work, the Instagram posts of a twelve-year-old—these stories of friendship and parenthood, celebrity and obsession, race and class and the passage of time, form an engrossing collection that is both otherworldly and suffused with the deceitful humdrum of everyday life.

For readers of Joy Williams, George Saunders, Lauren Groff, and Deborah Eisenberg, Likes helps us see into our unacknowledged desires and, in quick, artful, nearly invisible cuts, exposes the roots of our abiding terrors and delights.
Praise For Likes…
A BEST BOOK OF THE YEAR: Library Journal, Electric Literature, The New York Public Library, PopMatters
A Finalist for the Story Prize
Longlisted for the Joyce Carol Oates Prize

A Best Book of Fall at Refinery29, Chicago Tribune, Los Angeles Magazine, Alma Magazine
A WIRED Ultimate Summer Reading pick
Most Anticipated at Time, WIRED, Lit Hub, PureWow, and The Millions, and Publishers Lunch

"Finely attuned to both sensory and emotional detail . . . The adjectives that readers often attach to Bynum's work—'enchanting,' 'charming,' 'precise'—are accurate, but . . . her skills and her sensibility are deeper and darker than that. The sentences are indeed meticulous, but never for their own sake; they bring to life characters who possess rich inner lives even when navigating moments that feel dreamily sinister or otherworldly . . . Bynum offers her reader inventively landscaped, beautifully manicured gardens teeming with rewardingly warty toads."
—Caitlin Horrocks, The New York Times Book Review

"Likes brilliantly captures our current moment . . . Certain authors have such mastery over the short story form that you never forget the first time you read their work. Lorrie Moore, for example. Jim Shepard. Deborah Eisenberg. Add to that impressive list Sarah Shun-lien Bynum with her new collection, Likes as evidence . . . Likes is a short-story collection you should read slowly, but it's so good, each story at such a high-wire level, that you'll wind up tearing through it and wishing for more."
—Bethanne Patrick, Washington Post

"Captures the tensions that exist between technology, parenthood and growing up . . . The nine pieces, though rooted in reality, contain unexpected undercurrents of magic, coalescing into an innovative portrait of modern living."
—Time

"Sparkling, transcendent . . . Each story is delicate and dazzling in its own way . . . The stories hum with thrilling detail and are touched here and there by small hints of magic . . . With the exuberance of the best Elizabeth McCracken stories and the insight of Tessa Hadley, these tales are at once gorgeously rendered and empathetic. This has the feel of an instant classic."
—Publishers Weekly, starred review

"Throughout, Bynum combines a firm command of tone (often warm, even when dark) with precise detail . . . As clean prose dissects messy lives, these stories combine an empathetic heart with acute understanding."
—Kirkus, starred review

"Despite her frequent use of the language of myths and fairytales, Bynum's focus is deceptively ordinary. Time and again, her characters reckon with how—and if—you can ever really close the gap between yourself and someone else . . . Likes is a comforting reminder that relationships are often contradictory."
—Eve Sneider, WIRED

"Known for her keen observation of human nature as well as her wit and humor, these tales investigate the conundrums of modern American living."
—Jennifer Day, Chicago Tribune

"Sarah Shun-lien Bynum not only makes us see and feel what we may have missed in our busy lives, but articulates what we see and feel with the precise words we've always been searching for but rarely find. How does she capture the world in its shimmery and inexplicable state so deftly? Stories in this collection lead the readers to feel nostalgic for experiences both lived and missed, alarmed and yet thrilled by the mysteries hidden in everyday moments, and above all, hopeful and grateful that there is no need to compromise: we can live as fully and expansively as these stories."
—Yiyun Li, author of Where Reasons End

"Each of the stories in Sarah Shun-lien Bynum's dazzling new collection offers lucid insight into the many perversities, small and large, that define our most typical interactions. From a father confused by his adolescent daughter's social media persona to a writer dealing with the lingering effects of a miscarriage, Bynum's stories probe the fragile, confusing moments of our lives, and tease out the underlying thrums of energy, magnifying all the emotion that exists just below the surface, illuminating what it means to be alive right now."
—Kristin Iversen, Refinery29

"Nine of the author's greatest short stories. In settings that range from a Waldorf school fair to the Instagram page of a twelve-year-old, the characters in these stories move through adolescence, childhood, and parenthood, all while dealing with the miseries of life under late capitalism."
—Thomas Beckwith, The Millions

"Oh, what a treasure trove of delights this is! The most succulent details are tucked inside the warmth of these characters' voices, and it is Bynum's governing and generous intelligence that gives shape to their stories, always holding close and with care our complex yearnings and desires."
—Aimee Bender, author of The Particular Sadness of Lemon Cake

"Sarah Shun-Lien Bynum's mastery of the short story form is on immediate display in her new collection, Likes. [She] is exceptionally skilled at subtle shifts and seemingly casual details . . . Bynum can wring suspense from the slightest interactions."
—Jackie Thomas-Kennedy, Minneapolis Star Tribune

"In this collection of nine stories, ideal for fans of Tessa Hadley and Lauren Groff, Bynum explores the contradictions of modern life in stories about friendship, parenthood, celebrity and more."
—Sarah Stiefvater, PureWow

"These stories caught me in the throat. Everything I thought to be true—about home invaders and husbands, BFFs and rich hippie schools—is revealed to be temporary, spectral, fragile as glass. Likes is a cunning, electrifying work by one of the best writers of our times."
—Danzy Senna, author of Caucasia and New People

"A wonderful short story collection . . . In each story, there's an element of the otherworldly and magical — there's one story about an ancient king — but each stays firmly rooted in astute observations of our reality: of how a teenage girl acts on social media; of how a Black writer on a crime show has to navigate his identity and his desire for a promotion; of a mom wanting her child to have a good education, and more. Every time I got to the end of the story, I wished it would keep going."
—Emily Burack, Alma

"Amusingly examines the contradictions and complexities of our modern moment with cutting portrayals of Waldorf school fairs, tween Instagrammers, and aging indie-film starlets."
—Malia Mendez and Hailey Eber, Los Angeles Magazine

"For fans of Aimee Bender, Karen Russell, Joy Williams, and all that is good."
—Emily Temple, Lit Hub
Farrar, Straus and Giroux, 9780374191948, 240pp.
Publication Date: September 1, 2020
About the Author
Sarah Shun-lien Bynum is the author of the novels Ms. Hempel Chronicles, a finalist for the PEN/Faulkner Award; and Madeleine Is Sleeping, a finalist for the National Book Award and winner of the Janet Heidinger Kafka Prize. Her fiction has appeared in many magazines and anthologies, including the New Yorker, Ploughshares, Tin House, The Best American Short Stories, and the O. Henry Prize Stories. The recipient of a Whiting Writers' Award and an NEA Fellowship, she was named one of "20 Under 40" fiction writers by the New Yorker. She lives in Los Angeles.