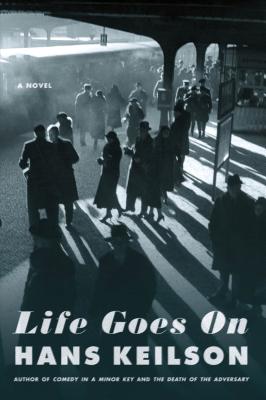 Life Goes On (Paperback)
A Novel
Farrar, Straus and Giroux, 9780374191955, 272pp.
Publication Date: October 30, 2012
* Individual store prices may vary.
Description
Published when the author was just twenty-three, Life Goes On was Hans Keilson's literary debut, an extraordinary autobiographical novel that paints a dark yet illuminating portrait of Germany between the world wars. It is the story of Herr Seldersen—a Jewish store owner modeled on Keilson's father, a textile merchant and decorated World War I veteran—along with his wife and son, Albrecht, and the troubles they encounter as the German economy collapses and politics turn rancid.
The book was banned by the Nazis in 1934. Shortly afterward, following his editor's advice, Keilson emigrated to the Netherlands, where he would spend the rest of his life.
Life Goes On is an essential volume for readers of Keilson's later work. At the age of one hundred, with his one copy of the first edition of Life Goes On in hand, Keilson told The New York Times that he would love to see his first novel reissued, and translated as well. "Then you would have my whole biography," he told them. He died at the age of one hundred and one.
About the Author
Hans Keilson is the author of Comedy in a Minor Key and The Death of the Adversary. Born in Germany in 1909, he published his first novel in 1933. During World War II he joined the Dutch resistance. Later, as a psychotherapist, he pioneered the treatment of war trauma in children. He died in 2011 at the age of 101.

Damion Searls is an American writer and translator. He grew up in New York and studied at Harvard University and the University of California, Berkeley. He specializes in translating literary works from Western European languages such as German, Norwegian, French, and Dutch. Among the authors he has translated are Marcel Proust, Rainer Maria Rilke, Robert Walser, Ingeborg Bachmann, Thomas Bernhard, Kurt Schwitters, Peter Handke, Jon Fosse, and Nescio.
Praise For Life Goes On: A Novel…
"…Life Goes On is an important and heartbreaking novel, and not only because it lets us hear the power of Keilson's young voice just before it was silenced for more than a decade...Moreover, as grim as the material is, the prose is a pleasure. Keilson has a lovely, easy style, a gentle tone and an analytic mind. He depicts complicated human interactions…with a precocious mastery of nuance and full comprehension of what can't be said."—The New York Times Book Review
"Stunningly accomplished and self-assured for such a young writer this novel, published initially in 1933 when Keilson was in his early 20s, gives a haunting portrait of Germany between the two world wars."—Publishers Weekly
or
Not Currently Available for Direct Purchase