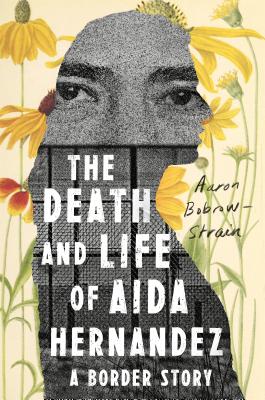 The Death and Life of Aida Hernandez
A Border Story
Hardcover

* Individual store prices may vary.
Other Editions of This Title:
Digital Audiobook (4/15/2019)
Paperback (4/21/2020)
Description
Winner of the 2020 Pacific Northwest Book Award | Winner of the 2020 Washington State Book Award | Named a 2019 Southwest Book of the Year | Shortlisted for the 2019 Brooklyn Public Library Literary Prize

What happens when an undocumented teen mother takes on the U.S. immigration system?

When Aida Hernandez was born in 1987 in Agua Prieta, Mexico, the nearby U.S. border was little more than a worn-down fence. Eight years later, Aida's mother took her and her siblings to live in Douglas, Arizona. By then, the border had become one of the most heavily policed sites in America.

Undocumented, Aida fought to make her way. She learned English, watched Friends, and, after having a baby at sixteen, dreamed of teaching dance and moving with her son to New York City. But life had other plans. Following a misstep that led to her deportation, Aida found herself in a Mexican city marked by violence, in a country that was not hers. To get back to the United States and reunite with her son, she embarked on a harrowing journey. The daughter of a rebel hero from the mountains of Chihuahua, Aida has a genius for survival—but returning to the United States was just the beginning of her quest.

Taking us into detention centers, immigration courts, and the inner lives of Aida and other daring characters, The Death and Life of Aida Hernandez reveals the human consequences of militarizing what was once a more forgiving border. With emotional force and narrative suspense, Aaron Bobrow-Strain brings us into the heart of a violently unequal America. He also shows us that the heroes of our current immigration wars are less likely to be perfect paragons of virtue than complex, flawed human beings who deserve justice and empathy all the same.
Praise For The Death and Life of Aida Hernandez: A Border Story…
"Searing . . . A rich, novelistic tale of a young woman whose life spans both sides of the United States-Mexican border . . . [Aida's] a radiantly optimistic character in a relentlessly bleak, unlucky world...."The Death and Life of Aida Hernandez is an illuminating work of literature, not an ideological tract." —Michelle Goldberg, The New York Times Book Review

"Bobrow-Strain writes like a journalist and sociologist, with clear information on history and policy, along with plenty of narrative tension. Hernandez is not a perfect immigrant (she has a criminal record), but she's a real one, and her story provides insight into how the larger immigration machine actually works." —Adriana E. Ramirez, Los Angeles Times

"The Death and Life of Aida Hernandez gives a human perspective to the politics surrounding immigration … It is a powerful story..." —The Denver Post

"In his deeply researched, captivating new book, The Death and Life of Aida Hernandez: A Border Story, Aaron Bobrow-Strain illustrates the complexity of human experience that sometimes accompanies migrants because, like the rest of us, they are people . . . a powerful testament to migrants that deserves a more central role in immigration law debates . . . like other great storytellers, [Bobrow-Strain] has written what is better described as a story about people who happen to be migrants. It's the people who animate his account, and not the circumstances that convince us to care about the people." —César Cuauhtémoc García Hernández, NACLA

"The Death and Life of Aida Hernandez manages to seamlessly weave together the very personal true story of an undocumented Mexican-American woman while also providing readers a sense of how her many misfortunes are interconnected with the U.S.'s border policies over the past 30 years…A beautiful introduction to anyone interested in the subject of immigration"—San Diego City Beat

"Aaron Bobrow-Strain's new book about the border, The Death and Life of Aida Hernandez, combines the life story of a young undocumented woman, told in extraordinary detail, with a history of the U.S. border enforcement regime . . . Bobrow-Strain, a professor of politics at Whitman College and an immigration rights activist, first connected with the border when he worked for BorderLinks in Douglas in the 1990s. His book benefits from his first-hand experiences in la frontera as well as his scholarly research into the history of Douglas and immigration law. And his compassion."—Margaret Regan, Tucson Weekly

"Here, at long last, is a nonfiction account of our country's immigration drama written with the intelligence, passion, and sweep of a great novel. There are echoes of Victor Hugo and Emile Zola in The Death and Life of Aida Hernandez. It is a harrowing and intimate account of an epic, cross-border journey, a tale filled with family, violence, love, injustice, perseverance, and, ultimately, redemption." —Hector Tobar, author of Deep Down Dark and The Barbarian Nurseries

"Excellently researched and exquisitely told, here is a story of the Americas for our times." —Sandra Cisneros, author of The House on Mango Street and Women Hollering Creek and Other Stories

"Bobrow-Strain, an academic and an immersion journalist of conscience in the mode of Alex Kotlowitz, tells the dramatic true tale of a woman he calls Aida Hernandez with extraordinary clarity and power . . . In this caring and unforgettable borderland saga, Bobrow-Strain reveals the profound personal toll of the immigration crisis." —Donna Seaman, Booklist (Starred Review)

"A professor combines his academic research with his decades long U.S.-Mexico border activism to brightly illuminate immigration realities by focusing on the struggles of one young woman . . . [A] powerful saga . . . This potent, important work, which 'occupies a space between journalism and ethnography, with a dash of oral history and biography,' adds much to the continuing immigration debate." —Kirkus (Starred Review)

"The Death and Life of Aida Hernandez weaves the personal narrative of a single immigrant with the complex history of the southern border, where many people used to feel that their culture and identity traversed the border line . . . Aida's story—of border flight, immigration court, for-profit detention, and family separation—is required reading in the age of Trump." —Rosa Furneaux, Mother Jones

"[A] lyrical and intimate account . . . Hernandez is never reduced to a lecture prop. She is the protean American, in search of herself, re-inventing as she must." —Oscar Villalon, Literary Hub

Farrar, Straus and Giroux, 9780374191979, 432pp.
Publication Date: April 16, 2019
About the Author
Aaron Bobrow-Strain is Associate Professor of Politics in Whitman College. His writing on food, immigration, and the U.S.-Mexico border has appeared in The Believer, The Chronicle of Higher Education Review, Salon, Gastronomica, and The Huffington Post. He is the author of White Bread: A Social History of the Store-Bought Loaf and Intimate Enemies: Landowners, Power, and Violence in Chiapas.